The Site Enablement Platform for Contract Research Organizations (CROs)
Discover how Florence's Site Enablement Platform helps CROs offer differentiated study management to sponsors that supports enhanced site operations, strengthened site relationships, increased trust with sponsors, and accelerated clinical trials.
SITE CONDUCT
Simplify FPI to LPO
Digitize and integrate every document workflow from first-patient-in to last-patient-out, reducing site burden by up to 40% and giving your sponsor partners controlled visibility into site operations and milestone tracking.
Enable sites with the best-in-class eISF (eBinders) and eConsent platform to streamline their operations while activating always-on remote monitoring capabilities, advanced site performance insights, and real-time document exchange with the eTMF.
How Florence Streamlines Site Conduct
Enable continuous digital collaboration with every study site for the complete study life-cycle including remote monitoring and remote source data verification and review.
Gain 24/7 Visibility Into Every Site
Because every site maintains their complete eISF on a connected platform you gain real-time visibility into all operations including document status, tasks, and other integrated workflows.
Ensure Site Adoption
Research sites love using Florence, ranking eBinders the #1 platform for ease-of-use and quality of support out of 190 vendors. This means sites adopt the platform (95%+ average adoption) and use it for the end-to-end management of your study, so you never have to worry about disrupting site workflows.
Activate Remote Monitoring
Provide your CRAs with a complete remote monitoring experience that integrates directly with the sites workflow. Most sponsors reduce their on-site visits by over 50%, cutting travel costs, maximizing CRA efficiency, and enabling a continuous monitoring posture.
Increase Trust with Sponsor Partners
Provide real-time visibility into site operations and study progress through controlled dashboards and reports. Increase trust and transparency with sponsor partners into the full clinical trial life cycle.
Enable Remote Source Data Review
A simple front-end integration to the sites existing EMR/EHR or other eSource platform, coupled with easy-to-use paper source capture tools, allows your CRAs to seamlessly conduct source data review and verification remotely without disrupting the site workflows.
Maintain Inspection Readiness
Know the status of every document at every site in real-time across your entire study, while enabling the ability to drill down to a specific document and assign remediation tasks to the site.
Work Seamlessly with Frontier Sites
Working with new to research sites that are geographically dispersed without worry about compliance issues and operational blindspots because you gain 24/7 visibility directly into their operations.
Increase CRA Productivity
Remote monitoring directly integrated with the sites workflows allow most CRAs to monitor and manage 2x more sites than traditional methods, helping your organization scale your studies without increasing staff.
"[With Florence's SiteLink] we're providing a more valuable site management experience, while allowing more time and opportunities for site support, compliance reviews and continuous monitoring of patient safety and study quality."
Rajneesh Patil
VP of Clinical Operations and Head of Digital Strategy
IQVIA
Start-up Sites Remotely
Remotely activate and start-up your study sites with a complete suite of electronic binder solutions.
Deploy the industry-standard electronic Investigator Site File (eISF) to every site with templates and pre-built workflows.

Distribute fully electronic Participant Binders to study sites.

Create and track placeholders, due dates and task assignments to keep studies progressing.

Learn more about our entire remote site start-up workflow.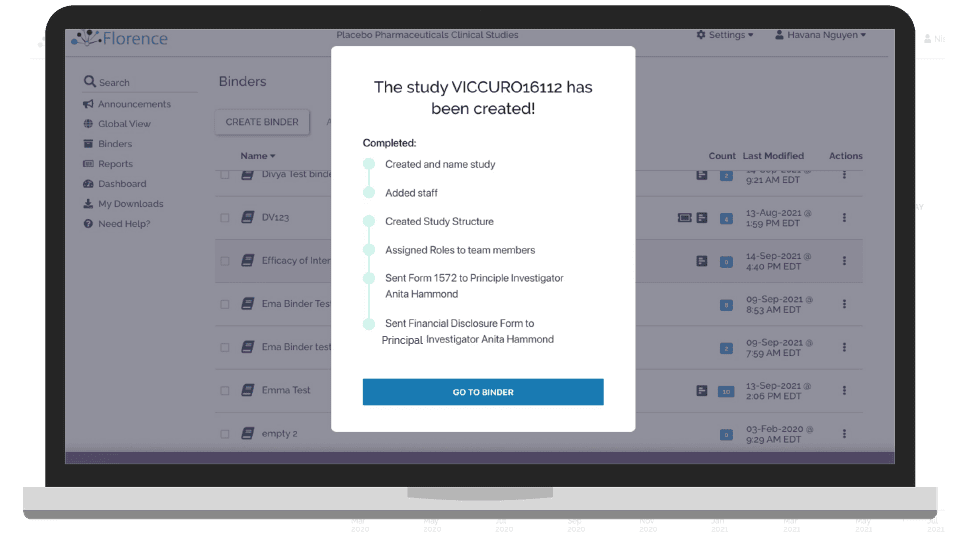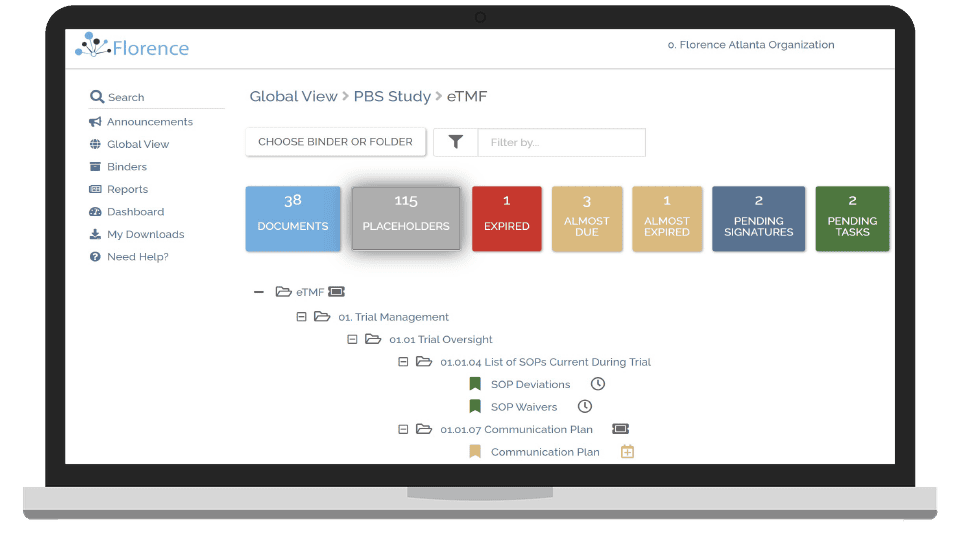 24/7 Continuous Monitoring of Sites
Access your study sites' Electronic Investigator Site Files anytime for continuous monitoring.
Perform remote monitoring from anywhere across your portfolio of study sites.

Help study sites minimize disruptions when they do their work from start to finish in the platform.

Support risk-based monitoring plans with easy access to every document.
Communicate and Collaborate with Sites Remotely
Assign tasks and send compliant communications directly in the sites' eISF workflows.
Create and assign document tasks to teams or individuals through the platform.

Electronically distribute communications, protocol amendments and other critical documents to all sites at once.

Mitigate problems faster with advanced insights into risk areas or underperforming sites.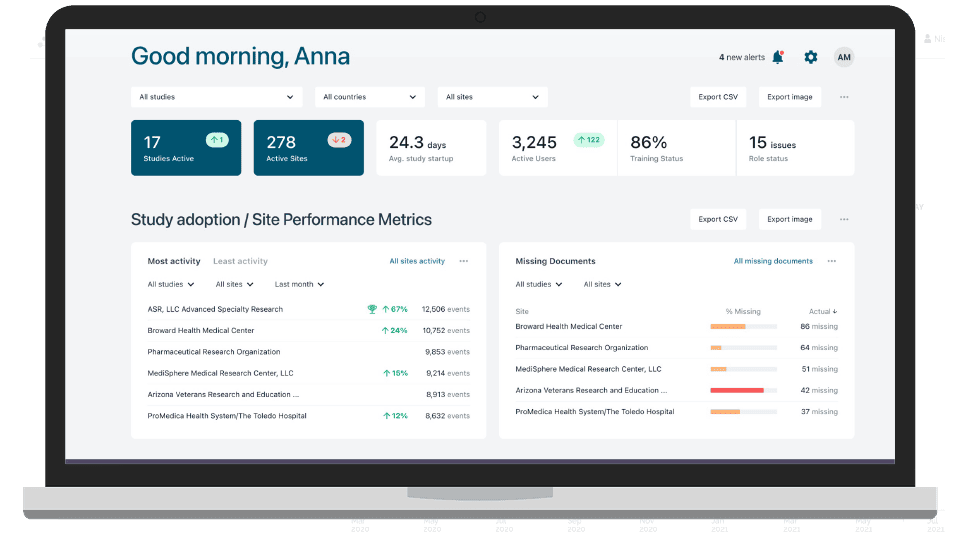 Quality Control and Sync Documents to eTMF
Eliminate the need for mailing, emailing, and faxing study documents and for legacy site upload portals by directly integrating your eTMF with your sites' eISFs.
Built-in quality control workflows to review, approve or reject with action plan documents from sites.

Sync final site documents directly into your eTMF for more timely and complete trial master files.

Create document queries and communicate with your sites through the monitor review module.
Rated #1 by sites on G2 for ease of use, ease of setup, and customer support