SITE START-UP
Reduce Bottlenecks in Site Start-up
Activate sites remotely and equip sites with digital workflows that integrate with their existing workflows.
Deploy the #1 rated eISF platform to sites to enable study start-up document routing and real-time collaboration in just a few clicks. Monitor performance and activity across all sites in a single location.
How Florence Streamlines Site Start-up
Start your study process on the workflow platform that digitizes the site-sponsor connection across 12,000+ sites in 45 countries.
Distribute Start-up Documents Fast
Distribute up-to-date start-up documents to every site at once in a central platform and have it appear in their existing workflows if they're already connected to the Florence network (12,000+ in 45 countries are today).
Rapidly Activate New Sites on Platform
For sites not yet connected to the Florence platform, easily get them set-up and connected with their own fully functioning eISF in a few days with our expert Site Activation Teams that average 95%+ adoption rates and rank #1 in ease-of-setup across 190 vendors.
Monitor Start-up Status in Real-time
See the status of every document at every site in real-time. Has it been viewed, reviewed, filled out, signed? Has the site team completed open tasks for the document? Has the team uploaded the latest CV? Global dashboards let you see across all your sites while giving you the ability to drill down to a specific document at a specific site.
Manage a Global Network of Sites Compliantly
Florence's solutions are already used in 45 countries around the globe, making it easy for you to centralize and monitor all start-up even if you're using a CRO or local start-up teams.
Gain Visibility into CRO Performance
If you're outsourcing operations to a CRO, by having them manage start-up on Florence's Site Enablement Platform you can gain real-time access and global dashboards into their timelines, activity, and individual site status – giving you visibility and peace of mind.
Seamlessly Transition to FPI Processes
Because the site continues managing all their regulatory binders, participant binders, logs, and consent in the same platform, you're able to seamlessly continue to manage end-to-end site operations in one location.
Design Study Structure
Design Electronic Investigator Site File, Electronic Participant Binders, Electronic Logs and start-up workflows to distribute to sites.
Standardize electronic binder structures across sites to facilitate faster start-up, monitoring and collection.

Customize granular access and permissions for your entire study team and external users (regulatory agencies, CROs, sponsors, sites, etc.).

Create placeholders, due dates and task assignments to keep studies progressing.

Create, distribute and complete customizable electronic logs.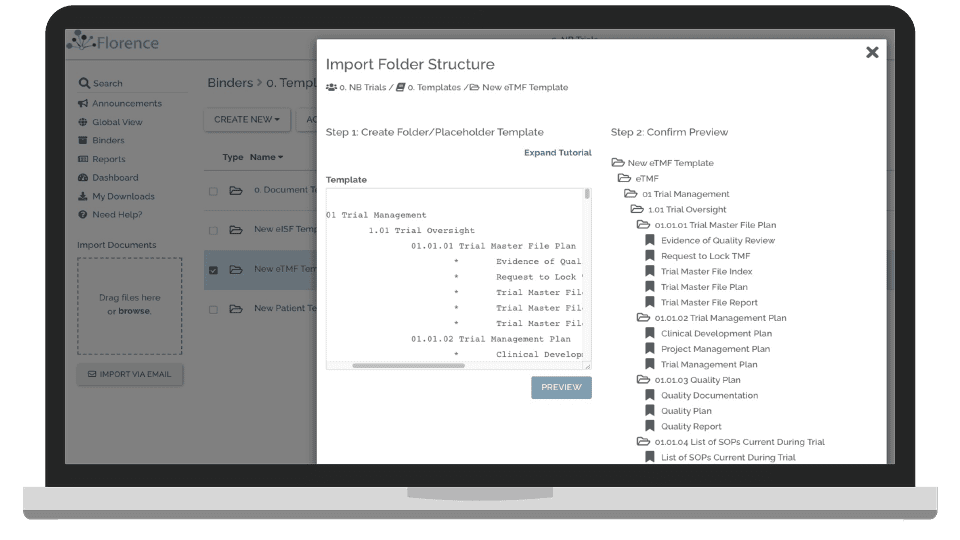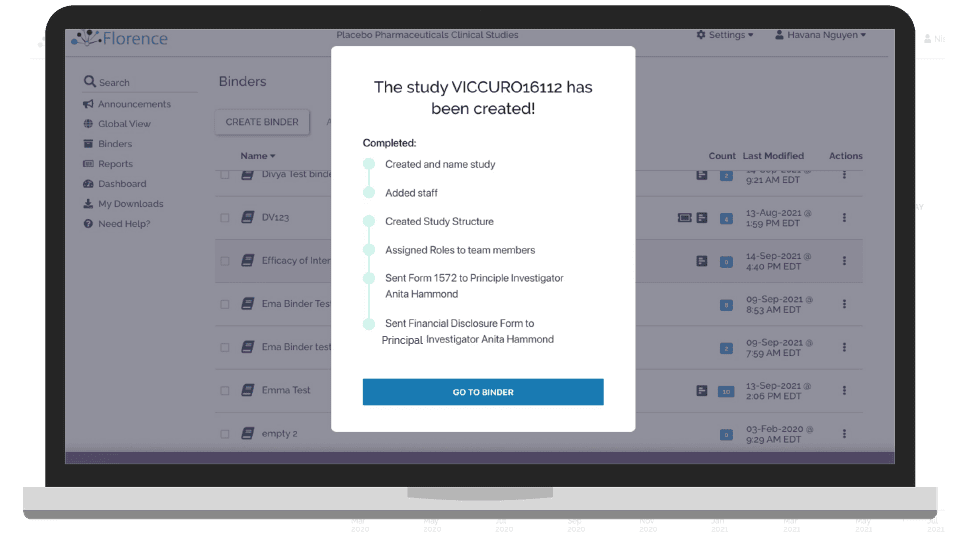 Deploy Electronic Binders to Study Sites
Easily deploy your binder structures, workflows, templates, tasks and logs across study sites in a single platform.
If the site is one of the 10,000 already connected to Florence, the site simply accepts your new study.

For your sites not yet on Florence, Florence's activation team will help get them online fast – we average a 92% acceptance rate.

Sites receive complete binders complete with eSignature workflows, fillable forms, placeholders and task assignments.
Track Study Start-up in Real-Time
Keep track of every site in your study and their activation and start-up progress.
Know what documents are missing, what signatures are missing and what tasks are outstanding.

Access site binders 24/7 for quick remote monitoring and management of start-up.

Quality control documents directly in the system and assign remediation tasks.

Average start-up times for sites drop by 40% once they're fully activated on Florence eBinders.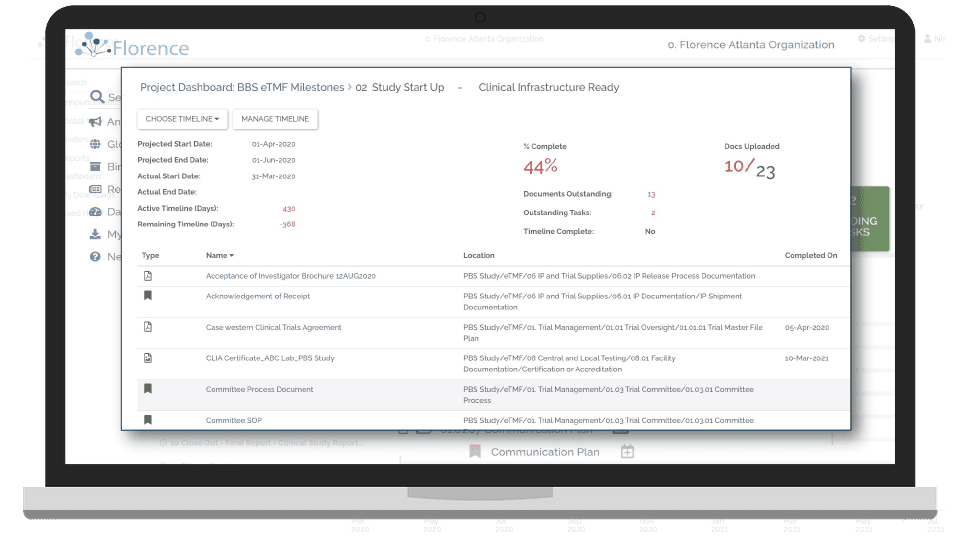 "[With Florence's SiteLink] we're providing a more valuable site management experience, while allowing more time and opportunities for site support, compliance reviews and continuous monitoring of patient safety and study quality."
Rajneesh Patil
VP of Clinical Operations and Head of Digital Strategy
IQVIA
Rated #1 by sites on G2 for ease of use, ease of setup, and customer support
Sites activated on the platform
Reduction in site workload
Million workflows per month
Trusted by Sponsors,
Loved by Sites