SITE CONDUCT
Simplify FPI to LPO
Digitize and integrate every document workflow from first-patient-in to last-patient-out, reducing site burden by up to 40%.
Enable your site with the best-in-class eISF (eBinders) and eConsent platform to streamline operations while activating remote monitoring capabilities and advanced performance insights.
How Florence Streamlines Site Conduct
Enable continuous digital collaboration with every study site for the complete study life-cycle including remote monitoring and remote source data verification and review.
Maintain Inspection Readiness
Stay inspection-ready with our platform's built-in compliance features, including automated audit trails, version control, user permissions, and in-app redaction. Our compliance program helps your team develop SOPs, reducing the risk of compliance issues.
Ensure Team Adoption
Research sites love using Florence, ranking eBinders the #1 platform for ease-of-use and quality of support out of 190 vendors. Our expert site activation teams help even your most paper-loving PIs make the transition to an end-to-end digital workflow platform with ease.
Activate Remote Monitoring
Collaborate seamlessly with sponsors and CROs using our platform's remote monitoring and source data verification capabilities. Reduce disruption to monitoring visits, enhance visibility into your operations, and improve monitoring efficiency. Experience a user-friendly and hassle-free monitoring.
Reduce Duplicate Workflows with Sponsor Portals
Leading sponsors and CROs are now adopting Florence's Site Enablement Platform to connect with sites directly. This means your workflows are natively integrated with their workflows, eliminating the need for duplicate tasks across various portals and softwares.
Integrate with Other Systems
Our Open API platform allows for seamless integration of workflows with our Site Enablement Platform, streamlining tasks and processes to eliminate repetitive work. Simplify your workflow and experience efficiency with our user-friendly platform.
Provide Intuitive Electronic Consenting
Effortlessly streamline your consent process with our eConsent solution. Our platform offers a user-friendly interface, built-in compliance features, and customizable templates to ensure a thorough understanding of the study and regulatory compliance.
Simplify Source Document Capture
Streamline your document capture process with our user-friendly platform. Capture source records from EMR, EHR, and other electronic solutions with our vendor agnostic front-end integration capabilities. Easily upload paper documents using mobile phone cameras, scanner uploads, direct email to system, and drag-and-drop uploads.
Digitize Logs for Entire Study
Improve patient safety, increase study speed, and ensure data quality with electronic clinical trial logs on Florence. Customize workflows for any log you need – Delegation of Authority Logs, Adverse Event Logs, Training Attestation Logs, Informed Consent Version Logs, Screening/Enrollment Logs, and more.
"We love working with sponsors on Florence. Collaborating in real-time on a single document management platform helps us tackle study tasks faster and keep research on track."
Dr. Christina Brennan
VP of Clinical Research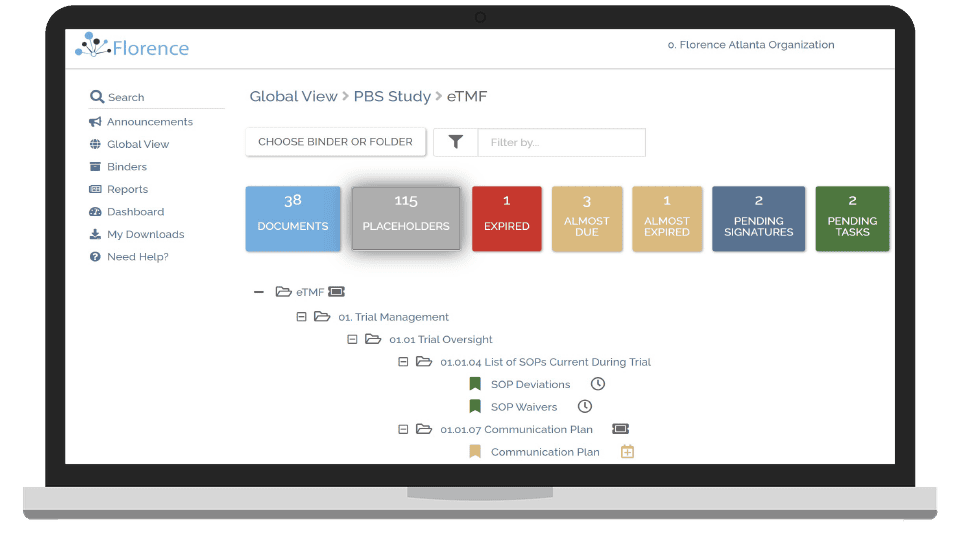 Sync Source with Participant Binders
Create electronic participant binders to collect all participant source data in a single location.
Use the front-end integration with any EMR/EHR system to route certified copies to participant binders.

Built-in redaction controls ensure only authorized users see PHI.

Grant remote participant binder access to monitors for source data verification and review.
Track Study Performance in Real-Time
Keep track of your entire study and identify risk areas with advanced reports and dashboards.
Run reports around document health metrics, open action items, study attributes and ISF completeness.

Track study milestones through custom dashboards and reports.

Create, assign and complete document tasks directly in the platform.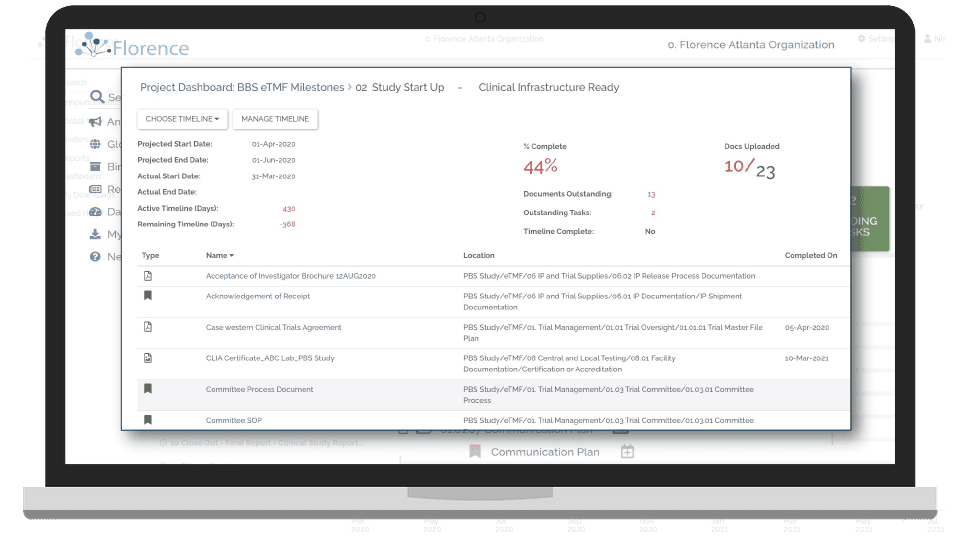 Enable Remote Monitoring
Equip your site to work with sponsors remotely on start-up, monitoring and source data review.
Eliminate duplicate work uploading documents into sponsor portals or vaults by giving sponsors direct access.

Provide secure access to redacted participant binders for source data review.

Collaborate with monitors on workflows with quality control and communications modules.
Digitize Study Logs
Migrate all of your study logs into a digital format for creation, completion and review.
Create a digital log for any of your existing log workflows (DOA, AE, Training, Financial Disclosure, Screening/Enrollment).

Route logs for compliant eSignatures with built-in audit trails and access controls.

Users can complete and eSign logs anywhere, anytime.