SITE START-UP
Reduce Bottlenecks in Site Start-up
Digitally manage the entire study start-up process across a single site or multiple locations.
Orchestrate start-up workflows, documents, signatures, and reviews in a single platform. Integrate directly with other systems used in the start-up process (CTMS, IRB, etc.) to eliminate duplicate tasks.
How Florence Streamlines Site Start-up
Start your study process on the workflow platform that digitizes the site-sponsor connection across 12,000+ sites in 45 countries.
Assign and Track Tasks Across Teams
To seamlessly manage your study start-up project from start to finish, you can create document placeholders for CVs, financial disclosures, regulatory documents, and more. Simply assign due dates and owners for each placeholder to ensure smooth orchestration throughout the entire process.
Distribute Start-up Documents Fast
Our platform simplifies the distribution of study start-up documents across teams, whether they are located in a single facility or across multiple sites. You can easily share these documents with just a few clicks, ensuring that everyone has access to the necessary materials.
Enable Compliant eSignatures
Say goodbye to the hassle of chasing your team members for signatures! Route documents for fully compliant eSignatures makes signing easy and convenient on your PC, tablet, or mobile phone.
Digitize your Logs
Looking to streamline your log management process? Our platform can help! With the ability to digitize different types of logs, such as Delegation of Authority Logs, Screening and Enrollment Logs, Consent Version Logs, and more, our customizable platform can easily adapt to your study's specific needs.
Connect Digitally with Sponsors
Collaborating with a sponsor using Florence's solutions is now even easier! Our platform automatically routes sponsor start-up documents into your existing site workflows, enabling you to keep your established processes in place. With our platform's seamless syncing capabilities, sponsors can gain remote access and visibility into your workflows, ensuring better collaboration and communication between teams.
Seamlessly Transition to FPI Processes
Since the study start-up process occurs in the same environment where you'll manage the entire study life cycle, it's easy to seamlessly transition to maintaining the eISF after the first patient in. Our platform allows for a streamlined and efficient process, so you can focus on what really matters – conducting a successful study.
Simplify Start-up of Investigator Initiated Trials
Manage all necessary documentation in one centralized location, assign tasks and deadlines, and collaborate with team members. Our study-specific customization features and seamless communication with regulatory bodies and ethics committees simplify the approvals process, helping you bring your IITs to fruition faster.
Integrate Start-up Systems
Simplify your start-up processes our Open API platform. Seamlessly integrate other systems, eliminate repetitive tasks and duplicate work, and experience an efficient workflow with our user-friendly platform.
Design Study Structure
Design Electronic Investigator Site File, Electronic Participant Binders, Electronic Logs and start-up workflows.
Standardize electronic binder structures to facilitate faster start-up, monitoring and collection.

Customize granular access and permissions for your entire study team and external users (regulatory agencies, CROs, sponsors, sites, etc.).

Create placeholders, due dates and task assignments to keep studies progressing.

Create, distribute and complete customizable electronic logs.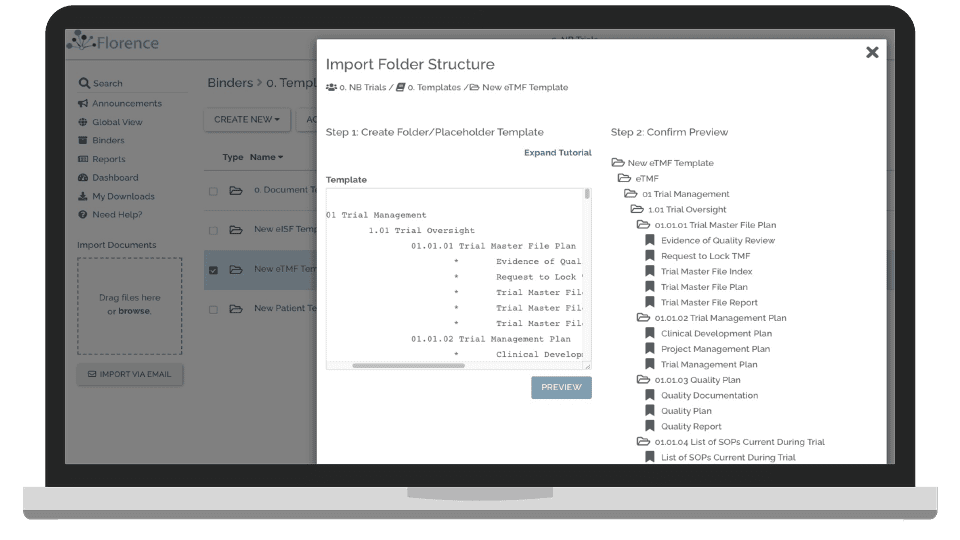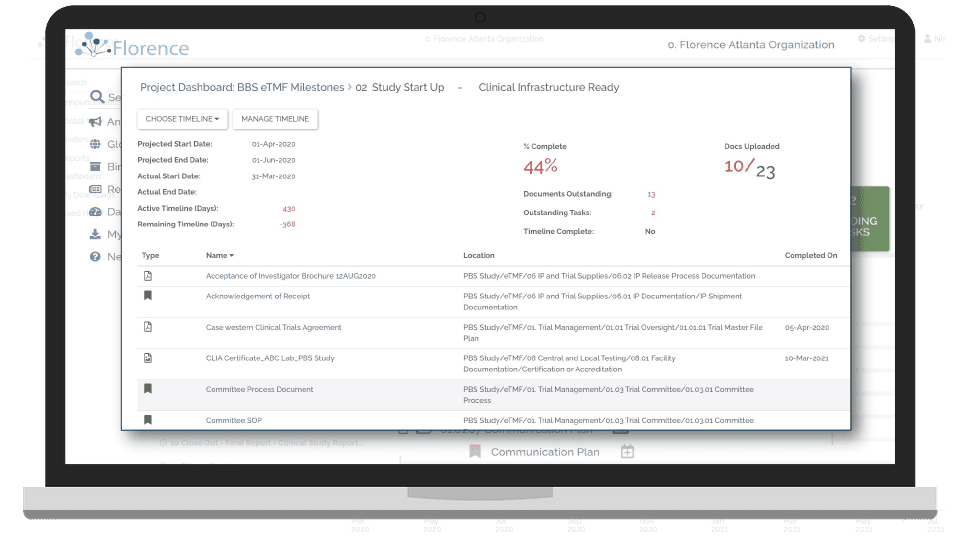 Track Study Start-up in Real-Time
Keep track of start-up progress across all teams and facilities.
Know what documents are missing, what signatures are missing and what tasks are outstanding.

Access site binders 24/7 for quick management of start-up.

Quality control documents directly in the system and assign remediation tasks.

Average start-up times for sites drop by 40% once they're fully activated on Florence eBinders.
"We love working with sponsors on Florence. Collaborating in real-time on a single document management platform helps us tackle study tasks faster and keep research on track."
Dr. Christina Brennan
VP of Clinical Research
Rated #1 by sites on G2 for ease of use, ease of setup, and customer support
Sites activated on the platform
Reduction in site workload
Million workflows per month
Loved by Sites
Trusted by Sponsors