Integrating the eTMF and eISF: Why and Why Now?
Best Practices for eISF and eTMF Integration
Electronic Investigator Site Files (eISF) are now attracting the attention of progressive sponsors and CROs. Here, we'll explore the different approaches and stages for connecting the site eISF directly to the sponsor Electronic Trial Master File (eTMF) and how this adjustment impacts the way clinical trials are conducted.
Over the last five years, the largest site networks in the world have standardized electronic platforms for managing clinical trial regulatory and source documents. Florence eBinders, the industry's leading eISF system, has experienced broad acceptance as a result.
Now that sites adopting an eISF platform has reached critical mass, sponsors can directly connect their eTMF systems to their most important site partners. In most cases this means contracting with an eISF vendor to gain access to the sites on their network while simultaneously unifying and standardizing access to sites' eISFs.
Why Connect?
Sponsors are connecting with an eISF network to drive two primary benefits:
REDUCED RISK – Direct connection to site files reduces the prevalence of missing documents through access that enables more frequent remote inspections. A systematic process for collecting essential site documents, reporting, and daily alerts assist with identifying study-jeopardizing compliance errors.
SPEED – Sites create and manage essential study documents up to 40% faster through the use eISF tools. By connecting to your site's platform of choice, clinical operations teams can choreograph site workflows based on specific protocol needs, identify bottlenecks to progress in real time, and obtain documents and data between site visits.
Due to these benefits, most sponsors and CROs are expected to have an eISF strategy within three years.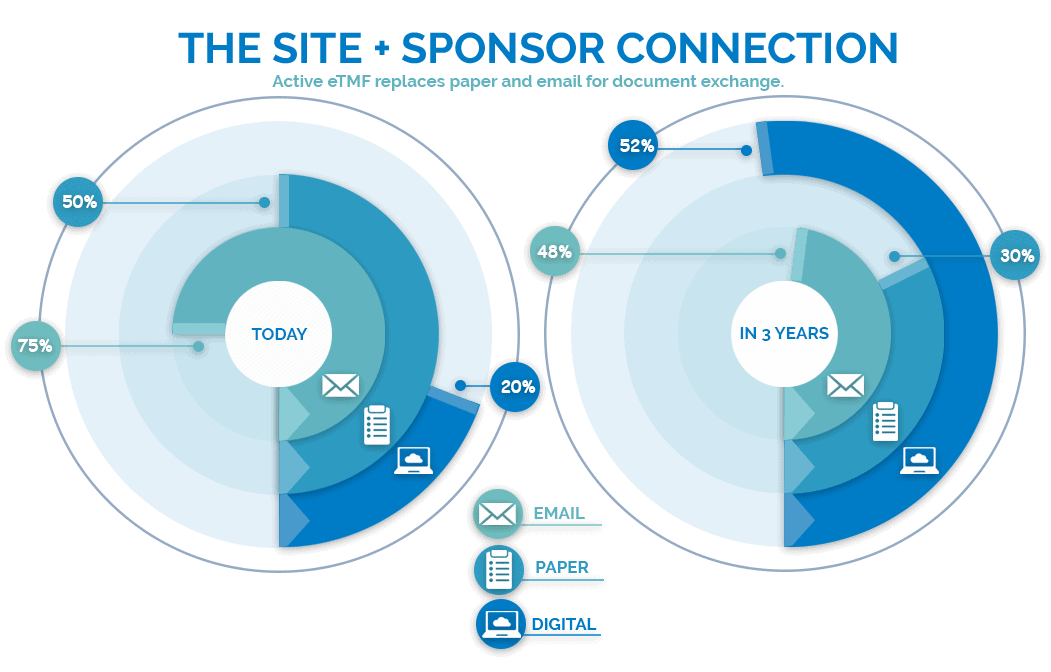 The above graph shows how the 300 sponsors surveyed by ISR research are graduating from manual or email-based site document access to direct digital connection. This evolution usually encompasses four stages, from most cumbersome to most advantageous:
Stage 1 | Email and Manual. Technologically premature sponsors rely on directing their site partners to use attachments to email essential documents or wait until a site visit to collect documents manually.
Stage 2 | eTMF Portal. Some eTMF vendors offer a portal where sites upload documents, which can result in duplicate work for both sites and sponsors. Sites have to move documents from their eISF, and sponsors must file documents from the portal to the appropriate storage location.
Stage 3 | eISF-eTMF integration. Integration of the eISF and eTMF allows documents to be remotely QC-ed inside the site's eISF and automatically filed in the appropriate location. Integration reduces risk by creating compliance visibility and a seamless pedigree for documents. Study progress is accelerated by allowing real-time insights and access that was historically only attainable through site visits.
Stage 4 | One Uniform Application for Sites and Sponsors. Modern eTMFs, like Florence eTMF, merge the eTMF and eISF into the same application. Sponsors provide sites a full-fledged document management tool by using sophisticated permission controls and enable the same feature-richness of the eTMF at the site level. Workflows like version control, eSignature deadline tracking, task management, and quality control can be synchronized from anywhere.
Are you ready to join the league of the most innovative and efficient sponsors and CROS? Contact the team at Florence for a strategic plan on how to make the transition to direct eISF access.
Download the quick guide to Five Capabilities of a Modern eTMF to access at anytime while you evaluate the performance of your current system or prospective vendors.
Florence Webinar: Managing Multicenter Trials
As the number of multicenter trials continues to grow, it is essential coordinating centers begin thinking about their technology like a sponsor. This is especially important when it comes to the management of your data and documents.
Watch this webinar recording discussing best practices for managing multisite clinical trials.