Supporting Ukraine Clinical Trials During a Time of War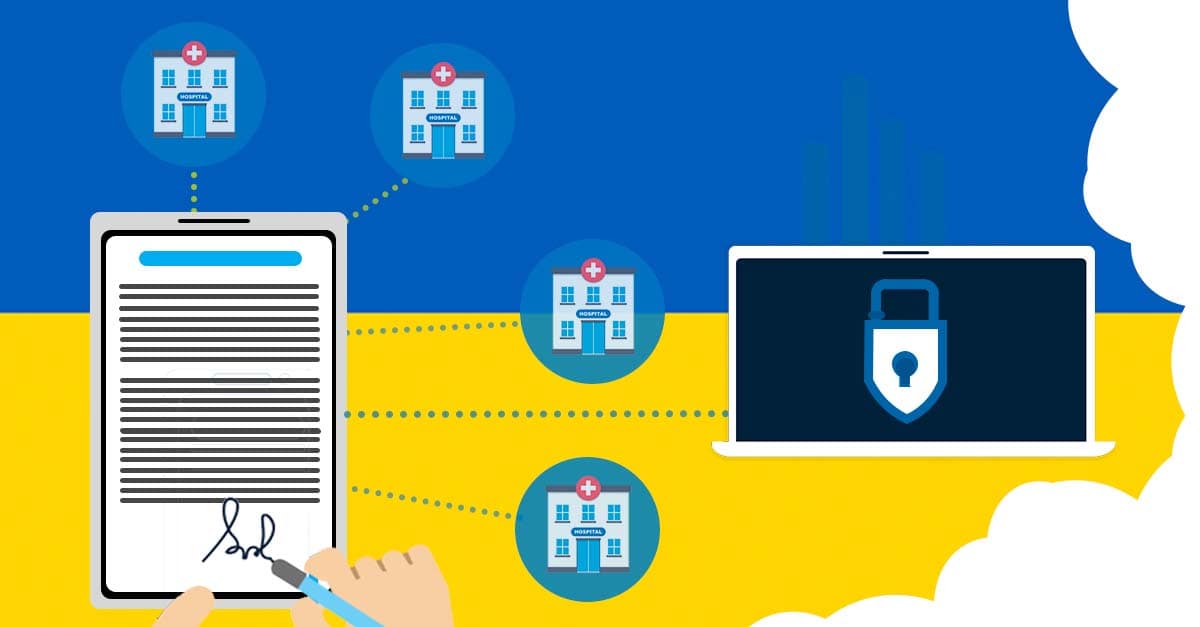 Ukraine clinical trials continue to suffer because of Russia's invasion. When the war began, clinical trial activity had to be frozen.
While some trials have resumed and some international trials continue to serve Ukrainian patients, the crisis raises an important question for clinical research teams: how do we support participants during a time of war?
The first priority during any trial is to ensure participants are safe. During crises, that means patients might need to leave non-critical studies–and that is exactly what happened in Ukraine. But for patients with a serious illness, a clinical trial may be one of their last chances at survival.
So how do clinical research teams fulfil their first obligation, to keep participants safe, while also giving them access to clinical trials that could help them survive?
The answer is a combination of flexibility, changing regulations, and using successful decentralized techniques tested during the COVID pandemic.
The impact of war on clinical trials in Ukraine
When the war began, new clinical trial activity froze, said Ukrainian Association for Clinical Research president Dr. Ivan Vyshnyvetskyy.
Any trials that had yet to start recruiting were cancelled or put on hold. But what about ongoing trials?
There were 251 drug or device trials in Ukraine at the time the war began. Although many of the trials with Ukrainian sponsors were forced to pause, trials that had international sponsors were faced with a few options:
Release Ukrainian participants and recruit participants from other countries

to replace them

Transfer Ukrainian participants to

clinical research sites

in other countries

Let Ukrainian participants continue participating from where they were, while allowing for

flexible or remote

data collection
Each of these possibilities comes with a mix of advantages and disadvantages. Leaving the study is the best option for many patients who are trying to remain safe in their homes or reach a place of safety. However, critically ill patients, such as cancer patients, often choose to remain in trials, even during a time of crisis.
Patients who need to stay in trials could transfer to a research site in another country, but many patients aren't choosing this option. One sponsor, Merck, said that less than 1% of their trial participants chose to transfer to a clinical research site abroad.
The third option is for patients to continue participating in trials from their homes in Ukraine. As new studies begin to start up again and recruit patients locally, this option has become more and more popular. Between February and August 2022, two single-country studies were launched, as well as 44 multinational investigations with a site in Ukraine.
But running trials in a country at war presents safety, logistical, funding, legal and regulatory challenges. Here are some tactics sponsors, CROs, sites, and tech companies can use to keep patients safe and in the trials they want to participate in.
How to keep Ukraine clinical trials running: challenges and solutions
War has a devastating effect on healthcare, especially on logistically intensive care like clinical trials. During a recent webinar series, DIA highlighted several of the most prominent challenges facing current clinical trials in Ukraine.
We'll highlight each of these challenges and how sites, sponsors, CROs, and tech companies can work together to address them.
Participant safety and visits:

if participants choose to remain in trials, they will need options like changing trial sites or remote data collection

Data storage:

remote and electronic data storage can help prevent paper documents from being destroyed

Shipping and logistics:

sponsors may need to collect data remotely and devote extra funding to shipping investigational medicinal products

Legal and regulatory shifts: many countries are adapting the regulatory shifts used during COVID to meet the needs of Ukrainian trials
Participant safety and visits
Participant safety must be the number-one concern in clinical trials, especially during a time of war. Even if participants choose to remain in the trial, they may move to another country or to a different city in Ukraine to protect themselves and their loved ones.
This means that trials need to be flexible about how participants engage in visits.
Patients might need to visit a different site due to impassable roads, destroyed buildings, or electrical outages–or they might need to submit data remotely, using patient engagement tech like telehealth calls or wearable devices.
Protocols need to give participants flexibility for how they continue their trial participation.
Data storage
To give patients more options for how they participate in trials, we also need more options for how patient data is stored.
If data is only stored in paper binders on site, participants' data could be lost when participants change sites. Site staff may also be unable to access the data if roads are unsafe–or, in the worst-case scenario, the data might be destroyed altogether.
For all these reasons, sites need to store their patient data in an electronic platform, like an electronic Investigator Site File (eISF) or Electronic Medical Record (EMR). This means that data can be accessed no matter where a patient needs to go for care. Sponsors should be willing to fund platforms like eISFs and EMRs now to prepare for future crises.
Patient data should also be stored in servers across more than one country (where possible) and should have strong security protections in place to protect it from hacking and theft.
Shipping and logistics
Even when participants are safe, it can be difficult to move investigational medicinal products (IMPs) in or out of a country at war.
Ukrainian Association for Clinical Research president Dr. Ivan Vyshnyvetskyy told Wired, "The main problem is logistics. It is almost impossible to ship biosamples from Ukraine and investigational medical products into Ukraine from the sponsors."
If sponsors can move investigational medicinal products to patients' new sites, it may be possible to continue the trial–otherwise, the participant would have to leave the trial.
Fortunately, if patients still have access to the IMP, sponsors have made progress in figuring out how to analyze biosamples locally in Ukraine. This means that even with airspace restrictions, many participants can remain in potentially life-saving trials.
The process of shipping IMPs and biosamples and analyzing samples in new locations is expensive and time-consuming. But as local Ukrainian funding is shifted from research to aid, it's important that international sponsors with abundant funding don't abandon Ukrainian sites or patients.
Many sponsors are responding by only physically shipping products that cannot be transferred in any other way, like biosamples and medications. They then collect all other data and documents remotely, as they did during the COVID pandemic.
Legal and regulatory shifts
It's difficult to follow complex regulatory guidelines during wartime. In response, many regulatory agencies have produced revised guidelines.
For example, the European Medicines Agency (EMA) encourages all EU sponsors to adjust the way they run clinical trials in Ukraine and explicitly tells them to use the flexible, decentralized strategies they discovered during the COVID-19 pandemic.
You can learn more about the EU's guidance for decentralized trials and remote technology in our breakdown of the EU Clinical Trial Regulation and of Annex 11.
Other countries that have issued specific regulatory guidance for the crisis in Ukraine include:

It's important that sponsors, CROs, sites, and technology vendors refer to individual countries' guidelines when determining how to support Ukraine clinical trials.
Our compliance team also offers free guidance on how teams can approach global clinical trial regulations.
Supporting clinical trials in Ukraine
During times of war, clinical research teams' first obligation is to ensure trial participants are safe, even if that means canceling trials or letting patients leave them. But patients with life-threatening illnesses are often counting on clinical trials as their last hope for treatment.
In those cases, international sponsors, CROs, and technology vendors need to listen to Ukrainian sites to learn how to best help their patients. By giving sites the capacity to store patient documents and data online, reach patients in their homes, and engage in remote monitoring visits, we can empower trials to continue during times of crisis, just as we did during the pandemic.
To learn more about how changing regulations will impact clinical trials in Ukraine, view our EU Annex 11 guide and our guide to global regulations.
__
By Taylor Davidson, Content Writer
With contributions from Sara Guyler, Global Policy Manager