Clinical Trial Sponsors and CROs Discuss Moving Beyond COVID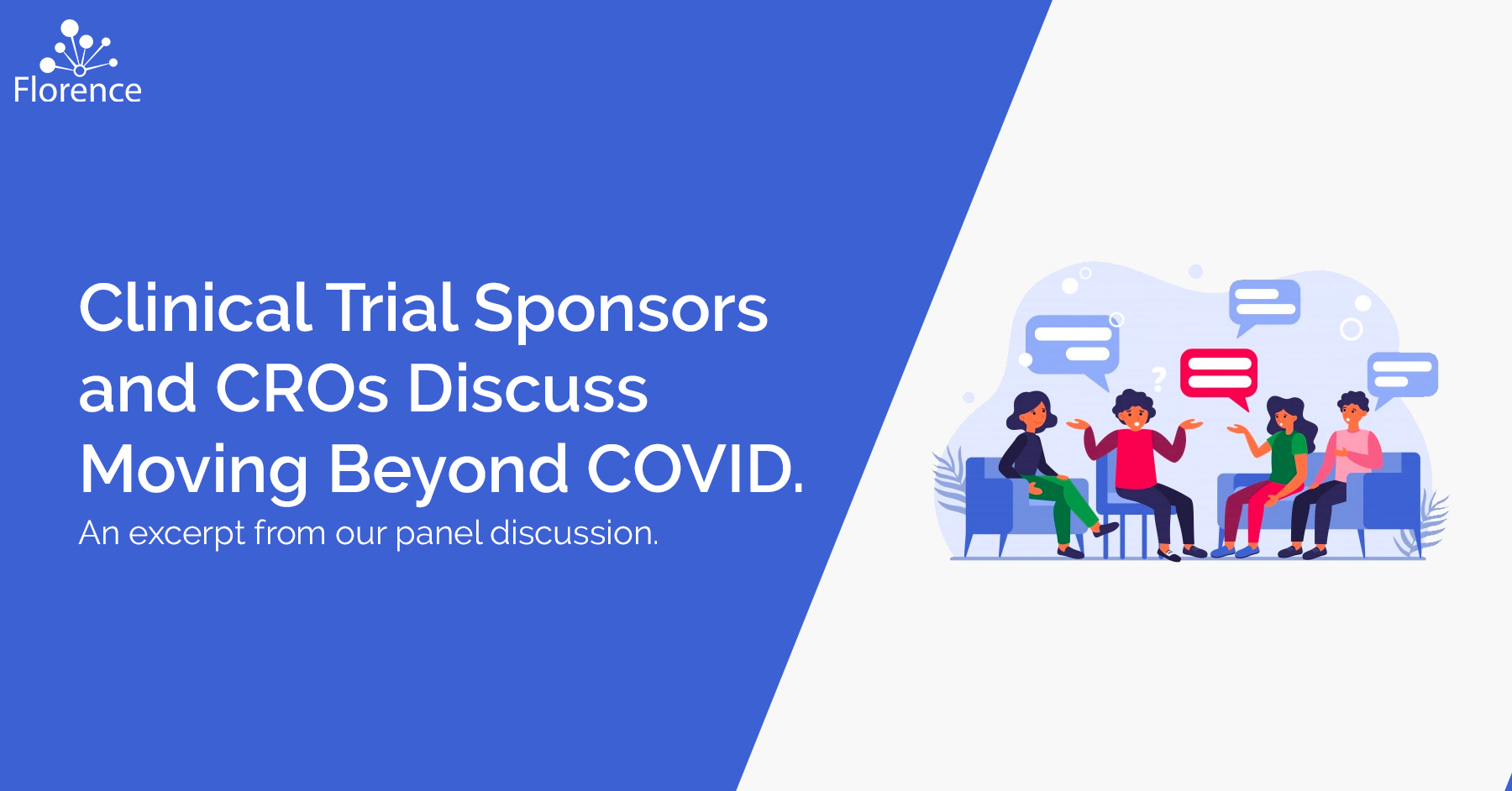 The COVID-19 pandemic created an unprecedented challenge across the clinical research industry. For sponsors and CROs, it meant developing a lifesaving vaccine and continuing ongoing clinical trials while navigating strict, yet necessary, regulations limiting on-site access at research sites.
In this excerpt from our Moving Beyond COVID Panel Discussion series, Heather Frost (Director of IM Clinical Trials Services at Pfizer), Kristy Wort (Director of Project Operations at Total Clinical Trial Management), and Suzanne Kincaid (COO of Aperio Clinical Outcomes) discuss how they overcame the hurdles presented by the pandemic and what strategies they plan to carry into the future.
View the entire conversation with host Blake Adams—including more in-depth questions about technology and the future of research.
Q) What challenges did your clinical operations face in 2020?
Heather Frost, Pfizer: Not being able to go onto the site…we really needed a way to communicate with the sites, give them solutions so that they could still do their jobs. That was the biggest hurdle for us.
Kristy Wort, Total: We had already started talking to Florence about moving from a paper binder to a fully electronic regulatory binder for our sites, and this just forced us to speed up the process, move away from the paper and look into a virtual solution for monitoring.
Suzanne Kincaid, Aperio: The show had to go on, but it forced us all to move into a more digital space and get away from paper. Access to site medical records improved…but accessing medical records has been and remains a challenge for many sites.
Q) What technologies did you implement to enable site access?
Frost: Basically we went to enable things with "e" in front of the name, so eISF, ePro, eConsent. A lot of those things we already had, at least in a pilot format, but we really needed to accelerate the implementation of some of those. And in the case of the eISF, for virtual monitoring, we had to start from scratch and accelerate that timeline to get that implemented as soon as possible.
Kincaid: We had already begun building our centralized monitoring and analytics reporting as part of our risk-based quality management strategy. So that really gave us comfort and helped us minimize risk as we had less and less access to site source because we could still see the health of the study from multiple perspectives…I think of it (remote monitoring) as our air traffic control. It lets us see the complete horizon of how the study's doing. We're not just looking at data vertically and out of context.
Q) How did you help sites transition to this new technology?
Frost: We had to take into account that the site personnel are doctors and nurses: they aren't necessarily technology-focused. So we had to keep that in mind as far as picking solutions that would be appropriate for them. It's a lot to take on a new technology, but even more so in the time of COVID, when we have no choice.
We wanted to make it so that we would work smarter, not harder. So when we were choosing solutions—for example, the eISF—we chose a solution that was intuitive to use. We wanted to make sure that the training that we were giving the sites, we gave in bite-sized chunks, so they didn't know more than needed to do their job.
And we also relied heavily on the technology to support our business processes, so that the people at the site could do their job without worrying that they might accidentally "unblind" themselves or do something they weren't supposed to…and in the end our study teams were clamoring to use the software, because it's a gamechanger, as far as making sure your ISF is compliant, making sure if someone can't come to the site, they have access anywhere in the world.
Wort: We definitely had to hold the sites' hands and help them through this process…even with moving to the Florence eBinder and the electronic source and the protection of the PHI, we're still finding that sites are maintaining their own private eBinder and even some paper binders on site. So it's just helping them through that process and helping them understand that they have other options and providing them the solutions they need.
Q) How did new technology impact your sites?
Kincaid: I think it's easy to forget sometimes that sites are running other studies than just the study we are working with them on. I worked in a busy cancer center when it was not unusual for us to be running more than 200 clinical trials at any given time. So you think about the burden of giving people access, answering people's questions…eConsent is an area where I see more and more adoption (of technology), not just for the ability to consent remotely but to remove the possibility of errors in consent.
That's one of the biggest errors you see in inspections: you miss a signature, you miss a date, something is missed, and with electronic consent, it won't let you move forward until you've completed all the pieces. It ensures you've got the most current consent form in your hand at the time of consenting.
I think about the regulatory binder. Bringing on a system like Florence SiteLink™ and Florence eBinders really makes so much more sense when you're at a busy site…On the CRO side, when we're starting up a site, there are thousands of individual email attachments that are being emailed back and forth. So wherever we can make a site's life easier with centralized workflows and a centralized space for them to work in, I think that's a win for everybody.
Q) What about working remotely?
Wort: We're based out of Dallas, but we work all over the U.S, and we have multiple individuals in different locations…we'll probably see (remote work) become a lot more common across the board.A lot of the individuals that I work with, I don't know if they're in the office or not, and it seems like a seamless transition that most of us have been forced into. It's working well.
Kincaid: We used to be very office-based, and in the last three or four years, we've moved more and more to a remote workforce. It's nice to not limit your talent pool to the regional area that's within driving distance, and when you think about how much time people spend commuting, it's really nice for them to have that time back.
Finding ways to communicate, being able to leverage people wherever they are, working electronically really enables (remote work). We need to be able to work electronically. How we used to do regulatory binders feels like how we used to do travel expense reports: filling it out, printing, faxing, filing…so something like an eBinder, that's way, way overdue.
Listen to the Full Discussion
Check out the full on-demand webinar, where Heather Frost, Kristy Wort and Suzanne Kincaid discuss the rate of change for transitioning to technology, what they expect to see in future clinical trials, and how to implement clinical trial software for successful outcomes. Want to hear about moving beyond COVID from the research sites' perspective as well as the sponsors'? You can listen to our complimentary webinar here.