Clinical Trial Remote Monitoring and SOP Adjustments (2020)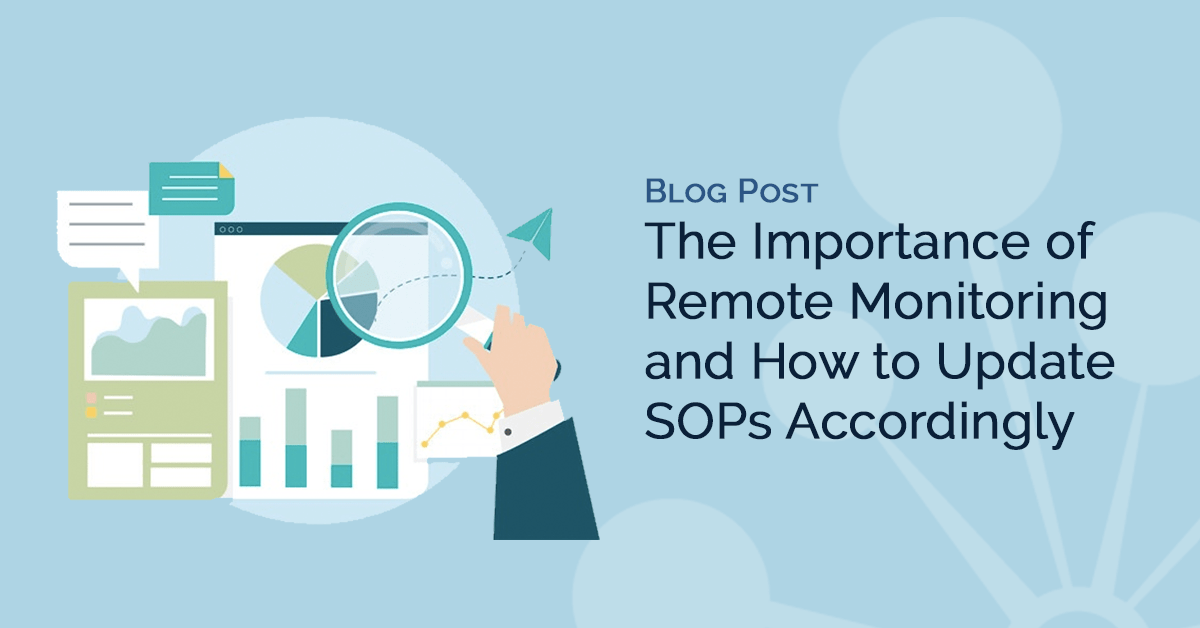 Today's crisis climate is creating a dichotomy in clinical research. On the one hand, researchers are experiencing major clinical research disruptions across the globe due to direct proximity to patients, priorities of healthcare workers, and a fragile overall healthcare ecosystem. As a result, sites are closing, medical facilities are enforcing access restrictions, and there are constant delays or stoppage of non-essential studies. On the other hand, this health crisis is highlighting the critical need for clinical research due to ongoing COVID-19 trials.
The unique environment has researchers racing to enable remote capabilities to continue study progress and updating SOPs to remain compliant in the transition to remote work.
At the center of this split is ensuring the safety of the study participant.
This prioritization of safety has caused regulatory bodies and study partners to release guidances specific to maintaining and managing clinical trials during the global pandemic.
As a result, clinical researchers are asking questions and seeking workarounds to continue operations in response to site-specific adjustments. One central issue has surfaced — how do we continue to maintain compliance when working from home?
A main component of this compliance standard is the concept of remote monitoring for study partners. How can sites enable and manage this crucial process for study partners?
Please note all information included in this article is for the purpose of examples and not intended for specific client use without further consultation.
To better understand how to enable remote monitoring compliantly, our team of former clinical researchers reviewed the recent "FDA Guidance on Conduct of Clinical Trials of Medical Products during COVID-19 Pandemic." Here is what they found:
There will be an increase in protocol deviations

. In the guidelines, it encourages, "sponsors and investigators to work with their IRBs to prospectively define procedures to prioritize reporting of deviations that may impact the safety of trial participants." All deviations will eventually be reported, but depending on the severity and impact, they may not get reported until the annual review. Communication about deviations across studies, teams, and IRBs help coordinators prioritize and respond to deviations more quickly. A cloud-based technology platform can easily facilitate this process.
The safety of the participant always comes first, which is highly emphasized throughout the guidance.

When some or all staff are working remotely, an intuitive workflow can significantly help maintain participant safety and data integrity. A remote tool like eRegulatory offers the ability to communicate about deviations promptly.
Monitors and the FDA pay close attention to deviations to ensure participants' safety and data integrity.

According to the recommendations, "If planned on-site monitoring visits are no longer possible, sponsors should consider optimizing use of central and remote monitoring programs to maintain oversight of clinical sites."
Adjusting Clinical Research Standard Operating Procedures (SOPs) for Remote Capabilities
The guidance is clear. Regardless of deviations, sites can utilize remote monitoring to prioritize participant safety and data. With this in mind, your organization's Standard Operating Procedures (SOPs) are the key to ensuring that your transition to remote processes holds water.
Who does this apply to, what do we update, and how do we update it?
First, who does this apply to? If you are a site or a sponsor who has rarely managed trial documentation remotely and/or never employed remote monitoring, this is for you.
There are two main SOP components to consider when remotely monitoring and managing clinical trial documentation: access control and communication.
Access Control, who can see what documents and when. This aspect is perhaps the most critical component when it comes to remote access.
Most likely, you already have language in your SOPs stating how the regulatory binder or trial master file is accessed by team members, monitors, and auditors. The language may include a filing cabinet with lock and key or a biometric-accessed binder room. Here are five things consider to update your access control SOP for remote management:
Who will be accessing those documents? Ex: Internal team members (all or specific roles), external team members (monitors, auditors, third parties)
What types of documents will be accessed remotely? Ex: Active enrolling studies, specific disease groups, specific hospitals or locations, etc.
Where will the documents be housed, and is it secure and Part 11 compliant? Ex: purpose-built eReg or eTMF platform, comprehensive document management system, shared drive, etc.
When will the documents be accessed, and how often? Ex: during business hours, specific days/times of the week, following patient visits, etc.
How will the documents be accessed? Ex: login via secure organization VPN, granular role, and permission-based control, via cloud-managed software, etc.
Answering these questions in your SOP updates will maintain the integrity and audit trail of the documents accessed and managed as thoroughly as possible.
Communication in times of remote work is also essential in terms of how team members are keeping up to date with document and trial updates as time progresses.
Most likely, you already have a current plan in place for how you and your team members are communicating while remote. Next is identifying the standard way in which you are exchanging documents and collaborating about changes and updates.
The keyword here is "standard." In this case, the update in SOP language not only prevents compliance risk but also forces a standard process to allow for easily tracked changes and versions across all remote studies.
Here are four scenarios to consider for your communication plan:
New document updates (ex. protocol amendments, ICF templates, investigator credentials)
New study status (ex. budget approved, study closeout, enrollment changes)
Missing document or task (ex. signature pending, missing FDF, expired training)
Remote monitoring findings (ex. query to be reconciled, document approval)
A standard plan and channel for these types of communication will ease the burden on your team, eliminate duplicative effort, and prevent compliance risks of missing or outdated information.
How to Tactically Update SOP Language
Thus far, we've answered two out of three SOP questions, whom this applies to and what exactly needs to be updated.
Lastly, we get tactical. How do we update the language? In terms of procedure, the process of updating should still follow your organization's requirements. As for language, we'll want to ensure we cover three parts:
Acknowledgment of process changes

Identification of which processes, teams, and studies are specifically affected

Definition of how these processes are changing
Here are a few examples of SOP language for both sites and sponsors regarding universal remote access as well as remote monitoring:
Remote document management [for both sites and sponsors]:
The Administrator or [Insert Responsible Person] will determine user role permissions based on designated study-related tasks.

The Administrator(s), or designee will create, modify, and terminate user accounts, assign roles, and conduct periodic reviews to verify the status of all users.

Key study documents will be managed, stored, and presented electronically. Staff is to notify sponsors and auditors of this policy prior to trial initiation and before any audits or inspections.

Electronic documents may include a blend of original and certified copies. Electronic certified copies are defined as those created from the original and tracked with an audit trail that evidences authenticity.

All trial-related email correspondence with sites and internal team members around monitoring visit summary and results should be retained for review.
Remote monitoring [for Sites]:
Monitors, auditors, and inspectors will be given access to [insert record management system here] by following the guidelines described in the organization's Access Control SOP. All access is monitored via the audit trail.
Remote monitoring [for Sponsors]:
Remote Monitoring: all members of the study team who are responsible for the appropriate monitoring of site trial-related documentation will utilize [enter method of record management here] to ensure all study documentation is maintained in a complete, presentable and organized fashion.

The individual who is responsible for monitoring a site's study documentation shall be given the appropriate permissions by the

Administrator(s)

. Permissions will be determined as appropriate by the

Administrator(s),

as per the guidelines described in the organization's current Access Control SOP.

Monitoring visits will be documented by the existing Sponsor operating procedure for documenting monitoring visits and findings. Monitors can utilize tags and tasks to record which documents were reviewed and when.
Navigating these new and continuously evolving times can be tricky. Still, the key to easing the burden from your team is as transparent as possible about the process and ongoing adjustments to maintain the integrity and compliance of your clinical trials.
Please note all information included in this article is for the purpose of examples and not intended for specific client use without further consultation.