Florence Workflows > Remote Source Data Review and Verification
Enable Remote SDV and Remote SDR by Deploying and Connecting to Electronic Participant Binders at Every Study Site
Streamline remote source data verification and remote source data review with direct access to electronic participant binders at study sites, coupled with EMR front-end integrations for sites to securely route source documents.
Florence facilitates 3 million remote monitoring workflows
every month across 10,000 study sites in 45 countries.
Why Clinical Operations Teams Choose Florence for Remote Participant Binder Access
Experience Sites' Trust in Florence
When you deploy remote monitoring through the Florence eBinders Electronic Investigator Site File you can expect the industries highest adoption rate. That's because sites rate us #1 for ease-of-use, ease of setup and support. We average 92%+ full site adoption rates.
Implement Simple and Fast EMR Transfer
Front-end integrations at the study site enables source document routing to the appropriate location in the participant binder with built-in PHI redaction.
Work on a Global Scale
Florence supports more than 3 million remote monitoring events per month across 10,000 study sites in 45 countries. Whether you need to conduct one study at 10 sites or a thousand at 10,000 sites, we can help. Plus we are compliant on a global scale.
Support Risk-Based Monitoring
Real-time access to participant binders at every study site give your team the ability to conduct risk-based monitoring activities remotely.
Maximize CRA Efficiency
CRAs can monitor over 60 sites a week with our system. CRA staffing bottlenecks are reduced, travel costs are reduced, and CRAs can make a greater impact on the study sites.
Gain 24/7 Visibility Across All Sites
Analyze risk across all sites and identify problem areas earlier with global dashboards and study reports.
Florence's platform is helping us to respond to the changing environment due to COVID-19 and further progress COVID-19 research with the capability to perform remote monitoring where approved by regulatory authorities and ethics committees.
Rob Goodwin
VP and Head of Operations in Global Product Development
Pfizer
In clinical research, compliance is crucial. We've got you covered.
Remote Source Data Verification and Source Data Review Workflows
Start-up Sites Remotely
Remotely activate and start-up your study sites with a complete suite of electronic binder solutions.
Deploy the industry-standard electronic Investigator Site File (eISF) to every site with templates and pre-built workflows.

Distribute fully electronic participant binders to study sites.

Create and track placeholders, due dates and task assignments to keep studies progressing.

Learn more about our entire remote site start-up workflow.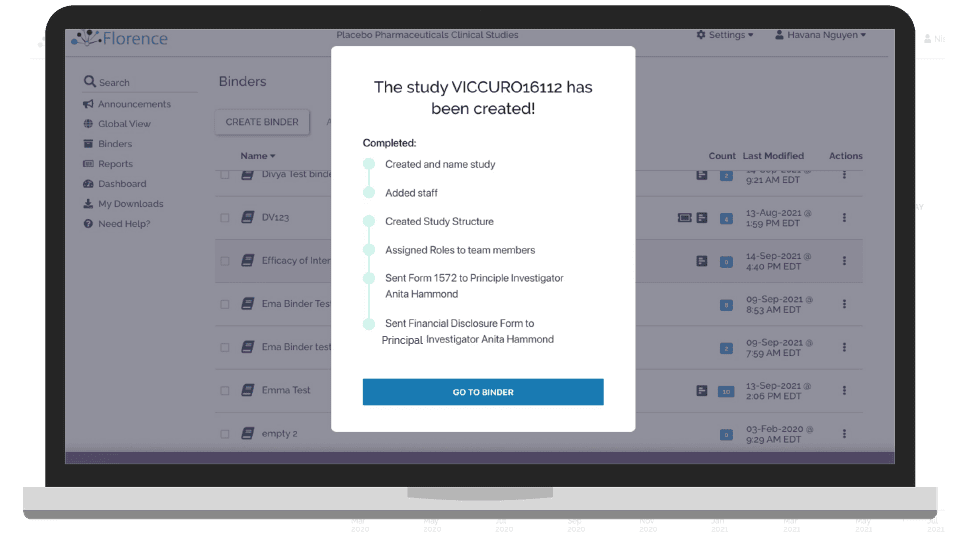 Multiple Methods for Sites to Collect Source
Sites can easily and securely collect source documents using methods like front-end EMR integrations, scanning and emailing to placeholders, drag and drop, or direct source entry.
Built-in redaction at the site level ensures PHI remains safe.

Front-end EMR integration relieves IT teams of compliance and security concerns.

Easy drag-and-drop, scan in and email to eBinders functionality allows for multiple source collection methods.

Automatic routing of source documents minimizes site staff workload and increases timeliness, quality and completeness.
Remote SDV and Remote SDR
Conduct remote source data review and remote source data verification anytime.
Experience compliant access to participant binders in accordance with global and regional regulations.

Per GCP guidelines, sites maintain ownership and control of their documents.

Mitigate problems faster with advanced insights into risk areas or deviations.
We are committed to making you and your sites successful.
Avg. Support Response Time
Florence's SiteLink™
Remote, Always-On Research Workflows with Your Study Sites
Activate remote site start-up, monitoring, and source data review/verification on SiteLink. Connect and deploy Florence eBinders™, the industry-standard electronic Investigator Site File and Electronic Participant Binder, on a global scale to every site in your study.
According to user reviews, Florence is rated the #1 clinical trial workflows platform for ease-of-setup, ease-of-use and customer support.
Why being rated #1 out of 190 clinical trial platforms on G2, the peer-to-peer review site, matters for you.
High Adoption: We lead the industry with 92%+ site technology activation per study.

Faster Timelines: Intuitive workflows that eliminate duplicate work mean work gets done fast.

Low FTE Burden: You don't need large dedicated IT teams to support implementation and management.

Always Reliable: Our customers have had 100% uptime over the last 12 months. We're there when you need us.
"Our highest performing CRAs are now "visiting" 64 sites per week with remote monitoring on Florence, up from 2 per week."
VP Clin Ops, Top 3 Global CRO
"92% of 140 study sites in 8 countries were activated on Florence for remote source access and monitoring in four weeks."
VP Clin Ops, Top 3 Pharma
"Our eTMF QA score went from a 65% submission pass rate to 98.7% by having real-time remote access to the site eISF."
Aperio Clinical Outcomes
Florence Supports Remote Workflows on a Global Scale
Florence now supports workflows between sponsors and more than 10,000 study sites in 44 countries.
We love working with Sponsors on Florence. Collaborating in real-time on a single document management platform helps us tackle study tasks faster and keep research on track.
Dr. Christina Brennan
VP of Clinical Research