Florence Workflows > Multi-site Management
Manage Multi-site Trials with Electronic Document and Administrative Workflows
Whether you're supporting an industry study, grant-funded study, or Investigator Initiated Trial, you can manage multi-site administration and regulatory workflows on a single integrated platform.
More than 10,000 sites in 45 countries trust their
Electronic Investigator Site File workflows to Florence eBinders™.
Why Coordinating Centers Choose Florence for Multi-site Trial Workflows
Link eTMF and eISF
Coordinating centers must manage the full Trial Master File as well as their individual Investigator Site Files. Florence's integrated workflow platform facilitates seamless data exchange between the two environments.
Choose a Suite of Workflow Solutions
Deploy a full digital and remote workflow platform with Electronic Investigator Site Files, Electronic Participant Binders, Electronic Logs and Electronic Consent.
Experience Ease of Use and Excellent Support
Florence is rated the #1 clinical trial workflow platform for ease of use, ease of setup, and support. All of your sites, including those new to research, benefit from our intuitive workflows. Plus, we support Investigator Initiated Studies with complimentary access to our platform.
Enable Secure External Access
Schedule and enable secure remote access for monitoring and collaboration with external users, including industry sponsors, monitors, IRB users and regulatory agencies.
Use Digital Workflows from Start-up to Close-out
Experience intuitive and fully compliant workflows for start-up, electronic signatures, DOA logs, training logs, AE logs, source collection and monitoring.
Stay Compliant at Scale
Ensure compliance across study sites with automated audit trails, version control, PHI redaction, and advanced permission and access controls.
In clinical research, compliance is crucial. We've got you covered.
Multi-site Management Workflows with Florence
Start Up Sites Remotely
Remotely activate and start up study sites with a complete suite of electronic binder solutions.
Distribute fully electronic participant binders to study sites.

Create and track placeholders, due dates and task assignments to keep studies progressing.

Learn more about our entire remote site start-up workflow.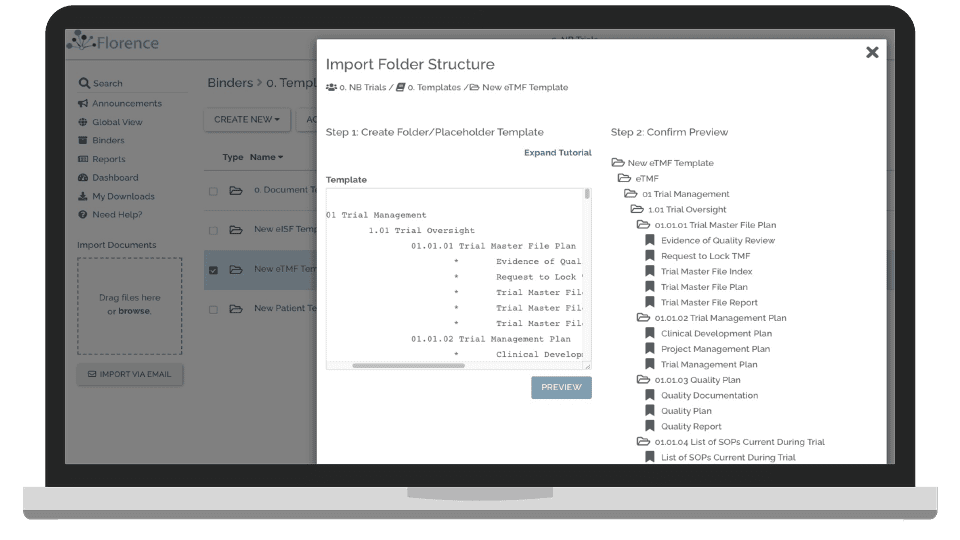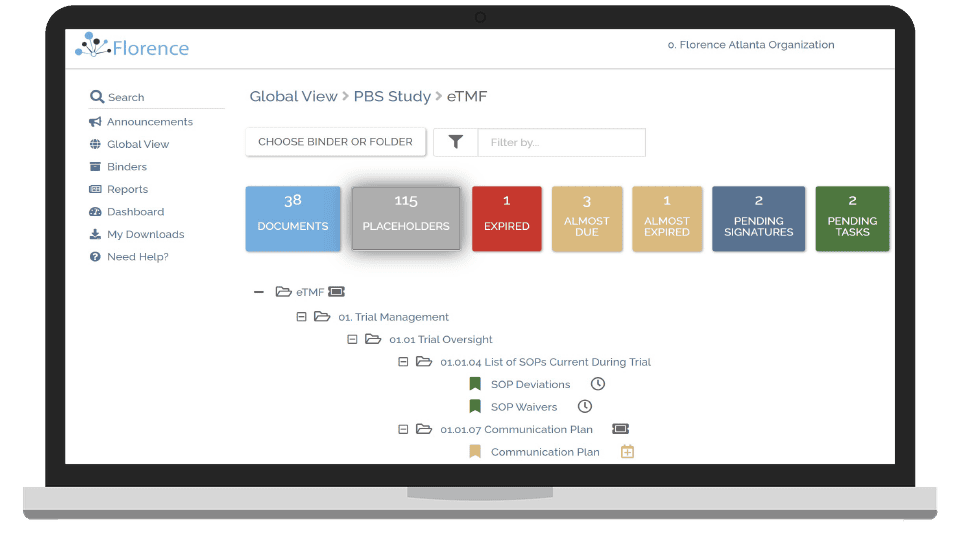 Enable 24/7 Continuous Monitoring of Sites
Access all study sites anytime for continuous monitoring.
Perform remote monitoring from anywhere across your portfolio of study sites.

Minimize disruptions to study sites when they do their work from start to finish in the platform.

Support risk-based monitoring plans with easy access to every document.
Improve TMF Timeliness and Completeness
We offer multiple methods of creating and gathering TMF documents as well as advanced dashboards.
Visualize your entire eTMF, including site files, when you integrate your eTMF with Florence's SiteLink™. Identify missing or expired documents with a single click.

Upload documents directly into the eTMF by dragging and dropping or browsing your computer files.

Sync documents directly into the eTMF with a simple email.

Leverage Part-11 compliant eSignatures to complete and finalize all document types within the system.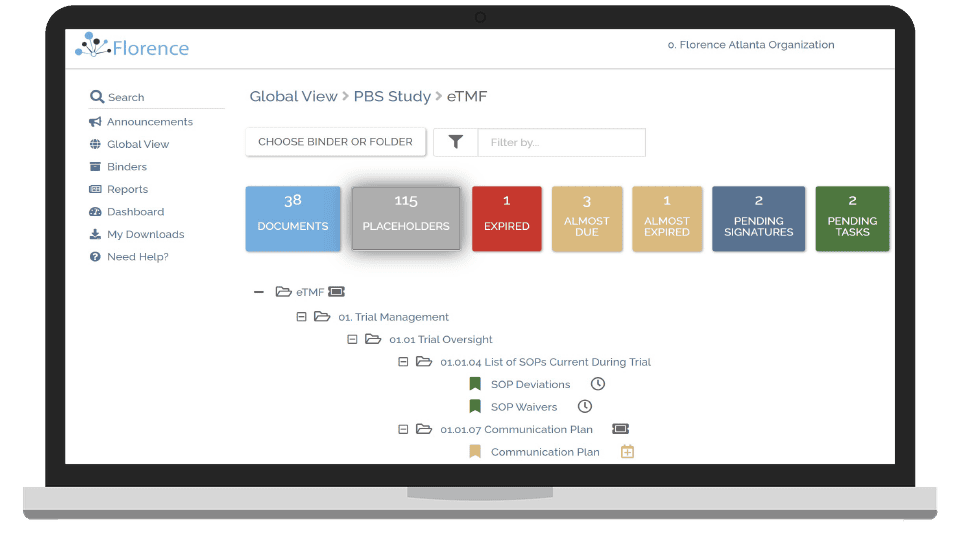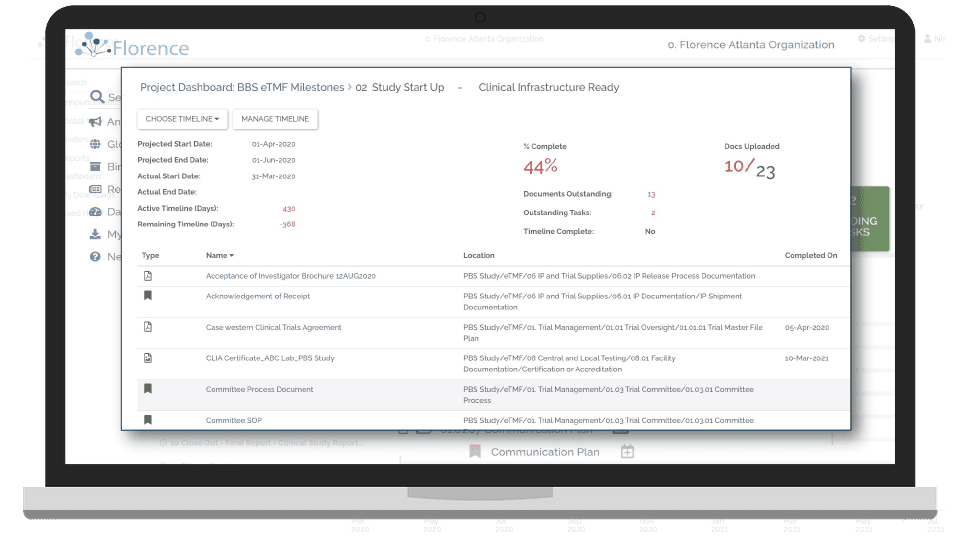 Communicate and Collaborate with Sites Remotely
Assign tasks and send compliant communications directly in sites' eISF workflows.
Create and assign document tasks to teams or individuals through the platform.

Electronically distribute communications, protocol amendments and other critical documents to all sites at once.

Mitigate problems faster with advanced insights into risk areas or underperforming sites.
Quality Control Documents and Sync Them to Your eTMF
Eliminate the need for mailing, emailing, and faxing study documents or using legacy site upload portals by directly integrating your eTMF with your sites' eISFs.
Use built-in quality control workflows to "review," "approve" or "reject with action plan" all of your documents from sites.

Sync final site documents directly into your eTMF for more timely and complete trial master files.

Create document queries and communicate with your sites through the monitor review module.
We are committed to making you and your sites successful.
Avg. Support Response Time
According to user reviews, Florence is rated the #1 clinical trial workflows platform for ease-of-setup, ease-of-use and customer support.
Why being rated #1 out of 190 clinical trial platforms on G2, the peer-to-peer review site, matters for you.
High Adoption: We lead the industry with 92%+ site technology activation per study.

Faster Timelines: Intuitive workflows that eliminate duplicate work mean work gets done fast.

Low FTE Burden: You don't need large dedicated IT teams to support implementation and management.

Always Reliable: Our customers have had 100% uptime over the last 12 months. We're there when you need us.
"The regulatory team is very happy with the process. It gives me great pleasure to have partnered with Florence to help them be more efficient with tasks."
Director, Research Quality and Regulatory Compliance
Multi-Site Health System
"We have staff in several different locations, so having a central access point for our information was very important and a huge draw."
Associate Director of Research Administration
Academic Cancer Center
"We manage multi-center studies, and eBinders gives us the power to be several places at once."
Director of Clinical Research Administration
Site Network
Florence Supports Site Enablement on a Global Scale
Florence now supports workflows between sponsors and more than 10,000 study sites in 45 countries.
We love working with sponsors on Florence. Collaborating in real-time on a single document management platform helps us tackle study tasks faster and keep research on track.
Dr. Christina Brennan
VP of Clinical Research