Florence's SiteLink™
Remote, Always-On Research Workflows with Your Study Sites
Activate remote site start-up, monitoring, and source data review/verification on SiteLink™. Connect and deploy Florence eBinders™, the industry-standard electronic Investigator Site File and Electronic Participant Binder, on a global scale to every site in your study.
SiteLink™ facilitates 5.2 million remote workflows
every month across 12,000 study sites in 46 countries.
Why Sponsors and CROs Activate Always-on Remote Workflows with Sites on SiteLink
Make Sites Happier
When you give your sites Florence eBinders through SiteLink, you give them a platform they love. Florence eBinders is ranked #1 for clinical trial workflows by sites for ease-of-use, ease-of-setup and support.
Maximize CRA Efficiency
CRAs with remote access capabilities can monitor over 60 sites per week with SiteLink. CRA staffing bottlenecks and travel costs are reduced, and CRAs can make a greater impact on study sites.
Expand Patient Access
Deploying remote digital workflows to sites means you can expand access to a geographically dispersed site network. Active sites on Florence already are within 25 miles of 90% of the US population.
Activate Sites Fast
Coupling our existing global network of connected sites with our #1-ranked site activation team, we set up your sites in days with a 92%+ site acceptance rate on Florence eBinders™, the industry-standard eISF and Electronic Participant Binder for sites.
Improve eTMF Quality
Over 80% of your eTMF is generated at the trial site. By integrating SiteLink with your existing eTMF or with the Florence eTMF, you can exchange documents seamlessly. The eTMF pass rate of one customer increased from 65% to 98.7%.
Accelerate Study Timelines
Automated workflows like electronic logs, placeholders, eSignatures and quality assurance workflows reduce start-up times by 40% for most of our customers and accelerate overall study timelines to reduce time to submission.
SiteLink is helping Pfizer to respond to the changing environment due to COVID-19 and further progress COVID-19 research with the capability to perform remote monitoring where approved by regulatory authorities and ethics committees.
Rob Goodwin
VP and Head of Operations in Global Product Development
Pfizer
SiteLink Workflows for Study Sponsors + CROs
Start Up Sites Remotely
Remotely activate and start up your study sites with a complete suite of electronic binder solutions.
The Florence site activation team – the best in the industry – helps you get sites activated on the platform in days.

Deploy the industry-standard electronic Investigator Site File (eISF) to every site with templates and pre-built workflows.

Distribute fully electronic Participant Binders to study sites.

Create and track placeholders, due dates and task assignments to keep studies progressing.

Sites conduct all start-up document completion in platform, giving you 24/7 visibility.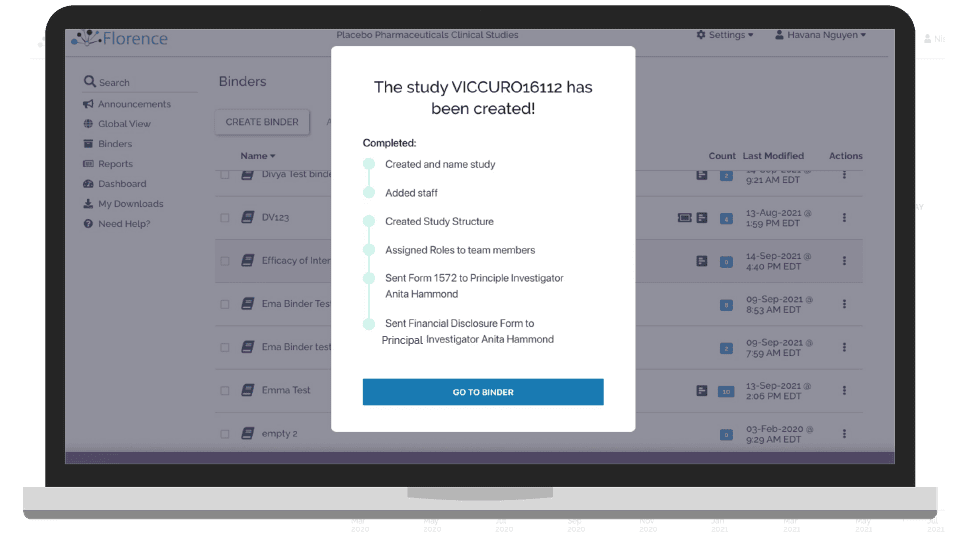 "92% of 140 study sites in 8 countries were activated on Florence for remote source access and monitoring in four weeks."
VP Clin Ops, Top 3 Pharma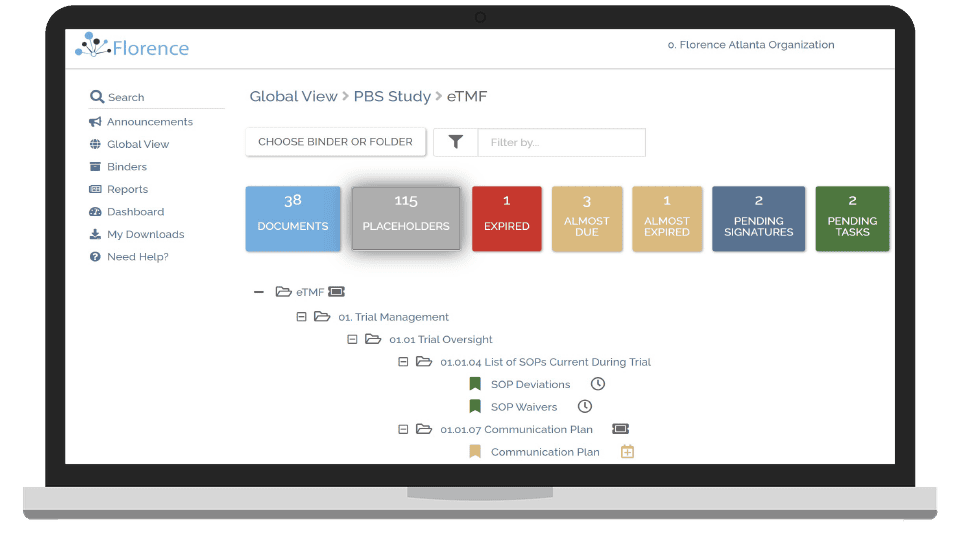 "Our highest performing CRAs are now 'visiting' 64 sites per week with remote monitoring on SiteLink, up from 2 per week."
VP Clin Ops, Top 5 CRO
Experience 24/7 Continuous Monitoring of Sites
Access your study sites' Electronic Investigator Site Files anytime for continuous monitoring.
Perform remote monitoring from anywhere across your portfolio of study sites.

Minimize disruptions to study sites when they do their work from start to finish in the platform.

Support risk-based monitoring plans with easy access to every document.

Maximize CRA efficiency with the ability to "visit" 60+ study sites per week.
Remote SDV and Remote SDR
Conduct remote source data review and remote source data verification anytime.
Use multiple methods to collect source documents, including front-end EMR integration, drag-and-drop, email to binders, and direct source entry.

Built-in redaction at the site level ensures PHI remains safe.

Automatic routing of source documents minimizes site staff workload and increases timeliness, quality and completeness.

Gain compliant access to participant binders in accordance with global and regional regulations.

Mitigate problems faster with advanced insights into risk areas or deviations.
"I worked with a site that was supposed to get something done for me in 6 months, a tight timeline. They got it done in 18 days."
Medical Device Industry Sponsor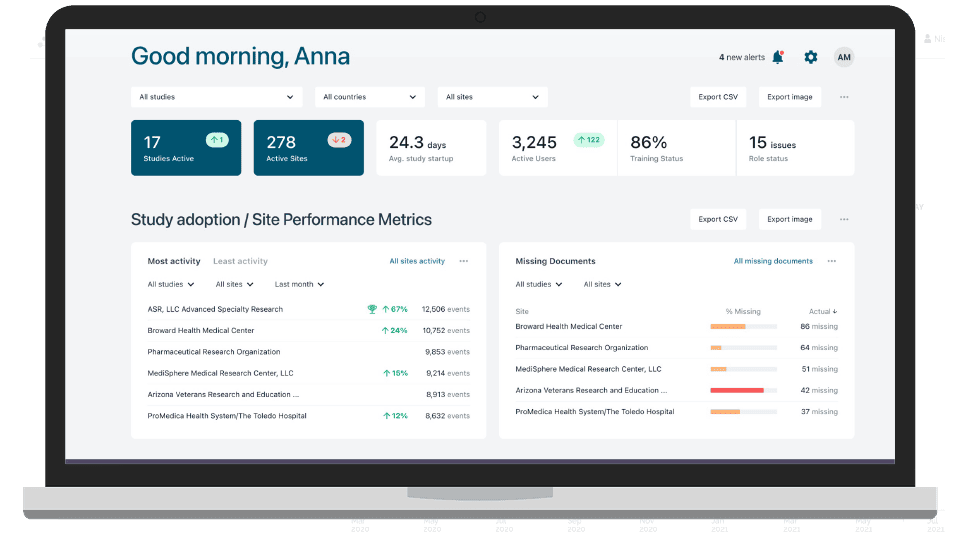 "Every day you delay a clinical trial you lose $600K. For a blockbuster drug, that's 8M per day – that's just a fact. Florence's SiteLink saves us 90-100 days on a trial. You do the math."
VP Site Management, BioPharma
Communicate and Collaborate with Sites Remotely
Enable global dashboards, compliant workflows, communications and electronic logs to remotely manage study site conduct.
Create and assign document tasks to teams or individuals through the platform.

Electronically distribute communications, protocol amendments and other critical documents to all sites at once.

Flexible and customizable templates allow fully electronic workflows for IP/Device Accountability Logs, DOA Logs, Training Logs, Temperature Logs, and more.

Track performance with easy-to-interpret visualizations that give insight into site and monitor activity at the study-, country-, and site-level.

Request Part-11 compliant eSignatures (stamp or addendum) from individuals or groups.

Mitigate problems faster with advanced insights into risk areas or underperforming sites.
Quality Control Documents and Sync Them to Your eTMF
Eliminate the need for mailing, emailing, and faxing study documents or using legacy site upload portals by directly integrating your eTMF with your sites' eISFs.
Use built-in quality control workflows to "review," "approve," or "reject with action plan" documents from sites.

Sync final site documents directly into your eTMF for more timely and complete trial master files.

Create document queries and communicate with your sites through the monitor review module.
"When we start a study there is a regulatory submission … we used to be at a 65% pass rate, now with Florence we are at 99%."
Director Regulatory, Pharma
In clinical research, compliance is crucial. We've got you covered globally.
According to user reviews, Florence is rated the #1 clinical trial workflows platform for ease-of-setup, ease-of-use and customer support.
Why being rated #1 out of 190 clinical trial platforms on G2, the peer-to-peer review site, matters for you.
High Adoption: We lead the industry with 92%+ site technology activation per study.

Faster Timelines: Intuitive workflows that eliminate duplicate work mean work gets done fast.

Low FTE Burden: You don't need large dedicated IT teams to support implementation and management.

Always Reliable: Our customers have had 100% uptime over the last 12 months. We're there when you need us.
We are committed to making you and your sites successful.
Florence Supports Site Enablement on a Global Scale
Florence now supports workflows between sponsors and more than 10,000 study sites in 45 countries.