It's time to get your research documents and data out of the mountain and into the cloud.
If your trial documents are stuck collecting dust inside of a mountain, you are unable to use them for technology-enabled clinical trials – big data, real-world evidence, historical trend reports, AI, and machine learning.
To take advantage of the data buried within your archived clinical trial documents you must get them out of the mountain and into the cloud.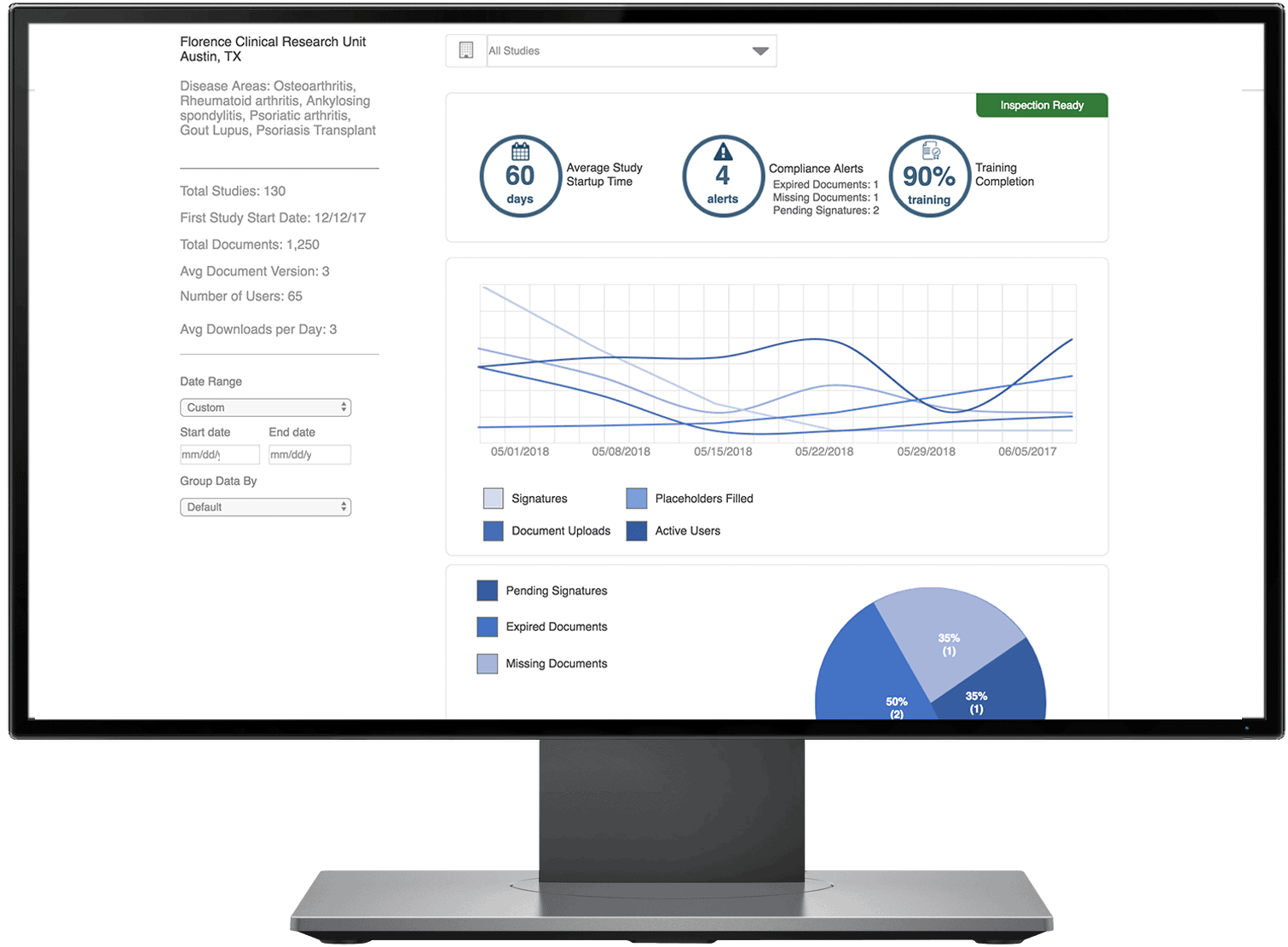 Join 6,200+ clinical trial sites moving out of the mountain and into the cloud with Florence eBinders™.
Eliminate inefficient document workflows wasting time and money, limiting your ability to scale and attract new studies.
Florence eBinders™ integrates all of your clinical trial systems, automates regulatory processes, reduces contract negotiation time, tracks study progress, and enables secure remote monitoring.
Join our growing network of over 6,200 research teams.
Florence eBinders™ | See what's inside
 Clear insights into what needs to be done

Global view of all of your studies in one place.
Actionable tasks to keep you on track.
No more losing documents or forgetting deadlines.
Easy-to-use and flexible for your entire team.

 
 Fully compliant, easy-to-use, eSignatures

Signing documents is a breeze with our eSignature tool.
Actionable workflows that eliminate repetitive tasks like requesting signatures, notifying users, and chasing down documents.
Intuitive "sign and go to next" feature enables easy step-by-step process for signing documents.
Fully compliant and accepted by regulatory bodies and sponsors.

 
 Project management tools accelerate study startup and progress 

Know where all your studies are and which ones are off track.
Easy visibility into multi-site studies.
Stay on track with study startup and anticipate potential delays.
Uncover bottlenecks and reduce barriers to startup.

 
 Enable true remote monitoring with audit trails

Full document and binder audit trails track views and changes.
Grant remote access to sponsors, IRBs and regulatory bodies.
Seamlessly manage how and when monitors can access particular binders and documents.
Easily and automatically redact parts of files and binders.

 
 Eliminate redundant processes with complete system integration

Connect with CTMS, EMR, eTMF, Email, and other tools you use.
Edit documents directly inside of eBinders

™.

Eliminate manual transfer of source documents with instantaneous uploads into a regulatory eBinder

™

.
Streamline communication with your CTMS saving you valuable time and reducing the risk of compliance errors.
Forward emails directly into the appropriate site/study binders.

 
Learn what adding eRegulatory looks like.
Download our free Roadmap to eRegulatory guide developed with tips and best practices from over 2,000 successful research site, sponsor, and CRO implementations.
Discover how Florence eBinders™ fits with your team.
Setup a few minutes to chat with our team and let us help you discover how eRegulatory best fits with your site, plus get an inside look at Florence eBinders™.