Download Florence Library of FDA eSource and
eRegulatory Guidance
Florence's library of the GCP inquiries regarding electronic processes. This library contains a complete compilation of the FDA's published responses to GCP inquiries, from 2002 to 2016, on their webpage. These inquiries stemmed from three main FDA guidance documents:
Inside this library are the FDA's responses to computer questions and our summaries of those exchanges. Each question, with its subsequent summary, is linked to the table of contents, so you can simply click a question and access its summary. Following each summary is the full account released by the FDA, for additional understanding of the agency's guidance.
Download Florence Library of FDA Responses
[optin-cat id=3491]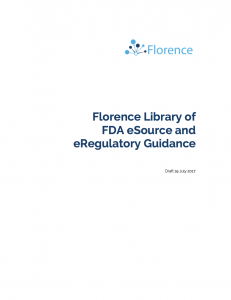 About Us
Florence is a team of clinicians, research professionals and technologists working to improve clinical trial efficiency from startup to closeout. Our eBinder™ solution eliminates workflow bottlenecks at the site, tracks study and site progress, and provides remote monitoring capabilities to sponsors — thus reducing uncertainty between visits, delivering cost savings, increasing compliance, and improving site-sponsor relationships.