Florence Releases 2022 State of Clinical Trial Operations Technology Report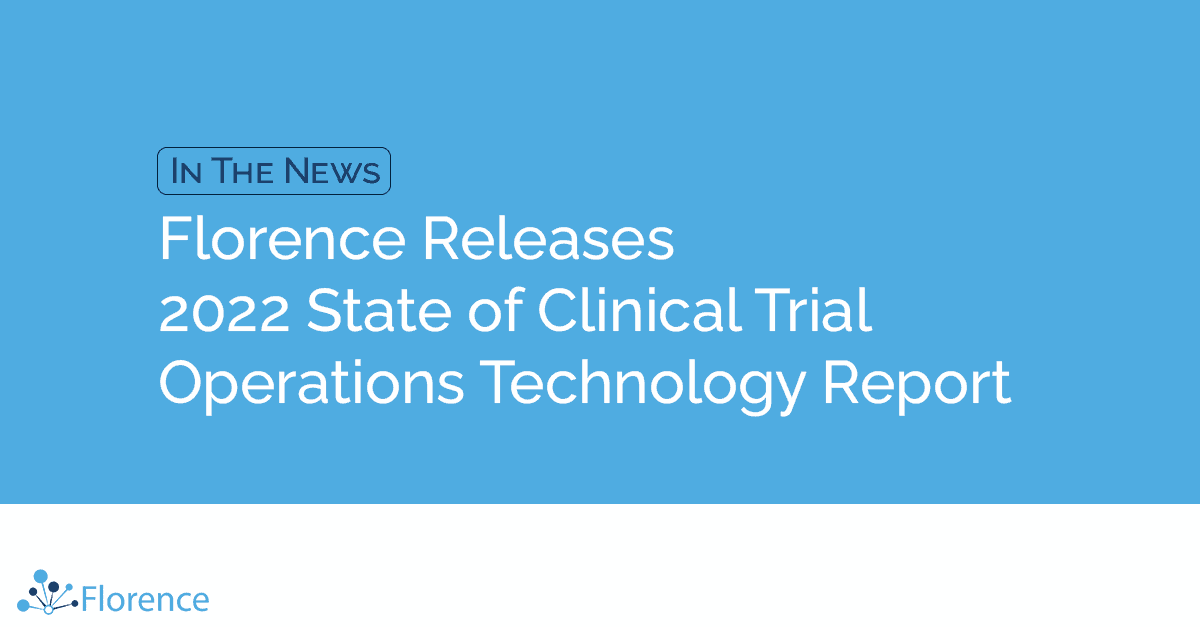 ATLANTA–(BUSINESS WIRE)–Florence Healthcare, the industry leader in remote connectivity in clinical research, has released its annual State of Clinical Trial Operations Technology Report. More than 190 clinical operations leaders from across the drug development lifecycle contributed to this year's report, revealing their thoughts and recommendations for the next year of technology transformation in the industry.
"The clinical research industry has undergone a significant technology shift in the past two years, particularly with the wide adoption of decentralized clinical trials," said Ryan Jones, CEO at Florence. "We release this report to provide a glimpse into an evolving industry, summarize our shared experiences, and shine a spotlight on trends driving sustained change throughout 2022. The resounding finding is that technology is being adopted at a faster rate than ever and that pandemic-era shifts are here to stay."
Key findings from the survey include:
61% of all respondents believe managing clinical trial operations in one platform is extremely important, while 66% of sponsors say eliminating paper from their operations is a top reason for investing in technology.
89% of sponsors indicate they use elements of decentralized clinical trials (DCT) in their trials, with hospitals and health systems the highest adopters of DCT elements, at 92%.
89% of sites intend to have an electronic investigator site file (eISF) in place by the end of 2022, and 88% expect to use eConsent for patient-informed consent.
72% of sites make technology decisions based on how much repetitive work a new technology eliminates.
"Major technological transformation initiatives were already underway before COVID, but the pandemic ushered in an accelerated pace of change," explained Catherine Gregor, MBA, CCRP, CCRC, Chief Clinical Trial Officer at Florence. "The wide adoption of clinical trial technology was encouraging because it opened the door for efficiency, collaboration, and faster cures. Today, we see these technology shifts becoming ingrained into standard operating procedures, and we predict technology success in 2022 will be determined by remote connectivity, virtual collaboration, and dedicated customer support."
Sites now expect sponsors to give them software that makes their lives easier. As a site-first technology solution, Florence equips sites with the tools to manage decentralized trials with a platform that's integrated, easy-to-use, and backed by a robust network of experts.
To download the full 2022 report, click here.
Powered by Florence
Florence's clinical trial software helps more than 10,000 research sites in 44 countries manage their documents, data, and workflows. The Florence platform also provides remote access so sponsors and CROs can collaborate with their sites around the world. Florence users now perform 3 million remote monitoring activities each month. To learn more, visit florencehc.com.