Florence Names Catherine Gregor as Chief Clinical Trial Officer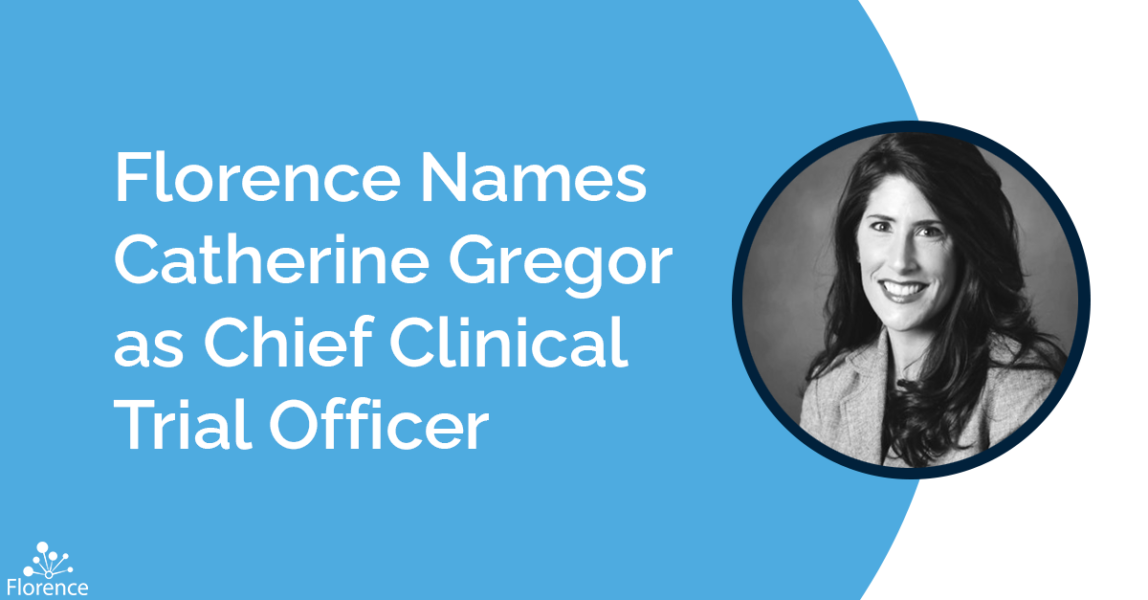 ATLANTA (November 9, 2021) – Florence Healthcare, the industry leader in remote connectivity in clinical research, announced today at its annual Research Executive Summit that Catherine Gregor, MBA, CCRP, CCRC has joined the organization as Chief Clinical Trial Officer. Gregor will lead Florence in building connectivity platforms that help clinical trial sites modernize and prepare for the shift in focus to decentralized and hybrid trials.
Gregor joins Florence with 15 years of experience implementing change across clinical research finance, operations, regulatory, and health information systems. Most recently, she served as the Director of Clinical Research Administration at the Vanderbilt-Ingram Cancer Center (VICC), a national leader in cancer research with more than $150 million in dedicated funding and access to over 350 clinical trials at any given time. Prior to that position, Gregor worked as a consultant providing backend infrastructure for community and academic research centers.
"Catherine is joining our team during a transformative period for both our organization and the clinical research industry," said Ryan Jones, CEO of Florence. "Over the past 20 months, we've maintained a site-first focus while creating the world's leading connectivity platform between sites and sponsors – enabling vital research and cures. Catherine will lead us in thinking about research connectivity and access in new ways. Specifically, we'll work to determine how site networks and sponsors can start up studies around the patient, increase access to underserved communities, and remove the swivel chair work still at the heart of trial startup and site monitoring."
"It's apparent that Florence is made up of passionate people who want to make a difference in the world of clinical research," stated Gregor. "I'm eager to work alongside Ryan and the broader Florence team in furthering the company's approach to decentralized and hybrid clinical trials, particularly focusing on sites' roles in the research process. I think there's a lot of untapped potential in the clinical research industry, and with the right technology we can unlock that potential to advance cures in new ways."
Florence is committed to creating more efficient drug development lifecycles, expanding clinical trial accessibility, and supporting all players in the research process. With the infusion of an $80M Series C fundraising round earlier in 2021, the organization was able to enhance its platform capabilities and recruit top talent. For more information, visit www.florencehc.com.
###
POWERED BY FLORENCE
Florence's clinical trial software helps more than 10,000 research sites in 44 countries manage their documents, data, and workflows. The Florence platform also provides remote access so sponsors and CROs can collaborate with their sites around the world. Florence users now perform 3 million remote monitoring activities each month. To learn more, visit florencehc.com.
MEDIA CONTACT
Lauren Watt
Trevelino/Keller
404.214.0722 x116
lwatt@trevelinokeller.com