Florence Named to Atlanta Business Chronicle's Best Places to Work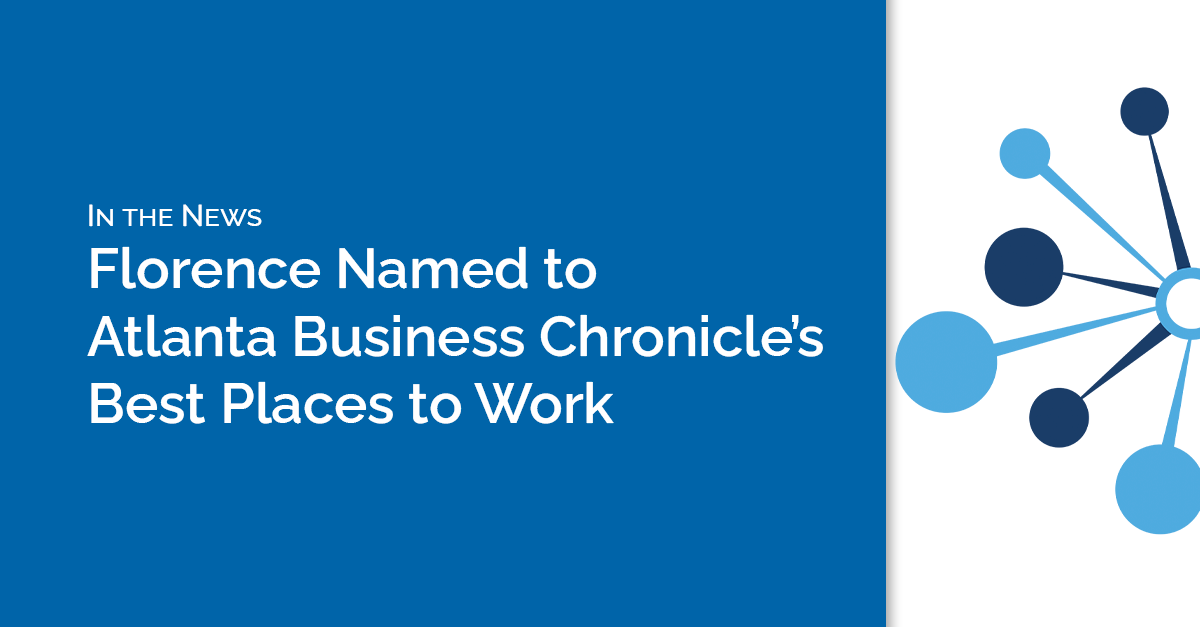 ATLANTA (September 3, 2021) – Florence has been named No. 11 in Atlanta Business Chronicle's annual Best Places to Work program. Presented by the Chronicle and Quantum Workplace, this ranking analyzes employee feedback from Atlanta metro-area companies to measure employee engagement and other workplace factors, including work environment and people practices.
"We are humbled to be named an Atlanta Best Place to Work. There is no greater compliment than the positive testimonials of our colleagues," said Ryan Jones, CEO of Florence. "I think what really sets Florence apart are the things unseen – the human connection, genuine appreciation for one another and ingrained values that propel our organization forward. These critical elements make a world of difference when it comes to job satisfaction."
A leader in remote connectivity and electronic document workflow management in clinical research, Florence is committed to fostering a supportive, diverse workforce that drives innovation for the clinical trial research industry. A key component of that effort is Florence's Diversity and Inclusion (D&I) program, which touches every aspect of the organization's day-to-day and supports ongoing training for employees.
"Though it isn't entirely unique to have a D&I committee, Florence's is truly ahead of the curve," said Gia Ganesh, People and Culture Director of Florence. "From talent acquisition and leadership to ongoing learning and development, D&I operates to promote an environment that celebrates and values differences to better serve employees and customers, in a way that allows true inclusion of all human beings, traditions, heritages and experiences."
The Best Places to Work Awards highlight successful companies that are going above and beyond to keep their workforce happy. Developed in 2003, the Best Places to Work survey contains 30 scored items across six categories that are designed to measure workplace factors such as communication and resources, individual needs, manager effectiveness, personal engagement, team dynamics and trust in leadership. The awards honor superior organizations where voices are heard, cultures are thriving and employees are engaged.
See all 2021 ABC Best Places to Work winners here: https://www.bizjournals.com/atlanta/subscriber-only/2021/09/03/best-places-to-work-medium-companies.html
POWERED BY FLORENCE
Florence's clinical trial software helps more than 10,000 research sites in 44 countries manage their documents, data, and workflows. The Florence platform also provides remote access so sponsors and CROs can collaborate with their sites around the world. Florence users now perform 3 million remote monitoring activities each month. To learn more, visit florencehc.com.
ABOUT BEST PLACES TO WORK
Best Places to Work gives organizations the opportunity to compete to be recognized as a place where people love to work. Held annually by Atlanta Business Chronicle and Quantum Workplace, Best Places to Work honors superior organizations where voices are heard, cultures are thriving, and employees are engaged. Learn more about the Best Places to Work program here.
MEDIA CONTACT
Lauren Watt
Trevelino/Keller
lwatt@trevelinokeller.com