Florence Healthcare's Always-on Remote Clinical Research Platform Is Now Called SiteLink™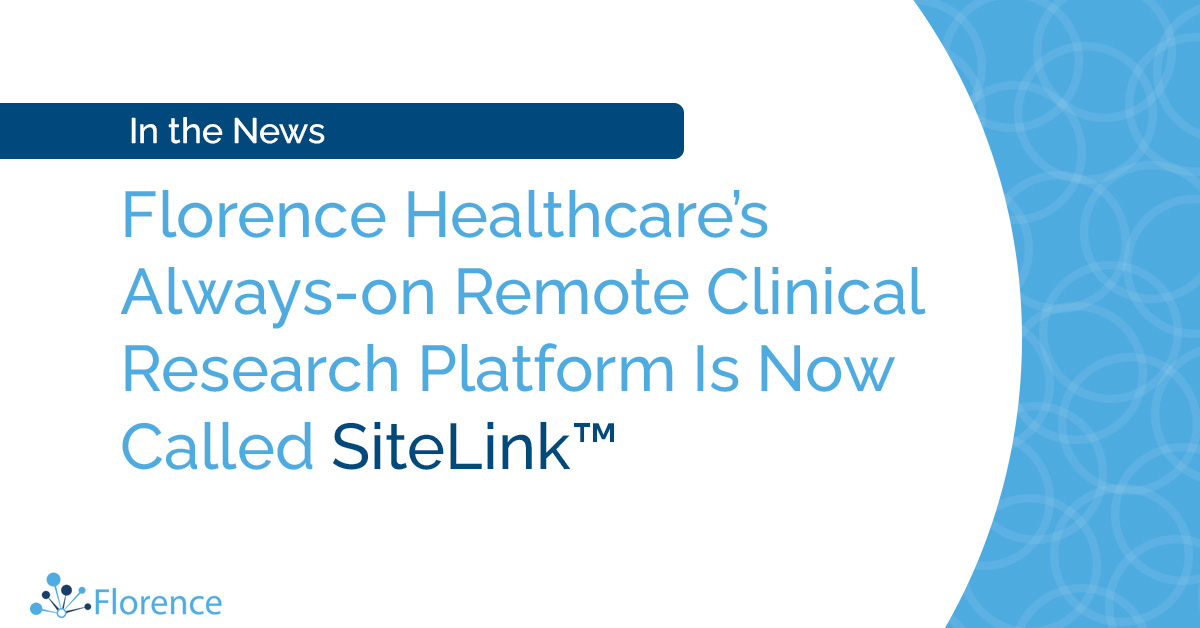 After a year of explosive growth, Florence Healthcare's flagship product for 24/7 remote collaboration between clinical trial sites and research sponsors has been rebranded from eHub to SiteLink™.
Atlanta, GA – Florence Healthcare announced today it has rebranded its software solution that links clinical research sponsors and contract research organizations (CROs) with research sites. With SiteLink™, the platform's purpose is more clearly defined: sponsors can link to sites to support them with remote start-up, continuous monitoring, and ongoing source data verification.
Formerly known as Florence eHub, SiteLink is the platform that clinical researchers choose to accelerate their studies and support sites in their move to decentralized trials.
"Florence is now the standard digital platform for clinical trial workflows," explains Blake Adams, Senior Vice President of Marketing at Florence Healthcare. "In contrast to traditional clinical trial software, we put the site at the center—by digitizing their workflows. Now the world's leading biopharmas are engaging us to link them remotely to their study sites for always-on collaboration."

Today, Florence advances research at 12,000 study sites across 45 countries and facilitates more than 3.8 million monthly remote research activities in more than a dozen therapeutic areas across every phase of clinical trials. "SiteLink perfectly captures our mission of linking the world of research and enabling remote work," Adams says.
SiteLink™ provides additional connectivity and analytics to Florence Healthcare's core product, Florence eBinders™. Florence eBinders is the electronic Investigator Site File (eISF) used to manage eRegulatory, eSource, eLogs, and remote workflows for sites across the globe.
"With SiteLink, biopharmas and CROs can remotely link to their study sites and eliminate concerns of site technology adoption, which has historically limited the role of technology in research," says Ryan Jones, CEO of Florence. "Sites trust Florence, and because of this trust, we've earned the highest site-adoption and site-satisfaction rates in the industry."
Florence eBinders is the #1-ranked clinical trial workflow platform by end-users on G2, a third-party review platform, in the categories of ease-of-use, ease-of-setup, and customer support.
"As the industry moves towards continuous, remote workflows, we're excited about this product's potential to change the industry and ultimately accelerate research," says Marc Leighton, Florence's SVP of Product. "As we plan our SiteLink roadmap, we have a clear mandate from the clinical research community to push the envelope of what SiteLink and Florence can do."
Media Contact
Blake Adams
Sr. VP of Marketing, Florence
blake.adams@florencehc.com