Florence H Names Melinda Rodriguez Winner of The Florence Effect Initiative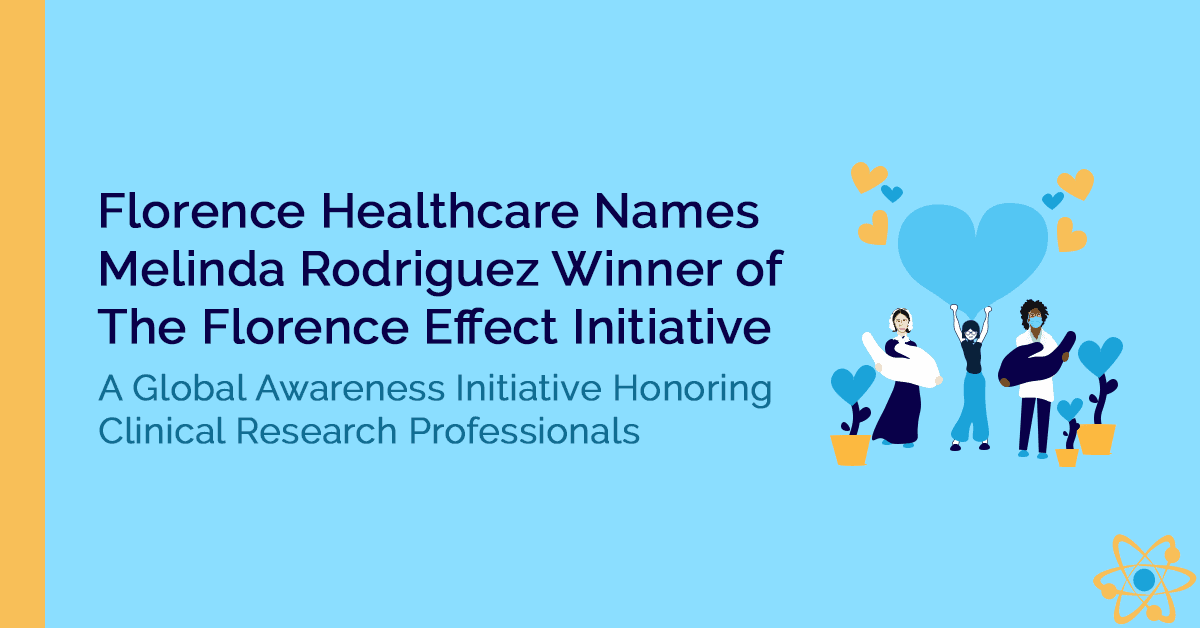 Florence Healthcare Names Melinda Rodriguez Winner of The Florence Effect Initiative
A Global Awareness Initiative Honoring Clinical Research Professionals
ATLANTA, June 5, 2020 – Florence Healthcare, the leading platform for remote-enabled electronic document workflow management in clinical trials, is proud to name Melinda Rodriguez, Director of Regulatory Services at Elligo Health Research, as the winner of The Florence Effect initiative.
Launched in early May, The Florence Effect celebrates and brings together those who are accelerating cures through Clinical Research. Aptly named in honor of Florence Nightingale, the initiative called for nominations of inspiring clinical researcher professionals.
Melinda Rodriguez was nominated as an inspiring leader for her team as they recently partnered with Verily Life Sciences to stand up drive-thru COVID-19 testing sites in California throughout March and April. Melinda courageously stepped out of her day-to-day role as Director of Regulatory Services at Elligo, to serve as a Project Manager overseeing volunteers and personal protective equipment needs, as her team worked to verify patients, swab patients and support the general triage process. Melinda worked tirelessly alongside her team, serving patients in need.
"It is important for us to recognize the hard work of clinical researcher professionals, especially amid COVID-19 because they are on the front lines of discovering both coronavirus vaccines and advancing cures in other chronic disease areas," says Ryan Jones, CEO of Florence. "Melinda exhibits all the qualities of an inspiring clinical researcher professional. It's important to celebrate individuals like her and honor the sacrifices they make so we can all have a better quality of life."
"This is such well-deserved recognition for Melinda, said Eli Alford, Elligo's COO. "I appreciate Florence Healthcare conceiving this initiative, enabling colleagues to recognize Melinda's and other nominees' clinical research contributions. One mark of good leader is remaining positive under stress. I saw firsthand Melinda's positivity in a stressful situation in the early, uncertain days of COVID-19 testing. Attitude — good or bad — is also contagious. Melinda's encouraging and caring leadership with Elligo's testing team and her can-do collaboration with our Verily and Google partners was inspiring to me personally and to everyone she worked with."
More information about The Florence Effect can be found here.
POWERED BY FLORENCE

Based in Atlanta, Florence is the leading platform for electronic document workflow management in clinical research, considered the industry standard with more than 7,200 research sites in 26 countries, sponsors and CROs collaborating on its network. Florence advances clinical trials through software for managing document and data flow between research sites and sponsors. Florence solutions foster 25% faster startup time and 40% reduced document cycle time, among other benefits. To learn about advancing research through collaboration, visit www.florencehc.com.