Florence eBinders Ranked #1 for Clinical Trial Management Software by G2 Users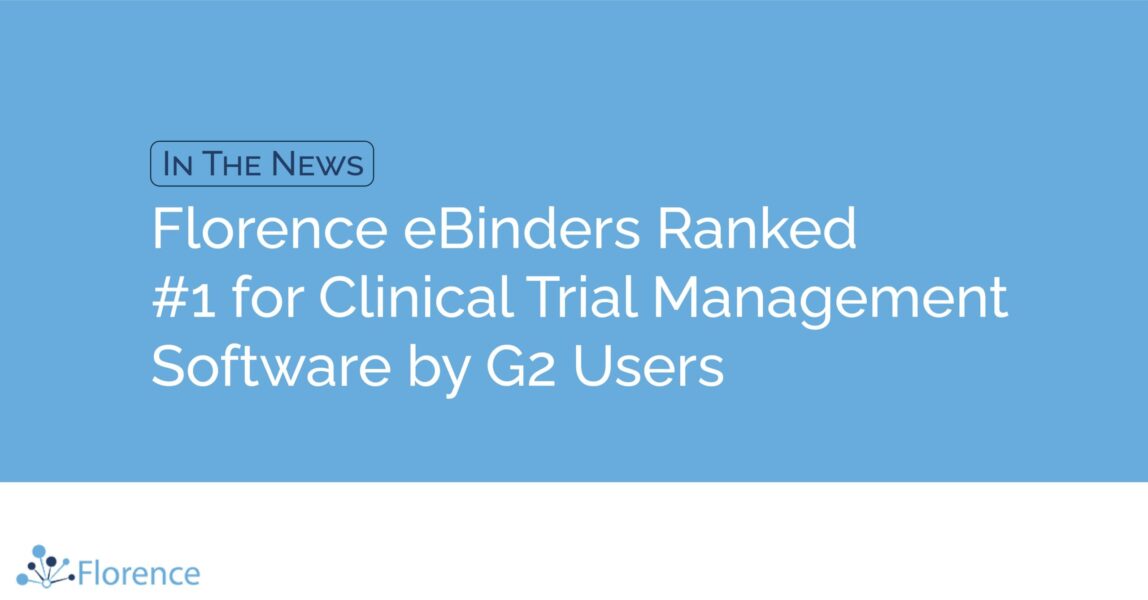 ATLANTA–(Business Wire)–Florence announced today that eBinders, its clinical research workflow platform, earned the highest ranking in the Clinical Trial Management Systems category of the G2 Report. eBinders ranks #1 out of 171 platforms. The G2 Report compiles verified user ratings and reviews for software from a variety of categories.
"Clinical trial sites often tell us how difficult it is to use sponsor-provided software," said Florence Chief Clinical Trial Officer Catherine Gregor, MBA, CCRC, CCRP. "We believe that by focusing on the site experience, we'll support greater patient-centricity and ultimately help accelerate medical advancements. We're delighted that our users agree our site-first model is helping them do better work and that our G2 reviews reflect that."
Florence eBinders received high scores on the G2 Report for 'Ease of Use', with a score of 8.7 compared to the category average of 8.4; 'Quality of Support,' with a score of 9.4 compared to the category average of 8.6; and 'Ease of Setup,' with a score of 8.3 compared to the category average of 7.3.
"We always said our support, implementation, account management, and product development teams were world-class," said Ryan Jones, CEO of Florence. "But now we have an objective measure. Moreover, for the past 12 months, we had 100% software uptime, activated 92% of the sites invited to our platform, and led the industry in support resolution times."
In 2021, Florence enabled always-on, remote workflows across 10,000 clinical research sites in 45 countries, averaging over 3 million remote monitoring activities each month through a suite of interlinked platforms. Florence recently announced that its network of connected research teams is now within 25 miles of 80% of the US population.
Jones highlighted the impact this site-centric model is having on the overall research industry. "Because CRAs have remote access to sites, they can monitor over 60 sites per week instead of 2 per week with in-person visits. That accelerates study timelines–we've seen study start-up times drop by 40%."

He also notes that Florence's ease of use ultimately brings more participants into trials. "The network of sites, sponsors, and CROs that we're building gives more patients access to clinical trials than ever before. This only works because users embrace our software, and we're both proud and grateful."
Powered by Florence
Florence's clinical trial software helps more than 10,000 research sites in 45 countries manage their documents, data, and workflows. The Florence platform also provides remote access so sponsors and CROs can collaborate with their sites around the world. Florence users now perform 3 million remote monitoring activities each month. To learn more, visit florencehc.com.
Contacts
Blake Adams
SVP of Marketing, Florence
blake.adams@florencehc.com