5 Tips for Successful Decentralized Clinical Trials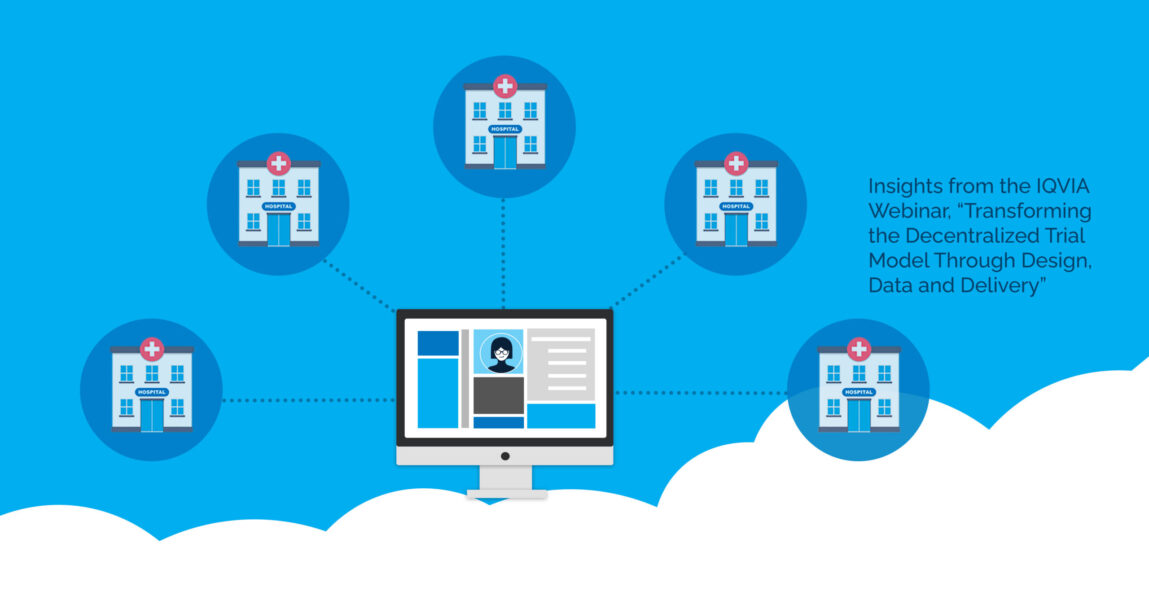 Decentralized clinical trials (DCTs) –trials that don't take place exclusively at major sites–have quickly grown in popularity. 89% of sponsors use DCT methods in some of their studies, and so do 92% of hospitals and health systems.
But not everyone is excited about DCTs. Only 40% of academic medical centers use any DCT elements, and sites ranked themselves a 5/10 when asked how confident they were that they could run decentralized trials.
To address some of the common challenges of DCTs, IQVIA put together a webinar, "Transforming the Decentralized Trial Model through Design, Data, and Delivery." IQVIA have quickly established themselves as experts in DCTs, successfully running more than 90 decentralized trials across 40 countries and 30 indications.
They also invited Ryan Jones from Florence to join them. Florence currently provides clinical trial software to more than 10,000 research sites, sponsors, and CROs (as of May 2022), many of them running DCTs.
Here's what Ryan and the IQVIA experts shared to help clinical trial teams get ready for a decentralized world.
1. DCTs should always focus on patients
Zoltan Varga, VP of Patient Recruitment & Enablement for IQVIA, proposes that sponsors start with two questions when designing DCT protocols:
Who is our patient?

What do they need?
Decentralized clinical trials aren't about fancy tech–they're about greater access.
Some patients may want to check in through telemedicine calls, while others may want to get their blood drawn at a local pharmacy instead of the main study site. The decentralized methods used should focus on patient needs.
Katy Preciado, MPH, Director of Decentralized Clinical Trials at IQVIA, adds that sites, CROs, and sponsors should seek patient feedback on the decentralized methods they use. They can form patient advisory boards or meet with disease advocacy groups to ask questions like:
Do patients have Internet at home?

Do they want to use technology, or would they rather visit their local physician or pharmacy?

What healthcare providers are near the patients we're trying to reach?
The only way to find out is to ask patients before a trial begins. Then, the sponsor can incorporate decentralized methods into the trial protocols.
2. If you have good software, you can take clinical trial expertise anywhere
When asked why software mattered for DCTs, Ryan Jones talked about how software helps to change the definition and location of a site.
In the past, research studies took place at academic medical centers or at major hospitals–locations that had the funding, staff and facilities to successfully hold trials. These locations will always play a critical role in clinical research, especially complex oncology or rare disease trials.
But this meant that the only patients who could access the latest clincial trials were patients who already lived near the site or patients who could afford to travel. Because of this, low-income, elderly, and BIPOC patients are often underrepresented in clinical trials.
With technology, CROs and major sites can share their expertise with smaller, community-based sites that serve underrepresented populations.
Local clinics and pharmacies are easier for patients to reach if they work strict hours, raise children, or rely on public transportation. The larger sites can then use technology to distribute documents to and collect data from the smaller sites.
3. To ensure quality data from DCTs, you need patient- and site-friendly technology
Decentralized or community-based trials are much more accessible for patients. But they still need to produce reliable, high-quality data that shows whether a treatment is safe and effective.
And as Nicole Zandy, Sr. Director of IQVIA Biotech points out, adding at-home tech and more sites can raise the risk of errors.
So how do we manage these risks? For patient-facing technology, like eDiaries and wearables, solutions include:
Having patients test the technology before it's adopted

Providing detailed, patient-friendly guides

Setting up ways for the site to answer questions by video call, phone call, or online chat
But sites also need to be comfortable with technology to make decentralized trials a reality.
If patient-facing technology is part of the trial, sites need to understand it well enough to train patients on it. Sites will also need to use internal technology like electronic Investigator Site Files (eISFs) to connect with their sponsor, CRO, or coordinating center.
So what makes technology site-friendly?
Built for existing site workflows: sites already use an ISF and consent forms, so eISFs or eConsent is an easy transition

Compliant

: sites need features like audit trials, Part-11 compliant eSignatures, redaction tools, and certified copies to comply with

21 CFR Part 11

, ICH E6(R2)

and (R3)

, and

GDPR
Sites also need technology that allows remote access to their sponsor, CRO, or coordinating center so they can exchange documents and data instantly during DCTs.
4. DCTs require a robust monitoring strategy
Zoltan Varga emphasizes that, because DCTs involve more stakeholders than traditional trials, it's even more important that sponsors, CROs, and coordinating centers perform frequent, thorough monitoring.
This is where always-on, remote monitoring can play a vital role.
With a constant link to sites, monitors don't have to wait until they're physically at the site to review documents. Instead, they can:
Check on documents and data

Request changes or updates from the site

Instantly see the revised and updated documents the site has added
And the best part: remote monitoring works. 76% of CRAs monitor sites more frequently and 68% of CRAs can remediate issues faster when they use remote monitoring instead of just on-site monitoring.
5. DCTs set sponsors, CROs, and sites apart
Because of staffing shortages, well-known sites have become more selective about which clinical trials they take on. CROs and sponsors need to find ways to set themselves apart in the war for sites' attention.
The experience that the investigator and site staff have with technology colors their entire experience of working with a particular CRO or sponsor. If the site is forced to adopt additional, clunky systems or manage patient technology that doesn't work, they'll reject future trials from that sponsor.
Therefore, site-friendly technology becomes critical. In Ryan Jones's words, "The site needs to resonate with the DCT technology and the training they receive on it."
Although large sites often receive more trials than they can feasibly take on, small community sites have to work to get ready for tech and to get sponsors' attention.
Smaller community sites need to:
Demonstrate to sponsors that they're serving people

currently underrepresented

in clinical trials

Ask the sponsors for technology to let them get involved in trials

Receive training on new technology from sponsors, CROs, and coordinating centers
By using tech and working with smaller community sites, clinical trial organizations can achieve the ultimate goal of clinical research: successfully completing trials and getting new, approved treatments to patients who need them.
Running Successful DCTs Is Possible
Too often, technology vendors use "decentralized trials" to mean "trials that use the latest technology." But as IQVIA's webinar revealed, decentralized trials actually use an array of creative methods to make trials more convenient for patients.
That could mean giving patients technology, but it could also mean sending them to nearby community sites for quick, easy check-ins. It could even mean combining community site visits with visits to the main site for complex treatments.
Technology's role is to connect community sites, major sites, sponsors, and CROs to each other so patients have more choices for where to receive treatment.
Want to learn more about how decentralized trials can help patients? Check out our essay on How Community-Based Trials Benefit Sponsors, Local Healthcare Systems, and Patients, inspired by the thoughts of our CEO and IQVIA webinar guest Ryan Jones.