6 Events You Won't Want to Miss at ACRP 2022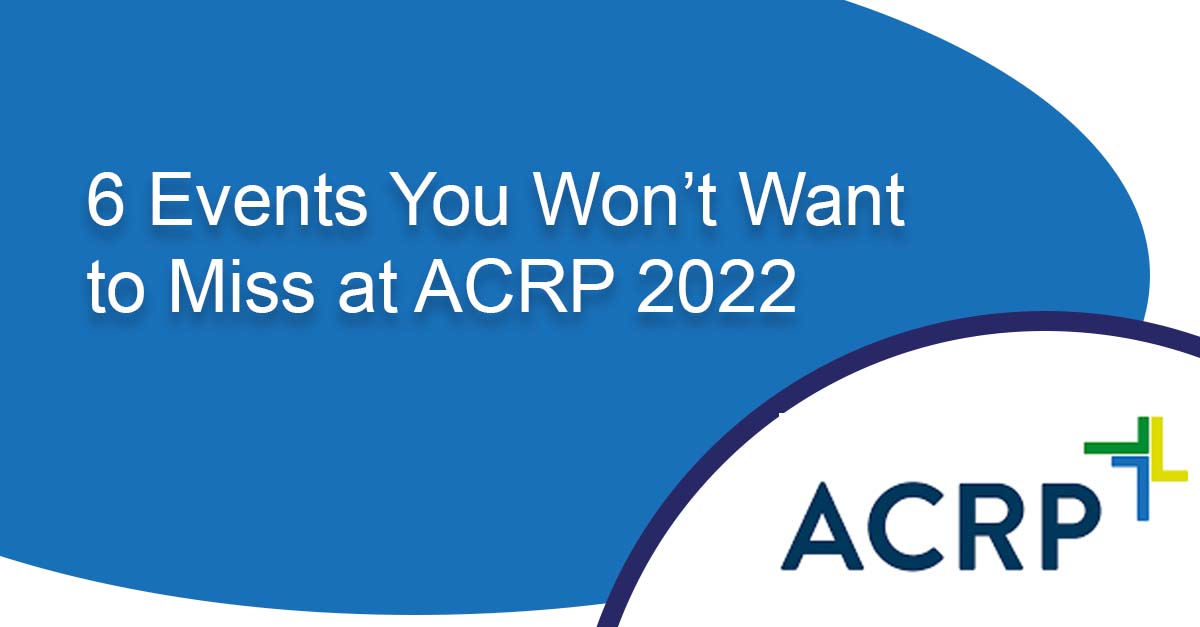 Feasibility, diversity and inclusion, new FDA regulations, decentralization–ACRP 2022 will tackle the most exciting topics in clinical research, and we can't wait to see you in person!
Florence is proud to serve as one of the sponsors of ACRP 2022, and we want to make sure everyone who attends has an amazing time. Use the full conference program to start building your agenda, and check out our picks for the most exciting events at the conference below!
Here are six ACRP 2022 events you won't want to miss:
1. Eat, Drink, and Relax at the Research Community Neighborhood Block Party
When: Friday, April 22, 5:30-7:00 p.m. EST

What: Start your ACRP visit with the block party on Friday night. Try Orlando's best food trucks and sip drinks while listening to live music, playing games, and saying hi to everyone you haven't seen in a year. And because Florence is sponsoring, we'll also have Flo-garitas and awesome prizes!
2. Meet Us at Florence's Booth (521)
When: All day on Saturday, April 23 and Sunday, April 24
What: Pick up free merch at Florence's booth and meet our team in person! You can find us at Booth 521 on this map. If you need help with remote monitoring, workflows, or consent, we'll have info about our SiteLink™, eBinders™, and eConsent platforms laid out at the booth.
Just want to share how your Florence experience is going? We love that too. And we promise we'll have plenty of swag for you!
3. Learn about the FDA's Quality and Compliance Updates
When: Saturday, April 23, from 11:30 a.m.-12:30 p.m. EST
Who: Dr. David Burrow, FDA Center for Drug Evaluation and Research
What: Don't miss the chance to learn about the latest FDA regulations straight from the Center for Drug Evaluation and Research. Dr. Burrow will offer updates on the Bioresearch Monitoring Program and how clinical research organizations can improve their inspection experience. He'll also talk about key strategies to prevent compliance issues before they happen.
4. Strengthen Diversity, Equity, and Inclusion for Your Organization
When: Sunday, April 24 from 8:00-9:00 a.m. EST
Who:
R'Kes Starling, Reveles Clinical Services
Rick Fisher, Velocity Clinical Research
Maria Florez, Tufts Center for the Study of Drug Development
Dr. Nadege T. Gunn, Impact Research Institute
Carlette Heath-Brogden, Merck
Julia Medina, Genentech
Samson Tom, Kelly Science and Clinical

What: Start your morning with a panel discussion about one of the most important issues in research: how to make clinical trials more inclusive. This panel discussion features speakers from major sponsors, CROs, and nonprofits.
They'll talk about the most promising current initiatives to increase diversity in clinical research and how your organization can take part in them. (If you'd like to learn more about clinical research inclusion, you can also check out this webinar with our friends at Acclinate!)
5. Improve Your Feasibility Process
When: Sunday, April 24 from 10:15 a.m.-12:15 p.m. EST
Who:
Jessica Fritter, Nationwide Children's Hospital
Grace Wentzel, Nationwide Children's Hospital
Amy Dutcher, Nationwide Children's Hospital, Sarepta Therapeutics
What: We regularly hear study sites complain about how difficult the study feasibility process is. When sites have limited staff and studies have very specific patient requirements, clinical research teams can have trouble figuring out not just whether a study is feasible but whether it matches their values and strategic plan.
The speakers from Nationwide Children's Hospital will share their institutional feasibility process and how their leading pediatric hospital chooses which studies to take on.
6. Discover New Tactics for Multi-Country Trials
When: Monday, April 25 from 1:45-2:45 p.m. EST
Who:
An Zhang, Abbott
Dr. Serena Mezzar, Abbott
What: Abbott shares their experience as a sponsor managing multi-country trials. As we expand our operations in the UK and the EU, we're very curious about how sponsors navigate differences in regulations, languages, and cultures. (Our Sr. Director of Innovation, Andrea Bastek, also came from Abbott, so we always like talking to them!)
Planning for ACRP 2022
We can't wait to attend sessions, join the expo, and throw the clinical research block party of the year at ACRP 2022. If you'll be there, check out the full schedule and the list of exhibitors before you fly out. Then, don't forget to stop by Booth 521 to check out our latest products and get to know our team!