Clinical Trial Technology Report Showcases 2023 Trends: Site Enablement, eISFs, and Integrations
Florence Healthcare just released the 2023 State of Clinical Trial Technology Report, with dozens of insights from more than 450 clinical research sites, sponsors, and CROs.
We asked these clinical research leaders questions like:
What clinical trial technology platforms they've already adopted

Which solutions they're considering for 2023

What tech capabilities they look for in other sites or sponsors

Which 2023 challenges they're watching out for
The results are in, and we've shared the first six insights below! Dive into them to stay on top of the rapidly shifting research industry and to ensure your research organization doesn't get left behind.
You can also check out our full State of Clinical Trial Site Enablement Technology Report for six more insights and key recommendations that will help your team prepare for 2023.
1. Sponsors increase investment in Site Enablement Technology, with eISF the #1 solution deployed.
In 2023, sponsors will deploy Site Enablement Platforms–technology solutions that prioritize the needs and experiences of research sites. These platforms remove administrative burden and duplicative work so sites can focus on patient care, safety, and compliance.
Site Enablement Platforms like electronic Investigator Site Files (eISFs), eConsent, eSource, and study start-up software have skyrocketed in popularity over the last two years.
78% of sponsors will deploy eISFs to sites in 2023 (up from 22% in 2021)

78% will deploy study start-up software (up from 39%)

72% will deploy eSource (up from 27%)

72% will deploy eConsent (up from 36%)
But just giving those platforms to sites won't be enough. Sites now feel empowered to advocate for the technology they already own and for technology that matches their workflows. If sponsors want to become Sponsors of Choice and work with the best sites in the industry, they'll need to ask sites what they're looking for in new platforms and remain open to integrations.
For more on how Site Enablement Technology can accelerate clinical trials, check out the full State of Clinical Trial Technology Report.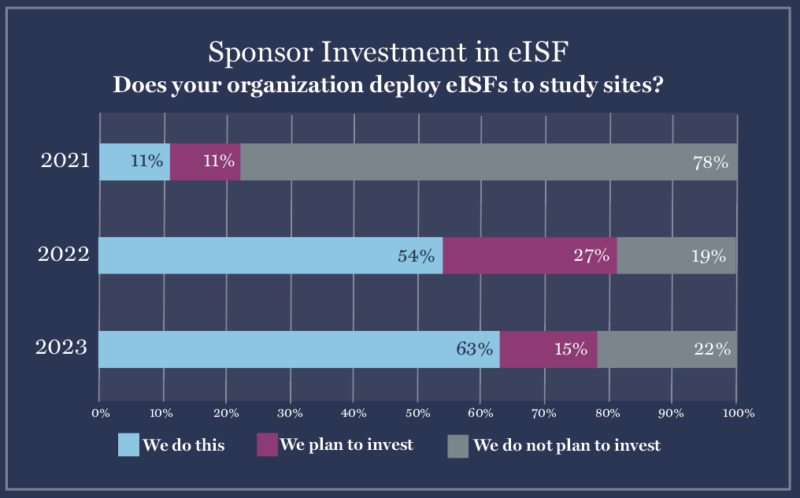 2. Sponsors prioritize remote links with sites when investing in Site Enablement Technology.
When asked what traits they look for in new clinical trial technology, the majority of sponsors (59%) chose "enabling remote monitoring and regulatory document access" as their number-one priority.
Although in-person site visits are now possible, remote monitoring and document access have dramatically increased the efficiency of clinical trials, helping CRAs to monitor 2-5x more sites each week.
52% of CRAs visit only one site per week

38% of CRAs visit two sites

10% of CRAs visit 3+ sites
With remote monitoring:
Just 25% of CRAs visit only one site per week

38% of CRAs visit two sites

37% of CRAs visit 3+ sites
The percent of CRAs who can monitor 3+ sites a week triples with remote monitoring and document access, shortening trial timelines and saving sponsors thousands of dollars. These cost savings mean sponsors will continue to value remote monitoring and document access throughout 2023.
Other sponsor priorities include:
Enabling remote source access (54%)

Eliminating paper documents and paper workflows (52%)

Automating repetitive tasks (45%)
Since remote source access is such a high priority, it's not surprising that 72% of sponsors plan to deploy eSource platforms. eSource, eConsent, eISF, and study start-up software can also all help with eliminating paper documents and automating repetitive tasks.
Sponsors can find more tips for how to increase CRA efficiency with technology in our State of the Industry Report.
3. Sites report #1 technology criteria they consider in a Sponsor of Choice is integration with site-owned tech.
Sponsors increasingly want to be seen as a "Sponsor of Choice" – a top sponsor or CRO that research sites are eager to work with. In 2019, only 14% of sponsors were concerned about whether sites saw them as a Sponsor of Choice, but in 2023, that number rose to 65%.
But what clinical trial technology makes a sponsor a Sponsor of Choice?
When we asked sites, their number-one response was "Is accepting of site-owned software such as the eISF." 50% of sites already own an eISF and 28% plan to invest this year, so it makes sense that sites want sponsors to link to the site eISF.
However, some sites still lack Site Enablement platforms like eISFs, eConsent, or eSource. Because of this lack, sites' second and third priorities were finding sponsors who would provide remote monitoring and document exchange technology.
The takeaways?
Sites want sponsors to integrate with the tech platforms they already have

If sites don't have tech, they want sponsors to provide solutions focused on remote collaboration, monitoring, and document exchange
If sponsors and CROs take sites' asks into account, they'll increase their chances of becoming a "Sponsor of Choice."
Want more tips on how to win the trust and support of the best, most diverse research sites? Check out what sites want from their sponsors in the Clinical Trial Technology Report.
4. Sponsors ranked sites' willingness to accept technology as the #1 tech-related criteria for selecting a site.
When sponsors choose whether to work with sites, their number-one criteria related to technology is "Accepts sponsor/CRO-provided software, such as the eISF."
Unfortunately, the industry faces a potential conflict here–both sites and sponsors want the other to accept their clinical trial technology. So what does this mean for site-sponsor collaboration?
It's important for sponsors to communicate with sites about what platforms they have. If sites already have platforms they love, sponsors should either connect to those or provide new tech that integrates with sites' existing solutions.

For sites that don't have technology platforms already, like smaller research sites or frontier sites, the answer is simple. Frontier sites, like pharmacies, community clinics, and doctors' offices, often can't afford clinical trial technology. Sponsors can give them tech platforms–but they should make sure that technology matches site workflows.
Read the full report for more discussion of frontier sites and their needs.
5. Sponsors face growing site adoption challenges following a surge of site-focused technology over the last three years.
The top concerns sponsors have about new clinical trial technology in 2023 are:
Budget (53%)

Integrations (50%)

Site adoption (42%)
Given the economic climate of late 2022 and early 2023, it's not surprising that sponsors worry about budget. However, the number of sponsors worried about the cost of technology has actually declined over the past two years. In 2021, 75% of sites worried about their budget.
The 20% drop from 2021 to 2023 indicates that sponsors have decided to prioritize technology and either build it into their budgets or see it as a worthwhile expense.

However, the number of sponsors concerned about integrations has grown since 2021, from 42% to 50%. Sites increasingly adopting their own technology platforms might have pushed sponsors to think about integrations more often.
Notably, the percent of sponsors worried about site adoption has skyrocketed, from 25% in 2021 to 42% in 2023. This statistic suggests that sites are gaining more power. They have the ability to say no to software that doesn't meet their needs. Sponsors will need to adjust by looking for Site Enablement Technology with high site adoption rates.
To learn more about how to encourage site adoption and keep your trials from slowing down, check out the site answers from the State of Clinical Trial Technology survey.
6. With remote site monitoring actively implemented, patient recruitment is next on sponsor priority lists.
When asked what challenges they were trying to solve with clinical trial technology, sponsors' top three answers were:
Patient recruitment (32%)

TMF completeness (15%)

Remote monitoring (12%)
Patient recruitment dominated over other concerns, likely because of precision medicine trials that require patients with specific genetic markers and the industry's growing emphasis on diversity and inclusion. Sponsors are increasingly looking for software that can help sites find and screen patients for trials.
The importance of TMF completeness increased 300%, rising from a primary concern for 5% of sponsors to a concern for 15% of them. Sponsors might focus on TMFs more as they realize how vital it is to be able to transfer documents quickly and accurately from sites' eISFs to their eTMF.
Finally, the number of sponsors who rank remote site monitoring as their top concern has dropped from 29% in 2022 to just 12% in 2022. The industry has reached a point where remote monitoring is commonplace, so sponsors may now feel confident that the problem has almost been solved.
Discover a more detailed analysis of what tech challenges sponsors and sites have overcome and what challenges they'll still face in 2023 in our State of Clinical Trial Technology Report.
Learn About More Clinical Trial Technology Trends
The popularity of eISFs, increasing worries about integrations, and the rise of Site Enablement are just a few of the trends contained in our State of the Industry Report. But sponsors and sites are also talking about document exchange (how can we make it better?), DCTs (were they overhyped?), and Return on Investment (where does it come from?)

To learn more about what your fellow sponsor, CRO, and site leaders are prioritizing, check out the full 2023 State of Clinical Trial Technology Report, available to read or download for free.