7 SCOPE 2022 Sessions You Won't Want to Miss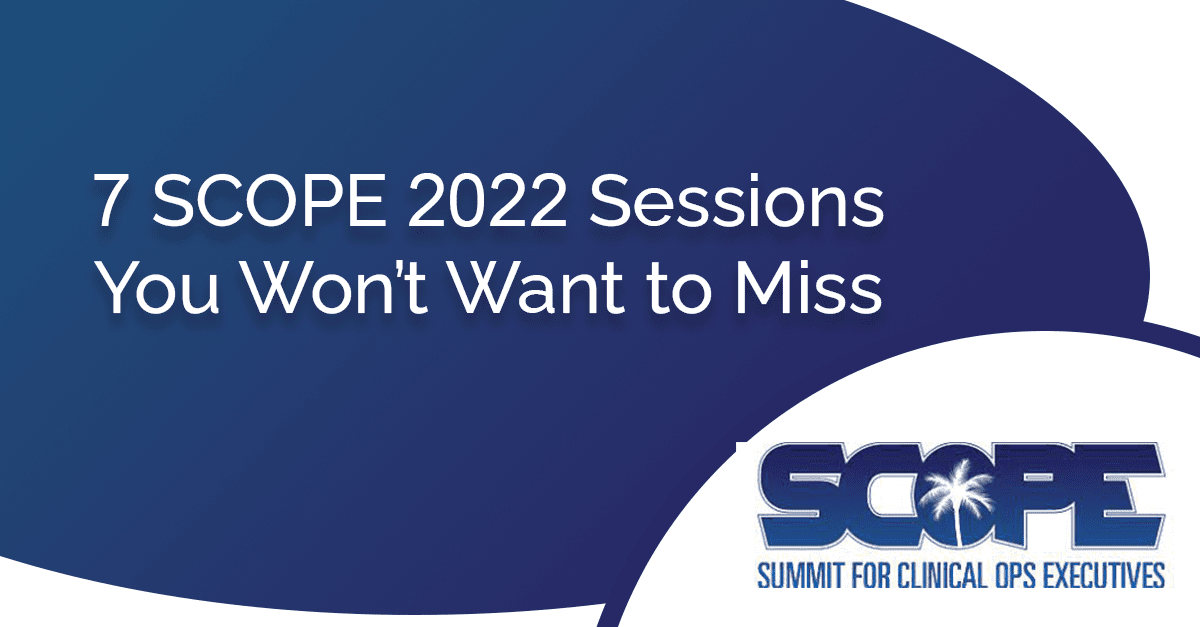 The Summit for Clinical Ops Executives (SCOPE) brings together the world's most influential sponsors to tackle the biggest challenges facing the world of clinical research.
In February 2022, sponsors like Pfizer, Eli Lilly, AstraZeneca, and IQVIA will meet in Orlando to discuss topics from diversity and inclusion to decentralized clinical trials, patient recruitment, and risk-based monitoring.
If you'd like to add your voice to the discussion, it's not too late to register for SCOPE 2022. And if you're already attending, consider stopping by Florence's booth. We'd love to talk about how our software can help you engage in remote monitoring, expand your clinical trials to underserved patients, and perform decentralized trials.
SCOPE attendees can also check out a wide range of panel discussions, talks, and breakout sessions on clinical research's most important challenges.
Here are a few sessions you won't want to miss:
Engaging and Understanding Patient Behavior to Improve Accessibility, Retention and Outcomes
When: Feb. 7, 5:10 p.m.
What it's about: Representatives from Pfizer, Sanofi, and Seagen break down how focusing on patient experience, behavioral science, and real-world evidence have changed the drug development process. By thinking about patients' needs, sponsors can encourage them to join and stay engaged in clinical trials, leading to better trial outcomes.
Who's speaking:
Irfan Khan, MD

, CEO, Circuit Clinical

Victoria DiBiaso,

Global Head, Patient Informed Development & Health Value Translation, Sanofi

Brendan O'Neill,

Senior Director Patient Recruitment Programs, Clinical Development & Operations & Global Product Development, Pfizer

Gretchen Goller,

Sr. Director, Head of Patient Recruitment, Clinical Development Operations, Seagen
Why you should go: Clinical trials consistently struggle with patient recruitment. Learn about patient-centric trial designs to increase your chances of recruiting and retaining enough participants to successfully complete your clinical trials.
Fit-for-Future Data Operations in a Post-Pandemic World
When: Feb. 8, 8:25 a.m.
What it's about: COVID-19 made collecting and reviewing data remotely a necessity instead of a luxury. Now, even risk-averse organizations have realized that remote, real-time monitoring is more efficient than having monitors travel to the site.
Who's speaking:
Demetris Zambas,

Vice President & Global Head, Data Monitoring & Management, Pfizer

Darren Weston,

Senior Vice President, Integrated Data Analytics and Reporting (IDAR) and Janssen Clinical Innovation (JCI), Janssen Pharmaceuticals

Cynthia Pan,

Senior Director, Program Operations Leader, Global Clinical Operations, Regeneron
Why you should go: 74% of sponsors now use remote monitoring, and sponsors or CROs who haven't adopted these methods risk being left behind. Learn how to incorporate remote monitoring as well as remote source data review and verification into your day-to-day workflows. (And if you want to learn more about remote access technology, consider setting up a meeting at our booth.)
How to Enroll Minority Patients: Disparities in Trials, Developing a Research Plan, Using Education and Technology
When: Feb. 8, 11:30 a.m.
What it's about: Ryan Nguyen and Kimberly Richardson, two experts in the field of cancer research, explore why oncology clinical trials often don't enroll enough patients from racial minorities and how this can worsen outcomes for underrepresented patients. They'll talk about institutional barriers like exclusionary trial design and implicit bias and offer ideas for how to remove these barriers with education and technology.
Who's speaking:
Kimberly Richardson

,

Research Advocate, Founder, Black Cancer Collaborative

Ryan Nguyen

,

DO,

Chief Hematology Oncology Fellow, University of Illinois Cancer Center
Why you should go: By increasing the racial diversity of your oncology trials, you can discover whether a treatment works well for a variety of cancer patients. This change will lead to better patient outcomes and fewer disparities in survival rates. Recruiting and retaining diverse patients can also help sponsors get their new treatments approved by the FDA.
The Evolution of Risk-Based Quality Management
When: Feb. 8, 3:35 p.m.
What it's about: Dr. Burrow of the FDA Center for Drug Evaluation and Research will discuss the agency's views on risk-based monitoring with RBM experts from Bristol-Myers Squibb and Merck. The three will examine how organizations can build an efficient risk-based monitoring strategy that meets FDA expectations.
Who's speaking:
Mike Walega

, Head, Centralized Monitoring, Bristol-Myers Squibb Co.

Katherine Taylor,

Head, Risk Evaluation & Adaptive Integrated Monitoring, Merck & Co., Inc.

David Burrow

,

PhD

, Director, Office of Scientific Investigations, FDA Center for Drug Evaluation and Research (CDER)
Why you should go: Although many sponsors have adopted risk-based monitoring, clinical trial professionals still worry about how the FDA will react to it. This is your chance to learn what the FDA looks for in risk-based monitoring plans and how RBM can speed up your clinical trials.
Implicit Bias Around Advocacy and Decision Making: Metrics of DE&I and Speaking the Language of Business and Leadership
When: Feb. 9, 2:00 p.m.
What it's about: This panel discussion invites Black professionals and patient advocates to share their perspectives on the clinical research industry's efforts to recruit underrepresented patients and investigators. They'll share how their cultural experiences affect their research and how clinical trials could evolve to better include Black voices.
Who's speaking:
Kimberly Richardson,

Research Advocate, Founder, Black Cancer Collaborative

Karriem Watson, PhD,

Chief Engagement Officer, NIH

Monique Phillips,

Clinical Trial Recruitment Specialist, Clinical Operations, Bristol-Myers Squibb Co.

Nikhil Wagle, MD,

Assistant Professor, Harvard Medical School, Dana-Farber Cancer Institute
Why you should go: The panel includes leaders from the National Institutes of Health, Bristol-Myers Squibb, and Harvard Medical School, all sharing their perspectives on how clinical research can improve investigator, staff, and patient diversity. Clinical trials that include diverse voices offer better health outcomes for patients and can make new treatments more equitable, effective, and likely to be approved.
GCP Quality Risk in Decentralized Trials – Pharma Quality Leaders Share Their Perspective
When: Feb. 9, 3:50 p.m.
What it's about: Good Clinical Practice (or GCP), as outlined by the International Council on Harmonization, has been the guiding star for clinical trials for decades. By following GCP, trials protect participants and ensure their data is credible. But as decentralized trials grow in popularity, leading sponsors need to come up with strategies to ensure GCP is maintained both at research sites and at new locations like homes, pharmacies, and doctors' offices.
Who's speaking:
Jonathan Rowe, PhD, MS, MA

, Principal, ZS

Federico Feldstein,

Vice President, Head of R&D Quality & Compliance, Johnson & Johnson

Grace Crawford

, Global Head, Clinical Quality & Compliance, AstraZeneca

Patty Donnelly,

Vice President, Global Quality – Research and Development, Eli Lilly and Company
Why you should go: This panel includes representatives from three major sponsors, all discussing how they run decentralized clinical trials while following GCP guidelines. 89% of sponsors now use some elements of decentralized trials, so clinical trial organizations need a deep understanding of how to run compliant DCTs. If you want to ask questions specific to your organization, Florence will also have team members familiar with GCP that you can meet with at our booth.
How the Use of a Real-World, Data-Driven Strategy Informs and Delivers a More Meaningful Patient-Centric Trial Experience
When: Feb. 10, 11:30 a.m.
What it's about: Thanks to remote technology, sponsors can now access real-world data (RWD) from millions of patients around the world. Experts from IQVIA discuss how sponsors can use this information to speed up participant recruitment, reach diverse populations, and make clinical trials more patient-centric.
Who's speaking:
Katie Shaw,

Senior Director, Patient Recruitment & Enablement, Global Patient and Site Services, IQVIA

Elizabeth Powers, MBA,

VP & Category Lead of Regulatory and Safety Offerings, Real World Solutions, IQVIA
Why you should go: Increasing patient recruitment, improving diversity, and increasing patient-centricity are three of the clinical trial industry's biggest challenges. This session tackles how real-world data can help with all of these challenges, leading to trials that are more efficient, more diverse, and more focused on patients' needs.
Get Ready for SCOPE 2022
If your organization wants to learn more about patient recruitment, risk-based monitoring, decentralized trials, and participant inclusion, you won't want to miss SCOPE 2022. You've still got time to sign up for the conference and learn strategies for conquering 2022's biggest challenges.
Already headed to Orlando this February? Visit Florence at our booth. We'll demonstrate how our software can help you set up remote monitoring, expand your patient outreach, and run decentralized or hybrid trials. Sign up for a meeting with us here. See you in Florida!