Key Findings from the 2022 Clinical Trial Operations Technology Survey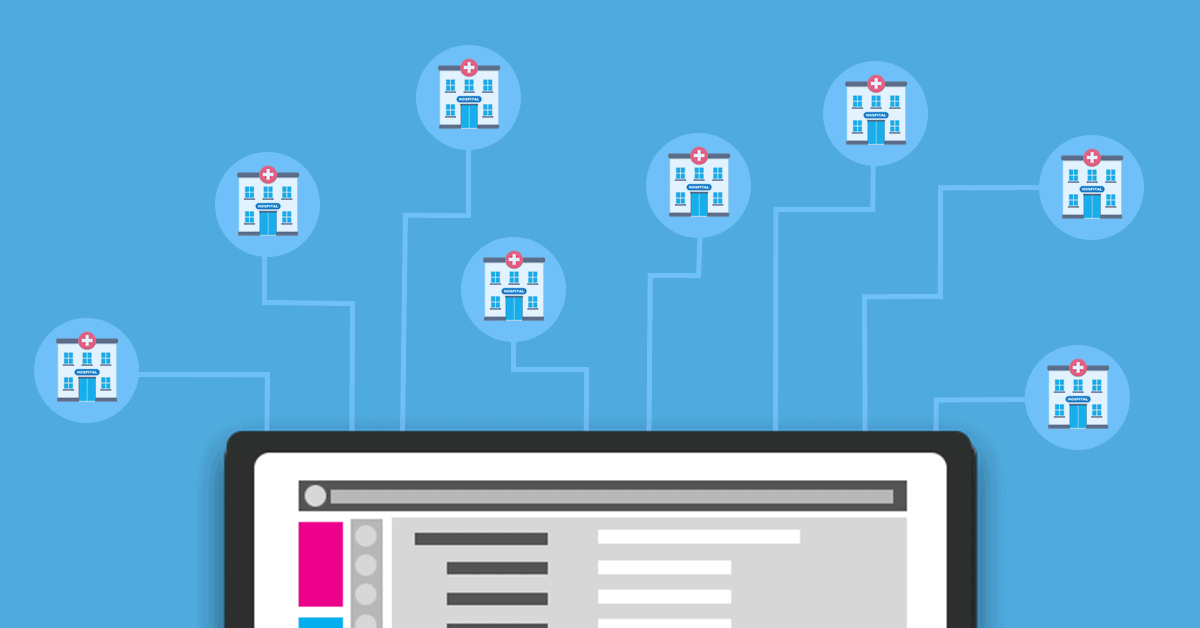 2021 brought massive changes to the clinical trial industry. With the advent of the COVID-19 vaccine, many clinical trials delayed by the pandemic sprang into motion again.
44% more clinical trials began in Q1 2021 than Q1 2020. And although in-person clinical trials were possible again, technology adoption continued to grow, with 74% of sponsors using remote monitoring and 77% of sites embracing eRegulatory software.
But it's not enough to know whether other clinical trial organizations are using technology. Sponsors, CROs, and sites deserve to know how well that technology is working, what challenges it creates, and whether it's solving the problems it promises to.
In December 2021, 97 sites, sponsors, and CROs completed our State of Clinical Trial Operations survey, providing more than five dozen data points each. We analyzed the data to create our complimentary report with almost 40 pages of insights into clinical trial technology.
But if you want to start your 2022 planning before diving into the full report, we've got you covered. Keep reading to discover 7 key trends in clinical operations technology that your clinical trial team needs to know about:
1. Sites now expect sponsors to give them software that makes their lives easier.
When sites didn't have their own electronic Investigator Site Files (eISFs), they had to accept the document upload portals their sponsors handed out.
But this is changing:
74% of sites had their own eISF in 2021

89%

of sites will have their own eISF by the end of 2022

48% of sites prefer working with sponsors who will use their existing technology infrastructure

49% of sites hesitate to invest in technology because of the cost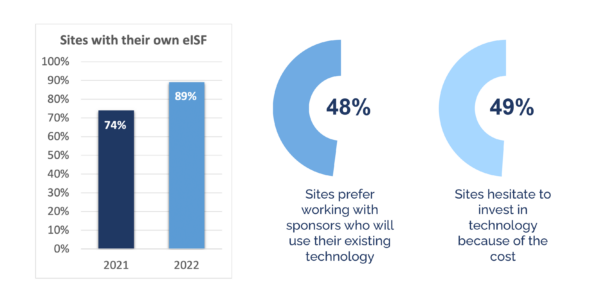 These statistics offer an important opportunity for sponsors. Sponsors can explore which software solutions sites already use and love. They can then distribute that software across all of their sites, including those that can't afford technology on their own.
This strategy doesn't just work well for sites: it helps sponsors and CROs, too. 74% of sponsors currently use remote monitoring, which can't work unless their sites adopt an eISF.
Full adoption is key. 42% of sponsors say technology acceptance is important or very important to them when choosing sites for studies, yet less than half of site staff say they have adequate training to use technology.
The solution? Sponsors can search for technology that already has high adoption rates. This is why Florence has focused so intensely on getting our eBinders site adoption rate up to 95%.
Site-friendly technology provides a win-win for sites and sponsors: sites can easily use the technology, and sponsors gain fast and efficient remote access to their sites.
2. Many sites haven't yet engaged with decentralized clinical trials (DCTs). Sponsors planning to use DCTs must invest in site-based technology that includes integrations across platforms.
Our survey data shows that decentralized trials are here to stay. But sponsors and large health systems are far more likely to adopt DCTs than smaller sites are.
Decentralized or hybrid trials are used by:
92% of hospitals and health systems

89% of sponsors

50% of cancer centers

40% of academic medical centers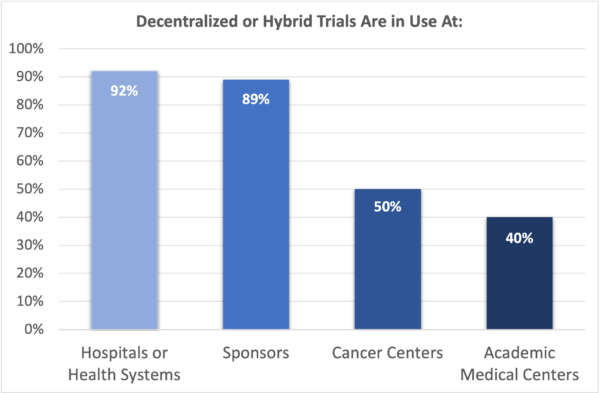 Sponsors and health systems are adopting decentralized studies more quickly than cancer centers or academic medical centers, but studies suggest patients would be on board with more sites trying decentralized trials.
In one study, 57% of rare disease patients chose a hybrid study over a purely in-person or purely virtual one. This suggests that many patients living with serious illnesses would like to check in from home or submit their clinical trial data online at least some of the time. Sponsors and sites need to work together to bring DCTs to more of these patients.
What will help sites run DCTs successfully?
Technology plays an important role. Sites can't check in with patients at home or from local clinics and pharmacies without excellent clinical trial apps, wearables, and software.
Sites also need technology designed with their workflows in mind. Sponsor-focused solutions like document portals require sites to upload documents or enter data in multiple locations.
This slows sites down, and it can lead to frustration when they realize their solutions don't integrate with one another. Sites deserve well-integrated platforms designed with their needs in mind.
But sites and sponsors also need training and support on how to use the technology. Both sponsors and sites gave themselves a score of 5 out of 10 when asked how confident they were about decentralized trials.
Software vendors can combat this lack of confidence by providing in-depth training, customer service, and implementations programs.
Clinical research staff can also pursue professional development courses and certifications focused on technology and digital research.
3. A majority of clinical research organizations have adopted technology at a fast rate.
Historically, the clinical research industry has approached new technology cautiously. In January 2020, only 61% of clinical trial sites and sponsors already used or thought they would use an electronic Investigator Site File (eISF) by the end of the year.
Two years of the COVID-19 pandemic changed that. By January 2022, 89% of sites either already had an eISF or thought they would have one by the end of the year. 88% of sites also have or thought they would have eConsent, up from 47% just one year earlier.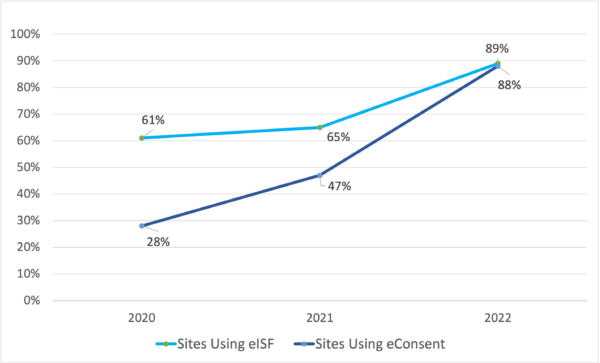 Sponsors have embraced technology as well. 74% of sponsors currently use remote monitoring, and 91% expect to by the end of 2022. The days when clinical trial organizations could remain competitive without technology are long gone.
So how do sites and sponsors choose the technology they'll use in the future? The organizations we surveyed talked about integrations, ease of use, and the ability to build site-sponsor connections.
4. Integrations, ease-of-use, and network size matter for technology adoption.
When choosing technology, many sites and sponsors struggle with a lack of integrations between different eClinical platforms. 42% of sites have to log into 5 or more platforms for an average study, and 40% of sites say integrations are a major barrier to their technology adoption.
Without integrations, clinical trial professionals have to re-enter data multiple times in different systems. This process makes clinical trials less efficient, not more. So what's the solution?
To make integrations possible, sites and sponsors need to look for software with an open API.
Software with an open API can connect to software from other vendors, letting you integrate your eISF or eTMF with your clinical trial management system (CTMS), electronic data capture system, (EDC), or electronic medical record system (EMR).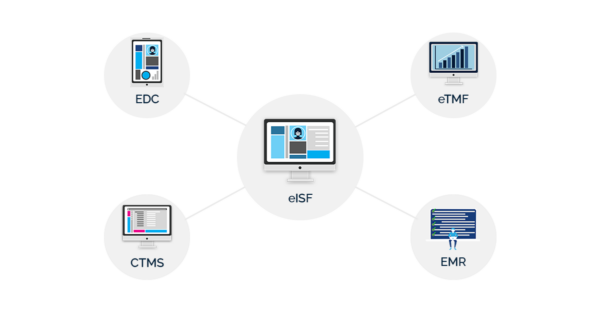 Your software vendor should talk with you about whether they have an open API and help you set up integrations if you choose their software. Otherwise, your organization could end up overwhelmed by repetitive workflows.
Software vendors can also help with technology adoption by providing easy-to-use technology. Your software vendor should offer:
An in-depth implementation plan

Customer support through chat, video, email, or phone

An intuitive, accessible software interface
Another way to figure out what software is easy to use? Sponsors can look for remote connectivity software that sites already embrace. Ask vendors about their site network and site adoption rates before purchasing their software.
5. Virtual collaboration between sponsors and sites keeps growing in popularity.
When sites and sponsors embrace technology, they can collaborate on studies remotely.
Remote collaboration comes with a variety of advantages:
For all these reasons, 74% of sponsors use remote monitoring today, and 91% plan to by the end of 2022.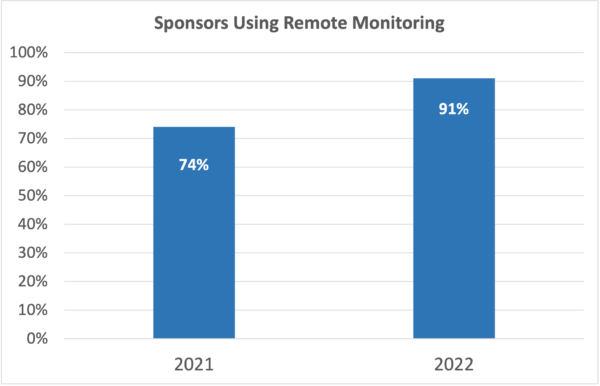 Sponsors and CROs use a variety of methods to engage in remote monitoring, but not all methods are equally effective. 40% of sites give sponsors direct access to their electronic medical records (EMRs) for remote source data review and verification.
Though this technique can work, it can also lead to compliance issues if monitors accidentally see Protected Health Information (PHI).
An eISF with remote site access offers a more compliant method of remote collaboration. Sites should own their eISF and have the ability to control what documents and data monitors can view. Sites also need the power to redact documents. With these features, sponsors and CROs can monitor sites remotely without worrying about compliance errors.
6. Sites list budget and costs as their biggest concerns about new technology, but they also worry about privacy.
By the end of 2022, 91% of sites will use at least one form of new technology. Among the most popular are:
Remote source access: 91%

eRegulatory/eISFs: 89%

eConsent: 88%

ePRO (Patient Reported Outcomes): 87%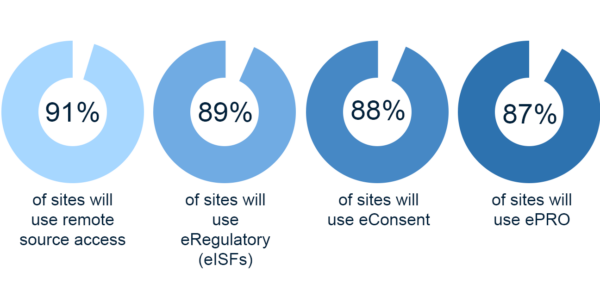 But sites still worry about their budget for new software. 48% of sites in our survey said they had concerns about how they would afford new technology.
If a site can't buy technology on their own, their sponsor may be able to provide technology that the site then uses for multiple studies. 83% of sponsors said they would be willing to distribute eISFs to sites that didn't have them in 2022.
However, sponsors need to make sure the technology they choose is technology that other sites already use and love. They also need to make sure any eISF they choose is secure, private, and compliant with clinical trial regulations.
Software vendors must prove to sponsors that their tech has already been used safely and compliantly by thousands of sites.
7. Integrations and workflows top the list of what research sites want to see in 2022. Remote connectivity and patient recruitment top the list for sponsors.
When considering new technology, 26% of sites want to see integrations–especially integrations that can move source data between the EMR, the EDC, and a source storage space like an eISF. This was the most common technology request among sites in our survey.
The clinical trial industry is still deciding how to define eSource and how to store source data most effectively. We'll probably see major advances in EDCs and eSource within the next few years.
The second most-requested feature for sites were automated regulatory workflows. Sites would like technology platforms that show them which documents need to be created, signed, or updated next.
Sponsors and CROs had slightly different requests for their technology. They requested:
Remote monitoring workflows

Patient recruitment features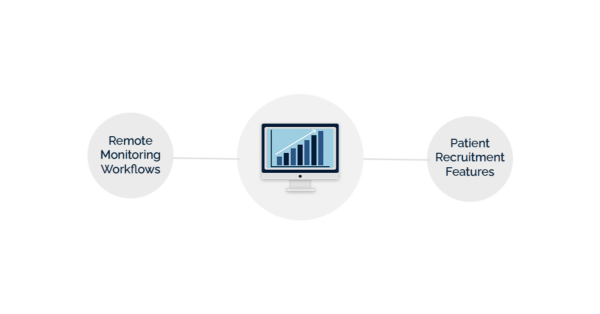 For remote monitoring, sponsors need access to their sites' documents and data, ideally through the eISF. The sponsors we surveyed wanted to view both source data and documents in one secure location.
Sponsors and CROs can also benefit from thorough implementation programs and thoughtful training from their software vendors. The implementation and training process should teach them how to successfully conduct document exchange and source data review through a central hub.
Sponsors also look forward to being able to conduct patient recruitment efforts through a central technology hub. Most technology vendors don't yet offer this functionality, but the survey suggests this will be an area of growth for the clinical trial industry in the future.
Insights from the 2022 State of Clinical Trial Operations Survey
Our 2022 State of Clinical Trial Operations survey produced more than six dozen points of data from more than 90 sites, sponsors, and CROs. From all of that data, a few undeniable trends emerged:
Technology adoption keeps growing across sites and sponsors.

Sites and sponsors need technology that lets them collaborate while accommodating their different workflow needs.
To stay competitive in the clinical research field, sites, sponsors, and CROs need to invest in remote technology that connects them to each other while streamlining their workflows.
Want to learn more about the latest trends in clinical research or what kinds of technology you should be looking for? Check out our full State of Clinical Trial Operations Report for 2022.