What eConsent Software Does for Clinical Trial Professionals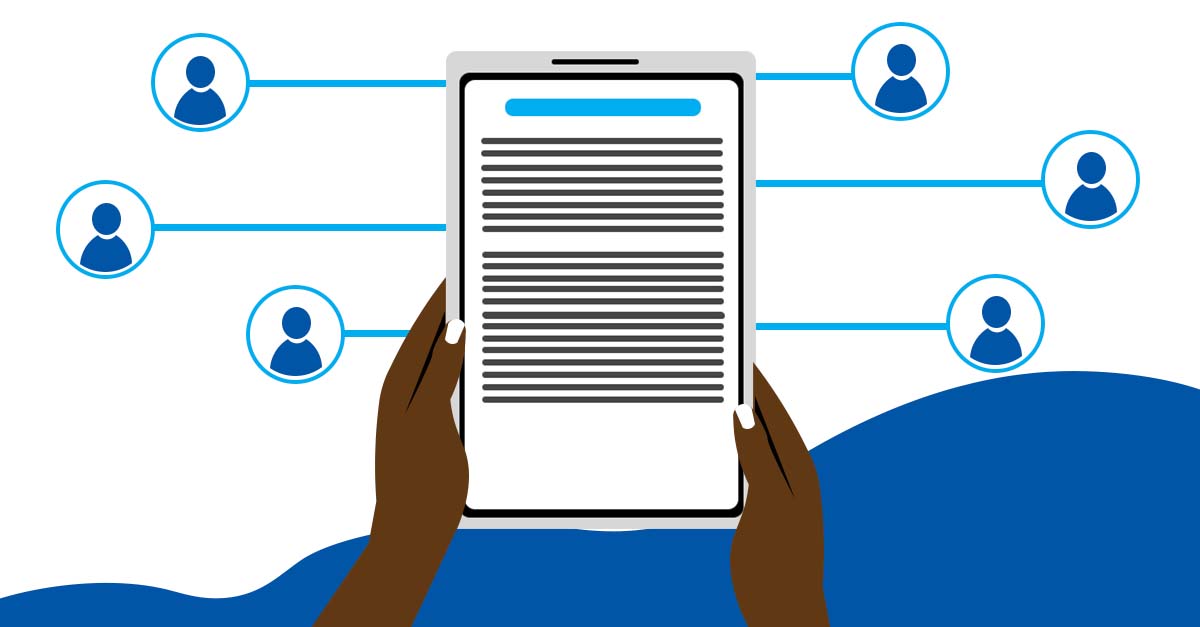 By Andrea Bastek, PhD, Sr. Direction of Innovation at Florence and former Assoc. Director of Clinical Affairs for Abbott
82% of sponsors and 88% of research sites plan to have eConsent software by the end of 2022. That means nearly everyone who works in clinical trials, from Clinical Research Associates to site coordinators and Directors of Research, will need to understand and embrace eConsent.
So how will eConsent impact your daily life and the life of your team? Here are a few ways eConsent will change clinical trials for each person in the industry, including:
Directors of Research and Other Site Leaders

Regulatory Staff

Clinical Research Coordinators (CRCs) and Registered Nurses

Clinical Research Associates (CRAs) and Monitors

Sponsor and CRO Leaders
Directors of Research and Other Site Leaders
Implementing new clinical trial operations software is a big step for a research organization: and when it's a participant-facing software, that step is even bigger.
Directors of research and other site leaders have to:
Think about regulatory, security and

compliance needs

Make sure all stakeholders are engaged

Establish who has access to the software
When choosing a software application, site leaders need to make sure it's compliant with national and international clinical trial and data privacy guidelines, like HIPAA, GDPR, FDA 21 CFR, and ICH GCP. The FDA produces extensive guidance for all electronic systems used in U.S. trials.
But leaders also need to find eConsent software with user-friendly features for all staff, such as audit trials, the ability to grant access to Institutional Review Boards (IRBs), and fillable forms. We created a checklist to help site leaders determine whether eConsent software has all the features that each stakeholder needs.
Vendors can also play an important role in engaging all stakeholders. Good partners will give site teams training and implementation support. They'll also welcome feedback, advice, and suggestions, giving sites influence over features and functionality. To learn more about how to engage stakeholders in new tech, check out our change management certification course.
Finally, leaders need to establish who has access to the eConsent software and what permissions those users will need. These discussions apply to any eClinical software but become even more important when patients are users and the system will capture Protected Health Information (PHI).
To control access to the system, site leaders must update or create Standard Operating Procedures (SOPs). SOPs specify exactly how software will be used and who will use it. When SOPs have enough detail and are adopted throughout an organization, these documents are invaluable in the face of an audit or inspection.
TLDR:
Who: Directors of Research and Other Site Leaders
eConsent Duties and Challenges: Finding compliant software, engaging all stakeholders, establishing access levels
Solutions: eConsent Vendor Selection Checklist, Change Management Training and implementation support, clear SOPs
Regulatory Staff
Regulatory staff may come in after the hard work of implementing eConsent is over, but they have the critical responsibility of ensuring regulatory approval for each and every study and form used in the system. This means they have to communicate with both the IRB and the software vendor.
In many ways, eConsent will make IRB approval easier. Research staff will no longer have to worry about old copies of consent forms lying around and being signed accidentally. Or fields not being completed. Or people signing on the wrong line. These benefits will be a huge relief during monitoring visits and inspections.
On the other hand, regulatory staff now need to work with their IRB to implement eConsent software. This process will be easier at sites where the IRB has already approved an ePRO or eDiary system, but eConsent may present brand-new territory for other sites.
eConsent requires IRBs to review the software platform in addition to the actual forms, which could be updated many times during a study. Engaging with the IRB is a crucial component of understanding the review and approval process for informed consent updates.
Again, partnership with a vendor will prove critical. Questions regulatory staff should ask potential eConsent vendors include:
How much notice will the vendor provide for software updates?

Will the vendor let site staff know if a software change affects the consent process?
Building strong relationships with vendors and the IRB and using a consistent eConsent software will help sites answer these questions so regulatory staff can maintain regulatory approval while they adopt eConsent.
TLDR:
Who: Regulatory Staff
eConsent Duties and Challenges: Ensuring regulatory approval for all studies and consent forms, communicating with the IRB, building ongoing relationship with vendor
Solutions: 3 Ways eConsent Can Help You Earn IRB Approval, implementation support from vendor
Clinical Research Coordinators (CRCs) and Registered Nurses
Clinical Research Coordinators (CRCs) and Registered Nurses are responsible for actually obtaining consent from patients.
Obtaining consent consists of:
Keeping track of 25- or 30-page forms

Ensuring participants sign and date in all of the correct locations

Making copies of consent forms for everyone who needs access

Finding Principal Investigators (PIs) to obtain signatures

Reconsenting patients when consent forms are updated
eConsent software can help with all of these tasks. With an eConsent platform, there's no need to copy, print, or staple lengthy forms. eConsent will also automatically place signatures and date markers in the correct locations.
An eConsent solution offers constant access to signed forms for all authorized users. CRCs can hit the "request signature" button instead of tracking down Prinicipal Investigators. PIs can then quickly sign from their computer or phone with FDA 21 CFR Part 11-compliant eSignatures.
A good eConsent solution should also offer version control so CRCs can see when a document has been changed and whether participants have signed the newest version of a form. Completing all of these tasks within one platform makes the consent process far more efficient.
TLDR:
Who: Clinical Research Coordinators (CRCs) and Registered Nurses
eConsent Duties and Challenges: Helping participants sign informed consent forms, ensuring other trial staff have access to consent forms, obtaining signatures from PIs, reconsenting participants on updated forms
Solutions: 21 CFR Part 11-compliant eSignatures, a unified eConsent platform
Clinical Research Associates (CRAs) and Monitors
Monitors and Clinical Research Associates also benefit from streamlined eConsent workflows. Like CRCs, CRAs have to check for data entry errors like missed fields or incorrect date formats. They must let sites know when they've noticed errors and wait for sites to correct those errors, and they must make sure participants are being consented on the latest version of a form.
eConsent software can speed up all of these processes. CRAs will no longer have to worry about signature and date errors, and they can communicate with sites through the platform to ask about missing documents.

When forms are updated, audit trails will make the history of a participant's forms clear and easy to follow; and with version control, past versions of forms will be visible and accessible for monitoring. Click here to learn more about how technology can change workflows for CRAs.
CRAs and monitors are adept at learning the workflows and nuances of each site. Although monitors will have to learn how to use eConsent, they can leverage information learned at one site at other sites that adopt the same eConsent system. And once they've mastered eConsent, CRAs will be able to perform monitoring at a wide array of sites.
TLDR:
Who: Clinical Research Associates (CRAs) and Monitors
eConsent Duties and Challenges: Check informed consent documents to ensure compliance, notify sites of errors or missing information, ensure participants have been reconsented on updated forms
Solutions: Compliant eConsent system, understanding of new technology systems
Sponsor and CRO Leaders
Sites need sponsor support to fully embrace eConsent. Although sites will often adopt eConsent platforms first because they work directly with participants, sponsors and CRO leaders can also step up to provide that software for sites that don't have it yet.
Not all clinical research sites have the budget or bandwidth to purchase their own eConsent platform. By supporting sites that already have eConsent in place and offering software to sites that don't, sponsors will ultimately see stronger site relationships and more efficient studies.
Updating SOPs and collaborating with the IRB can require significant time and sponsor support. But once eConsent software has been implemented at some of a sponsor's sites, leaders can use that same system across multiple sites and multiple studies.
Leadership teams at sponsors and Contract Research Organizations (CROs) will also see substantial benefits for eConsent. When CRAs can monitor more sites, more efficiently and with less travel, they can make studies faster and more cost-efficient.
TLDR:
Who: Sponsor and CRO leaders
eConsent Duties and Challenges: Helping sites obtain eConsent software or understanding eConsent already used by sites, updating SOPs, collaborating with the IRB
Solutions: Site-friendly eConsent platforms, thorough SOPs, training for monitors
The Benefits of eConsent Software for Clinical Research Professionals
eConsent software can help research sites gain informed consent more quickly. Regulatory staff, CRCs, and research directors can keep track of updated informed consent forms, send those forms to participants or investigators to receive signatures in the correct locations, and store the forms online.
eConsent can then help sponsors access and review forms remotely. Sponsors will no longer need to visit the site every time a form has been updated, only to find minor errors like participants signing on the wrong line.
But to make the eConsent process work, clinical trial professionals need to find eConsent software that's compliant, efficient, and equipped with a rich array of features: from audit trails to version control, fillable forms, and eSignatures.
To learn more about the features you need to have in your eConsent software, download our free eConsent capability checklist and check out our information on eConsent workflows.
Andrea Bastek is the Sr. Director of Innovation at Florence, the largest eISF + Remote Site Access platform in clinical research with more than 10,000 study sites across 45 countries connected. She has extensive experience in the clinical trials space for medical devices, including deep collaboration with sites to drive processes that ensure successful study participation. She is committed to finding workflow efficiencies that improve clinical trial execution. She holds a Ph.D. in Biomedical Engineering from the Georgia Institute of Technology.