The Network Effect: How to Avoid Clinical Trial Technology Failure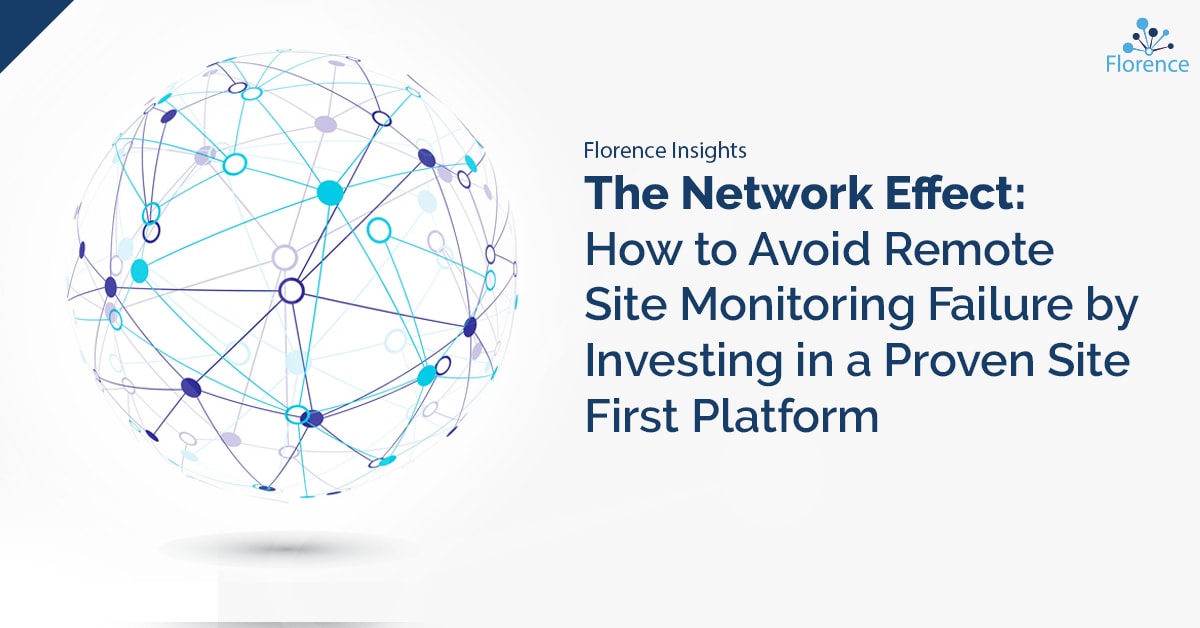 The Network Effect: How to Avoid Remote Site Monitoring Failure by Investing in a Proven Site First Platform
By D'Anna Siegle, Product Marketing Manager, Florence
Remote site access, monitoring, and SDR/V are essential to mitigate COVID-19 disruptions to clinical trials in the short-term and to accelerate the research industry in the long-term.
However, one doesn't have to look far to find failed attempts at remote site monitoring.
Florence is the largest eISF and remote site monitoring platform globally, three years running. We are the steward of over 8,500 study sites across 34 countries performing millions of actions a month. As the Product Marketing Manager for Florence, I have gained a unique view into why remote site monitoring fails, and how to ensure your strategy doesn't.
In short, other solutions:
Didn't meet the research site's needs – they were designed for the sponsor/CRO
Didn't start at the research site – they were extensions of sponsor/CRO products
Never gained a critical mass of connected sites – sites did not trust the vendor to serve their best interest or protect their data
As an industry we are positioned – and poised – to get it right this time around, this article explores insights as to how to avoid these failures.
Avoiding Remote Site Monitoring and eISF Failures
Dozens of software vendors now promote their "remote site monitoring" solutions to meet the rapid need for remote access in clinical trials.
On the surface, this is a welcome solution to a disrupted industry. But hidden in the subtext of these newly-minted promotions is the assumption that these are proven solutions. Solutions accepted and tested by all study stakeholders. Warning: As a buyer, beware of unproven claims or solutions built on future acceptance – you need access now, and so you need acceptance now.
Many of these vendors have tried various methods of "remote monitoring" in the past with free site portals, document vaults, and document sharing tools – but as these failed to gain site adoption, these vendors stopped investing time and attention into solving this challenge. That is, until today, as disruptions to business as usual ushered in a whole new slew of prospective technology adopters and solutions.
So, why is our perspective at Florence different? We have a five-year-plus track record of actively solving this challenge and finding success where it matters most – at the research site. We forged ahead where others failed and got thousands of study sites implemented, adopted, and loving an eISF and remote monitoring platform long before COVID.
Florence purposely places research sites at the heart of our network, centering our innovation and strategy around ensuring their success. And it works. More than 8,500 sites in 34 countries trust us to manage their eISF and remote monitoring.
This expansive network built from meeting research site needs has allowed Florence to build products responsibly and for the long-term benefit and empowerment of research sites. In turn, sponsors and CROs have a natural, site-approved, remote access and collaboration gateway to their study sites.
The Importance of the Network Effect in Remote Site Monitoring
Wikipedia describes the term, "Network Effect" as, "…the effect described in economics and business that an additional user of goods or services has on the value of that product to others. When a network effect is present, the value of a product or service increases according to the number of others using it."
The network effect drives the value of Florence for research sites and sponsors/CROs. Every study site on the Florence network gains immense value from each of the other 7,200 sites on the platform. Over the past five years, the individual and collective input from these 7,200 sites created the #1 eISF and remote site monitoring solution.
The Risks of the Wrong eISF Platform for Sites
Your Voice: At Florence, research sites make up a majority of our customers and our revenue. You do not need a magnifying glass to see how important you are in our annual report. Because of this, your voice is crucial to how we build and grow our solution. If this is not the case for your eISF solution, you will end up with a product that serves someone else's needs.
Your Data: At Florence, we only use your data to support your clinical operations. It does not feed into a hundred other platform services like data warehouses, pharma sales territories, and reference data platforms that others are paying to access. If your eISF vendor has other non-clinical operations products, you need to be wary of how they use your data, especially if you are giving it to them for free.
Your Integrations: At Florence, we are a part of the site community. It is our sole focus. We prioritize integrations with your other systems internally (CTMS, EMR, EHR, IRB), and externally with your sponsor/CRO (eTMF). And we actively solve site challenges in alignment with influential industry players.
Your Success: At Florence, your success is our success. No matter your size or how you use our platform, you are never reduced to just a number. You receive dedicated onboarding, implementation, and ongoing support. We help you with your SOPs; we help you with structures, we help you ensure adoption. You do not have to have blackbelt certified users who spend 100% of their effort learning our platform. If your eISF vendor doesn't look at you the same way, you will feel these pains down the road.
The Risk of the Wrong Remote Site Monitoring Platform for Sponsors/CROs
Site adoption failure. If the solution is not built for sites first, widely adopted by sites, and trusted by sites, your remote site monitoring strategy will fail long-term.
Today study sites have access to a wide range of technology, and they will not settle for a solution that is not focused on their needs.
While numerous other potential risks come with pursuing a remote monitoring solution that is not purpose-built to serve the needs of research sites, this single factor will determine your success.
Conclusion
I know how vital remote site access and the ability to collaborate in clinical trials remotely is to mitigate COVID today and to accelerate cures tomorrow.
I also know how essential partnering with a solution that is trusted by research sites is to make this a reality and how important it is to connect to a thriving network of research sites.
For sites, our entire team focuses on streamlining your operations, giving you your day back from paperwork, and connecting you to the world's largest network of research sites.
For sponsors/CROs, we want your sites to be successful. We care about them as much as you do, and we will be a partner in driving your remote monitoring success.
And as we continue to experience rapid evolution in clinical trials, rest assured our proven, remote-research-ready site network backs us and stands beside us as we forge ahead to the future.
I'm here to answer questions and hope to see you in one of our trainings, implementations, or virtual calls soon!
By D'Anna Siegle
Product Marketing Manager
Florence