Leading Technology Transformation in Clinical Research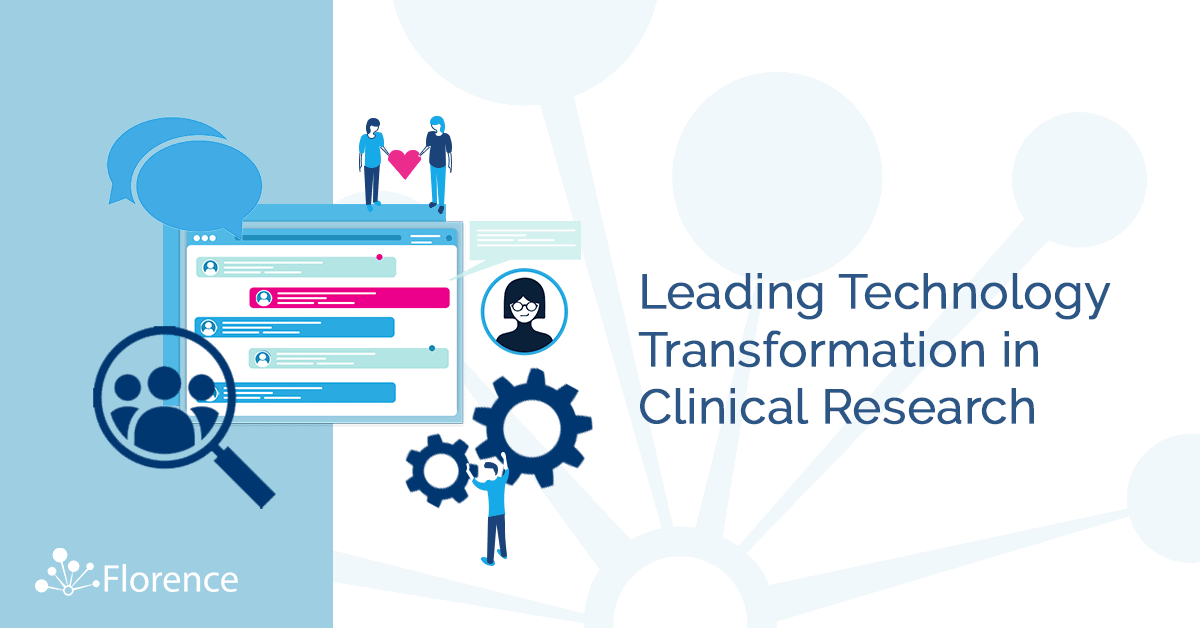 Leading Technology Transformation in Clinical Research
Purchasing the right software solution for your research site is only half the battle. The other half – and arguably the more important half – is driving successful organizational change management.
Maximizing the return on investment of eClinical solutions in a research organization requires building a well-crafted Organizational Change Management (OCM) strategy.
McKinsey found that organizations with little to no OCM strategy realized less than 34% of the expected return on investment. In comparison, organizations with a well-executed OCM strategy gained 143% of the expected return on investment.
To put it simply, if you purchase a technology platform and expect to save 10 hours per week, without an OCM strategy you will save 3.5 hours, with an OCM strategy you will save 14.3 hours per week.
An effective Organizational Change Management plan is relevant for introducing new technology and can be used for any organizational change you need to implement.
This article harnesses in-depth industry research, and real-world examples Florence has uncovered working with over 7,200 clinical trial teams who have moved to an eRegulatory platform.
You don't have to be in charge to lead organizational change.
When thinking of organizational change, most people believe the boss (VP of Research, Directors, Managers) is responsible for driving that change.
While change cannot happen without their support, studies show that every stakeholder, no matter their job title, has a significant impact on successful organizational change.
As you read through this article for building an organizational change management plan for your clinical research organization, think how it applies to your role and your circle of influence.
If you are the leader in your organization, identify others in your organization who are strong candidates for being a voice of change in their circle of influence.
Anyone can impact change, and the more "owners" of the change throughout the organization, the more likely it is to be successful.
Three Elements of an Organizational Change Management Plan
OCM plans vary widely in approach. Each plan may adjust depending on organization size, primary goals, technology platform, and other criteria. However, every OCM plan requires three critical elements to be successful.
Clear Processes
An effective change management plan has systematic processes that mitigate risks and leverages change as a resource for project success. Each carefully selected process must consider each stakeholder involved and the overall impact that the process change will have on the organization.The chosen methods must also be communicated to all necessary stakeholders, so everybody is on the same page during the transition.
Defined Steps
OCM has actionable, process-driven effort with defined work streams of activities and tasks. Clearly defined milestones support concise step-by-step timelines. Clearly defined steps ensure that all stakeholders involved in the process, from principal investigators to sponsors, are aware of progress, roadblocks, and overall status of the project. An actionable plan with attainable steps significantly eases the barrier to successfully driving user adoption and reaching targeted goals.
Measurable Results
OCM has templates, forms, checklists, and quality measurements that drive the benchmark and measure the process. Metrics and progress reports give clear insight into what areas or individuals included in the OCM need improvement or attention to maximize overall effectiveness.
Every Stakeholder Matters
From research sites to sponsors, every organization is made up of individual contributors that affect the overall success of the whole organization. Although some stakeholders may be more heavily involved in the process or more heavily use the technology than others, the sum of all stakeholder's success amounts to the success of the entire OCM plan.
An effective Organizational Change Management Plan answers the following questions for every individual stakeholder
Why are we doing this?

What's in it for me?

What's the plan?

Who has already done this?

How do I do this?

How am I doing?

How is the organization doing?

Is it helping?
By taking a human-centered approach to your OCM plan, you not only empower each individual contributor but also increase the likelihood of a successful implementation and more expansive user adoption rate.
Partner with Your Technology Vendor to Drive Change
Technology change management requires a partnership between the vendor, organization, and individual stakeholders. Choosing a technology vendor who partners with you to drive successful change is essential.
In large, enterprise-wide, implementations plug-and-play software models often fail to gain full adoption.
Ask your software technology vendor these questions to ensure full support during the transition:
How long does implementation take?

Do you help us rewrite our Standard Operating Procedures?

What resources do you offer?

What trainings do you offer?

How is your help desk/support center?
Florence has experience with over 7,200 successful eRegulatory transitions at Clinical Research Sites around the globe.
If you are interested in diving deeper into building an Organization Change Management strategy at your site, download the Ultimate Guide to Change Management here. It includes a detailed step-by-step guide outlining each stage, how to overcome each stage, and the three essential elements of an OCM.