Industry Insights: State of Remote Site Monitoring 2020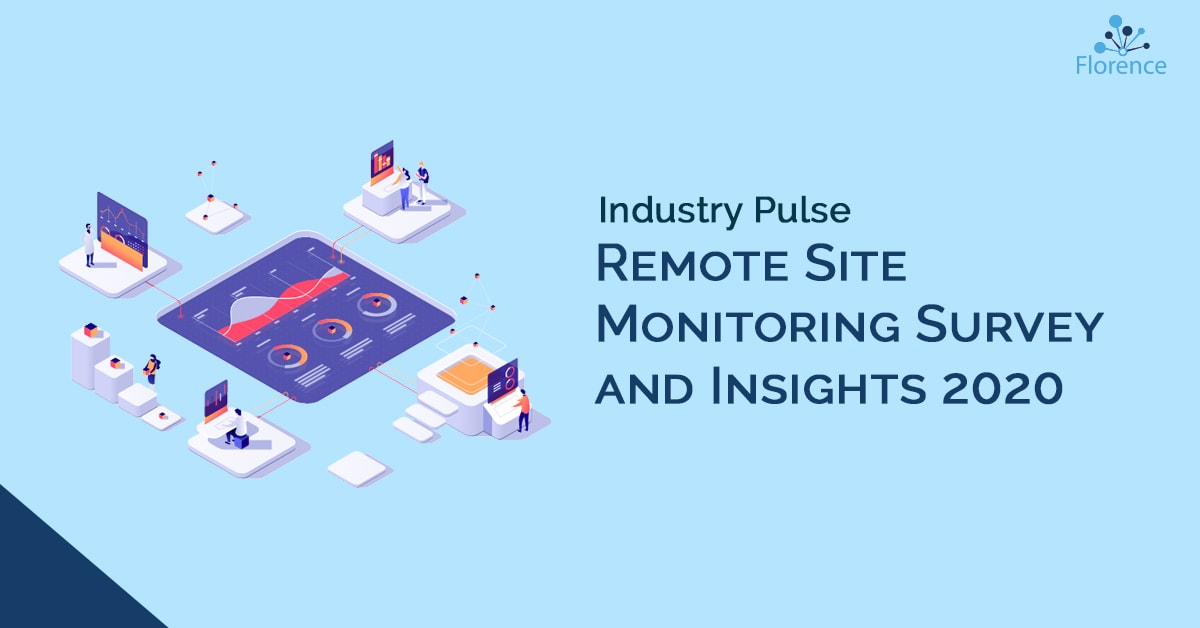 Industry Pulse: Insights on Remote Site Monitoring in Clinical Trials 2020
Remote study site access for remote site monitoring, management, and source data verification (SDV) rapidly moved to the forefront of clinical trial operations leaders strategies over the past six months (read our in-depth analysis of the acceleration of transformation here).
In a recent survey conducted by Florence of 240 industry leaders across research sites, sponsors, and CROs, three key themes emerged as to how the industry approaches remote site monitoring and collaboration in response to COVID-19 and as they plan for the future of clinical operations.
Key Takeaway 1: Strong Acceptance of Remote Site Monitoring
Remote site monitoring is no longer a "nice-to-have." Continued success in clinical trial operations now requires dedicated remote site access and monitoring strategy, as indicated in more than 60% of clinical trial sponsors and clinical study sites showing they see more than 50% acceptance of remote site monitoring solutions.
We anticipate this trend to continue as pharma companies, medical device companies, biotechs, and CROs make substantial investments in site-focused remote monitoring platforms.
It is crucial to note that both sides of clinical operations must accept the platform, indicating a strong need for organizations to focus on solutions that turn-on remote access for sponsors while ensuring site success.
Read: How to Harness Your Study Site's eISF to Accelerate Studies
Key Takeaway 2: Study Sites Anticipate More Remote Monitoring
Study sites at the forefront of dealing with COVID-19 disruptions see more remote monitoring visits on the horizon, with nearly three times anticipating 100% remote site monitoring post-COVID.
While sponsors and CROs indicate a strong preference for remote monitoring, sites on the front line of restricted access and new clinical operations procedures will set the precedence for the industry.
Sponsors and CROs need to build a strategy today that accounts for their needs and the requirements of their study sites, which may continue to limit on-site access for monitors and CRAs.
Key Takeaway 3: Site Technology Infrastructure Biggest Barrier to Remote Site Monitoring
72% of sponsors/CROs and 57% of sites indicate the lack of infrastructure at the research site is the most significant barrier to successful remote site monitoring long-term.
This response reflects Florence's qualitative findings over the past five years – sponsors attempted to create remote site access solutions with vendors who did not understand the research site resulting in poor adoption.
To mitigate the risk of repeated failure, sponsors and CROs must choose remote site monitoring solutions that are proven in the site market, trusted by sites, and with a vast existing network of connected research sites.
Read: How to Avoid Remote Site Monitoring Failures with a Site-first Platform Strategy
What Next?
The importance of a remote access collaboration for research sites and sponsors/CROs cannot be understated. COVID-19 rapidly transformed clinical trial operations, and leaders must shift their timelines to focus on remote site access now.
Research study sites must have a solution in place to streamline workflows, enable remote work, and turn-on remote collaboration with sponsors/CROs. Florence eBinders is the #1 Electronic Investigator Site File (eISF) platform for research sites in use at 7,200 study sites across 27 countries.
Sponsors/CROs must invest in proven site-focused solutions to turn-on remote collaboration, access, monitoring, and SDV capabilities. Florence eHub is the industry standard solution for sponsors/CROs to remotely access and collaborate with their study sites.