How Lauren Begnaud Transitioned 65 Sites to eRegulatory at US Oncology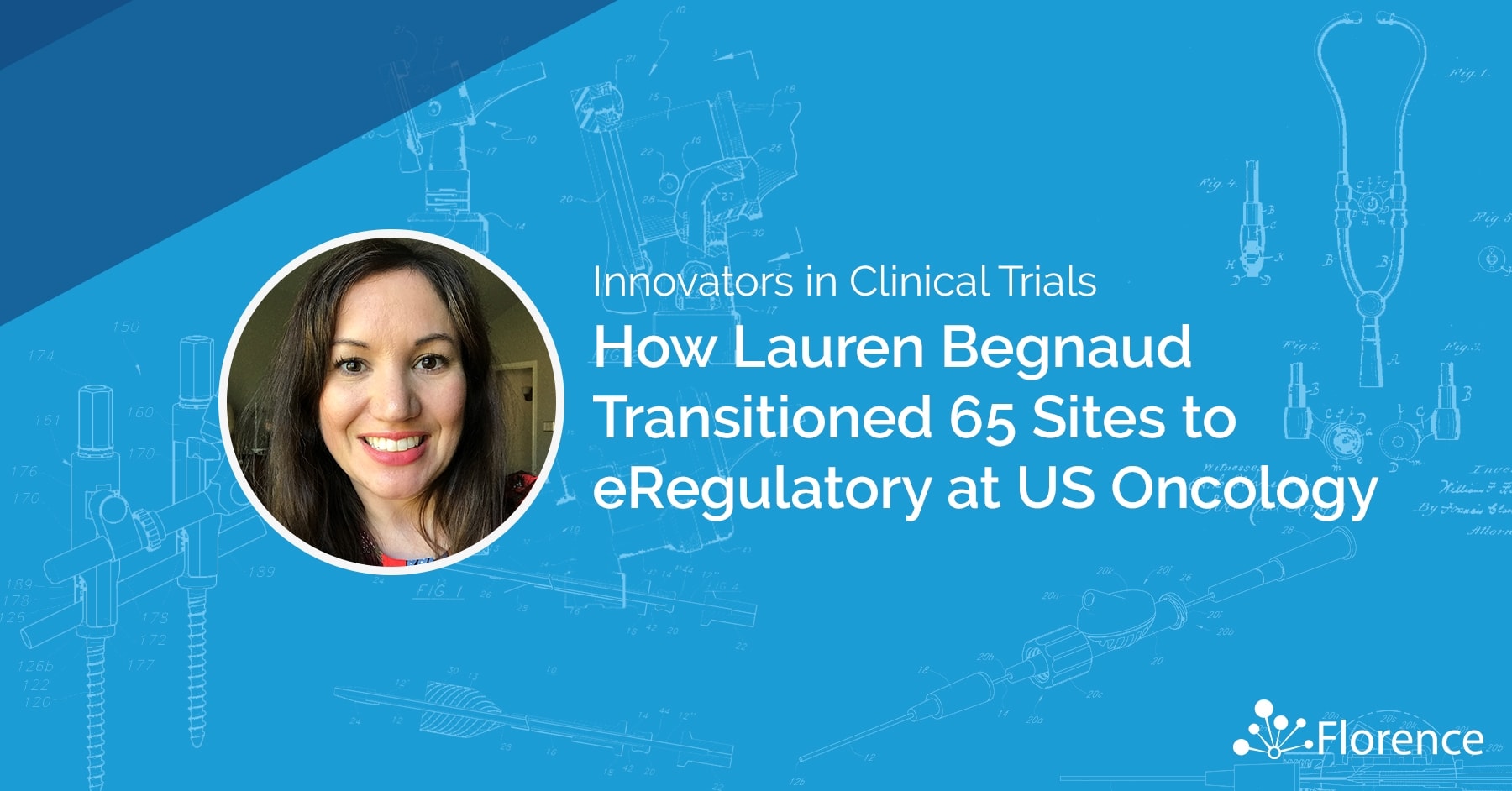 In this interview, we talked with Lauren Begnaud, Manager of Regulatory Affairs at the US Oncology Network, to discover how she successfully migrated 65 trial sites, 400 studies, and 2,000 Investigators and Support Staff to Florence eBinders for eRegulatory. Lauren has over 10 years of experience in the clinical research field and has successfully navigated three organizations through the transition from paper to electronic.
Q) Lauren, thank you for joining us today. Can you tell us a little about US Oncology and your role in the organization?
Thank you, and sure! US Oncology is a site management organization with a network of 65 community-based oncology practices. Across those practices, we have more than 400 active trials conducted by almost 2,000 investigators and support staff. My role, in particular, is the manager of regulatory affairs for our network.
Q) Can you share a little about US Oncology's background with Florence?
We joined Florence and went live with the system in January of 2018. We transitioned over from two separate systems, we were using a stand-alone eSignature platform and we had a separate electronic repository for our documents. We needed a one-stop shop to house both of these systems, and this was the perfect solution for us. We wanted to get away from having a central system and instead move into a web-based system. Florence eBinders has been great for us, allowing our staff and monitors to have access from anywhere, anytime, as well as an easy to use interface.
Q) Being about a year into your transition into Florence eBinders for eRegulatory, what tips would you share with other site leaders who are thinking about making that change at their site? Especially tips on helping investigators and other end-users make a move?
First I would recommend communicating early and often. We knew when we were going to go live, and we started putting communications out to our network of practices. We tried to do as much prep work up front by helping them understand both the time requirements for the new system and also the benefits of the new system. It's also important to be very concise and thoughtful in that communications. Our doctors have patients to see and research to do – they don't want novels in their email boxes every morning, they want easy training.
Q) How did you go about training your users across so many trial sites?
We conducted multiple live Webex trainings for our users. Screenshots were a massive help for us during these trainings. We walked staff through exactly how they needed to register, what emails they were going to get, and how to sign documents. We also created training materials that answered the basic questions simply. Additionally, we connected with our IT support desk and taught them about the basics of Florence eBinders since they tend to be on the front-line of support calls from our sites when it comes to technology.
Q) Did you train every physician at once? Was there a strategy to how you instructed them?
I'd recommend having a Physician Champion. This is great for the peer to peer experience – when resistant physicians see peers already in the product and loving it, they are more likely to adopt it themselves. Have a few physicians you can get into the system early. Then, record a video and testimony of them so that you can share it with other doctors.
A funny story. We had our annual research meeting in September, and I was in an elevator with two physicians. The conversation about Florence became a competition between them. One said "I signed 20 documents on the plane today", the other responded with "I signed 25 in the car on the way to the meeting". Investigators love it. They don't have to wait to go back to their desk to sign all the files.
Q) That's great! We love hearing stories like that. Of course, I'm sure you also encountered some resistance. Any thoughts for trial site leaders who face the same challenges?
Keep moving forward. We prepared for this resistance from the start. We helped out where we could and worked with Florence to make it as painless as possible. While there was some resistance, we figure a momentary nuisance to get acquainted with a system with such a long-term benefit that helps your whole organization was a small price to pay.
Thank you, Lauren, for sharing your experience and best practices for a smooth transition to Florence eBinders and eRegulatory.
For site leaders considering the change, we would love to schedule a call to discuss how we can help you build a strategy for transitioning your trial site to eRegulatory and eSource – as well as introduce you to Florence eBinders, the #1 eRegulatory and eSource solution.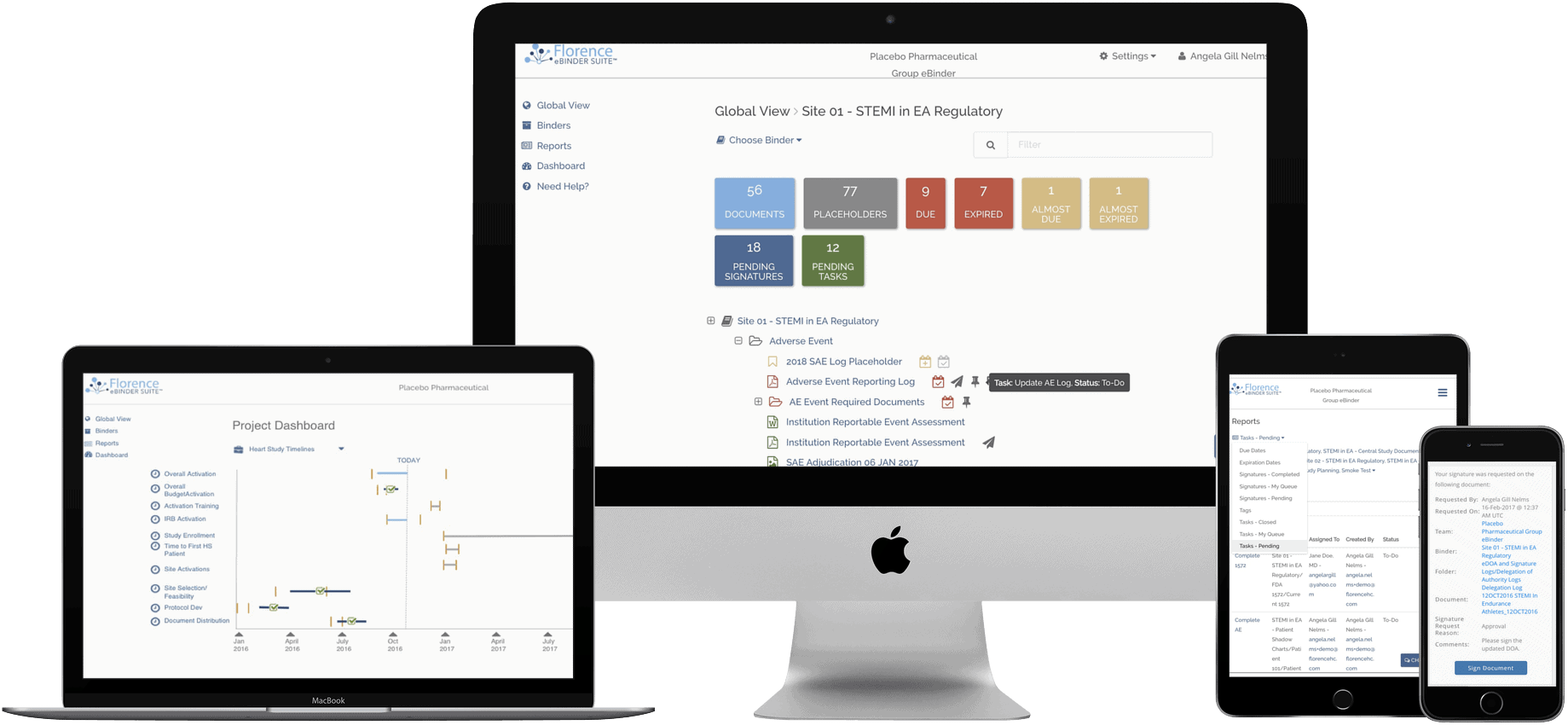 Not a part of the Florence Family? Schedule a demo so we can show you why 8,000+ research sites are.
We would love to welcome you to the Florence Network of sites maximizing their efficiency with Florence eBinders™. Let's schedule a personal demo together so our team can show you why sites love us so much they've made us the #1 eRegulatory solution.