Five Capabilities You Need in an eTMF
Electronic Trial Master File (eTMF) systems are almost universal. 75% of emerging sponsors and Contract Research Organizations (CROs) already have an eTMF, and 94% expect to by the end of 2022.
If your organization doesn't yet use an electronic Trial Master File, it's time to invest. And if you have an eTMF that only serves as a document depository, it might be time to explore all that a compliant, purpose-built eTMF has to offer.
To make clinical trials more efficient, sponsors and CROs need eTMF systems with reporting, workflow, and compliance features, site integrations, and extensive implementation support.
Here are 5 capabilities that can propel your eTMF system beyond document storage and help your organization run clinical trials faster.
1. Advanced Reporting and Tracking: Increase Operational Efficiency
Advanced reporting capabilities and project milestone tracking allow sponsors or CROs to quickly identify bottlenecks in clinical trial processes. When monitors identify these bottlenecks, they can reach out to sites to offer help so the problems don't turn into long-term trial delays or compliance errors.
For example, a Clinical Research Associate (CRA) could log into the eTMF and see at a glance which sites in a study have started enrolling patients. They can then message the sites that haven't begun enrollment to find out whether they're facing challenges with recruitment, screening, or staffing.
But advanced reporting cabilties only work when eTMF systems link directly to trial sites' electronic Investigator Site Files (eISFs). If CRAs have to log into each site portal individually, they can't compare site performance or quickly determine which sites need more attention.
eTMF systems that connect to sites' eISFs let monitors see documents and data from all the sites in a study at a glance. They can then create dashboards and reports to understand how a study is running as a whole.
How Florence eTMF Helps
Florence's global dashboards provide a birds-eye view of document status across all studies and research sites so you can quickly identify which documents are missing and which sites are lagging behind. If you'd like to learn more about clinical trial site management, check out our webinar on maximizing CRA efficiency.
---
2. Real-time Trial Site eISF Connectivity: Improve TMF Completeness
eTMF systems should help sponsors complete their Trial Master Files quickly by integrating directly with research sites' eISFs. This link allows for real-time, quality-controlled document exchange with sites–significantly reducing document cycle time.

When your eTMF is connected to your sites' eISFs, your Clinical Research Associates (CRAs) can:
Identify missing, expired, or incomplete documents
Leave notes within the eISF about which documents need to be added, updated or completed
Sites still maintain control of their eISF, but they can grant monitors permission to view or download relevant documents. Sponsors and CROs can also add those documents to their eTMF systems.

eTMF-eISF connectivity lets CRAs perform remote monitoring on a regular basis instead of only viewing documents when they visit the site. This reduces the amount of time CRAs must spend traveling and lets them focus on helping sites instead of just on checking documents.
How Florence eTMF Helps
Florence eTMF is integrated with the largest eISF network in the world–with over 12,000 research sites included as of 2022. This direct link enables document and data exchange with research sites and empowers CRAs to perform remote monitoring.
---
3. Standardized Flexibility: Reduce Compliance Risks
Balancing flexibility and standardization is essential for reducing compliance risks across your organization. eTMF systems must be flexible enough to match your existing workflows but still give you the ability to standardize processes across your site network.
Your software vendor should help you configure your eTMF according to your needs, rather than pushing you to use an "out-of-the-box" eTMF. The vendor should then help you build Standard Operating Procedures and structures to deploy across your sites. You can learn more about how to find a vendor that will customize your eTMF setup in our clinical research software implementation guide.
However, once your eTMF is set up, you need to be able to lock it down so all research sites linked to it maintain a standard structure. Not having any standardization could lead to compliance errors once your studies begin. To learn more about how Florence can help you stay compliant, check out our eSource and eRegulatory compliance guidance.
Finally, your eTMF should have enough built-in flexibility that you can adapt to new international regulations. The latest version of 21 CFR Part 11 , which serves as the FDA's guidance for electronic documents, explains that eTMF systems must:
Keep documents and data available to authorized individuals (and only authorized individuals)
Have security controls to ensure data confidentiality, integrity, and availability
Ensure that participants have to sign in before providing an electronic signature and that electronic signatures are captured in audit trails
The new EU Clinical Trials Regulation (CTR) also includes guidance on computerized systems that applies to eTMF systems, and explicitly calls out the following requirements:
Training on computerized systems must be documented and retained in the eISF and eTMF
eTMF documents must be archived for 25 years (the new UK clinical trial regulations under discussion also have this rule)
The sponsor must explicitly designate whether they or a CRO are responsible for maintaining the eTMF
The investigator should retain signed informed consent documents with PHI, but the sponsor eTMF should contain informed consent documents with no PHI
How Florence eTMF Helps
We build our platform to maximize standardized flexibility. Our implementations team configures your eTMF to match your existing workflows but also gives you the ability to standardize those processes across your entire network.
You can also use an open API to set up integrations. An open API lets the eTMF integrate with any other open-API software you or your sites use, for even more flexibility.
Most importantly, our software is compatible with regulatory requirements for eTMFs–including FDA, the EU, and UK regulations:
Permissions that control who sees documents let you grant access only to authorized individuals
Compliant signatures and audit trails ensure you follow 21 CFR Part 11
A flexible eTMF lets you customize the documents you include, like training documents
Secure long-term archiving can store documents for more than 25 years
We are compatible with data and security controls like FDA 21 CFR Part 11, HIPAA, GDPR, SOC 2, EU CTR, and ICH GCP
The eTMF is widely used by both sponsors and CROs
Investigators can employ PHI redaction tools before sharing documents with sponsors

​
With all of these tools, you can easily keep your eTMF compliant.
The information presented here is for informational purposes only and is not for implementation in operations. Please consult official regulatory documents for operational use.
---
4. Prebuilt eTMF Workflows: Eliminate Redundant Tasks
eTMF systems should offer document management workflows so you don't have to update documents in multiple places. Look for an eTMF that lets you edit docs within the platform, instead of downloading forms, editing them, and re-uploading them to the portal.
Part-11 compliant eSignatures can also make your eTMF more efficient. Principal Investigators can sign documents and logs anywhere they have access to a computer, whether that's from their phone, their office, or a coffee shop. This spares regulatory staff from spending hours a week driving or walking to investigators' offices to track them down.
Efficient eTMF systems should also offer audit trails and version controls so you can see who has edited or signed a document and when. These features prevent multiple people from downloading and editing a document separately, creating different versions of the same form.
Finally, look for an eTMF with:
Access controls for sponsors
Access controls for sites
Pre-built roles you can assign people to
Permissions for viewing, editing and uploading documents
A thorough implementation process with support from your vendor
How Florence eTMF Helps
Florence offers fillable forms so you can edit documents within your eTMF. Our software also includes built-in Part 11-compliant eSignatures, audit trails, and version controls, and our implementation team can assist with setting up roles and permissions for your organization.
---
5. Easy to Set-up and Use: Accelerate Adoption
Growing sponsors or CROs can't afford to hire full-time employees just to manage their eTMF systems. As the number of clinical trials continues to grow, many small and medium businesses can barely find enough CRAs to keep clinical trials running.
To effectively balance budget and capabilities, you need an eTMF platform that's easy to use–which means an eTMF system that's intuitive for people without an IT background.
What makes an eTMF intuitive?
Simple navigation
Easy file finding
Actionable alerts
A dedicated support team from your vendor
The ability to set up your own structure makes navigation and finding files easier, and many eTMF systems include tasks and alerts. But finding a dedicated support team that actually follows through on requests is trickier.
Since both your organization and your sites will need support, the eTMF vendor should offer remote, understandable, and comprehensive training. Thorough training ensures compliance with data privacy and clinical trial regulations and mitigates risk.
The vendor's team should also continue to support you after training and implementation are complete. You should ask how quickly they respond to service requests and how they track customer feedback about their product. You deserve a team that's there for you.
How Florence eTMF helps:
Florence helps growing sponsors and CROs that need easy eTMF systems. We pioneered a "three-click" design, where no document is more than three clicks away at any time. Our training, implementation, and customer support teams can also help lead change management at your organization.
---
Finding an eTMF with the Features You Need
Choosing the wrong eTMF system for your organization can burden you with additional tasks, cut you off from your research sites, and disrupt your regulatory workflows.
Although the five capabilities described above are critically important, they're not the only ones clinical research teams should look for in eTMF systems. Download our complete eTMF capability checklist to see the 80+ capabilities you need to speed up your clinical trials and remain compliant.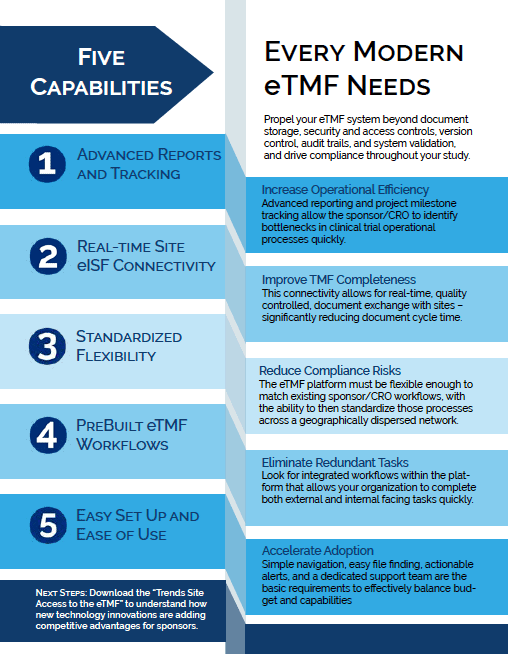 Download the quick guide to Five Capabilities of a Modern eTMF to access at any time while you evaluate the performance of your current system or prospective vendors.