Infographic: Your Roadmap to eRegulatory
eRegulatory is the natural first step to scaling your research site's processes for managing increasing study demand and protocol complexity.
This infographic is compiled from hundreds of successful site implementations to give you an overview of the roadmap to eRegulatory.
Trusted by Hundreds of Research Professionals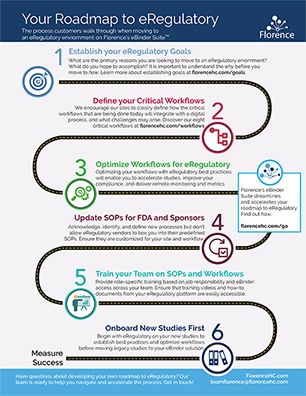 Florence's site implementation team has helped hundreds of leading sites navigate the complexities of establishing an eRegulatory workflow. 
Our team walks with sites through every step of the eRegulatory Roadmap, helping them define goals, establish workflows, write SOPs, conduct training and execute their studies.