Imagine that for every television channel you want at your house – Travel Channel, HGTV, ESPN, NBC, CNN, Disney Channel, C-Span – you must have a separate cable line dug in your yard, gray box hanging from the side of your home, and unique receiver system plugged up to your television. Sounds like a nightmare, right?
This method of fragmented connectivity is how the Clinical Trial industry continues to operate. Every Sponsor/CRO deploys their own Cable Box, aka Site Portal, to the research site, and the research site has to manage 50+ different systems – none of which are built for them.
As sponsors/CROs demand more site connectivity, traditional software vendors deploy a single-point strategy by offering clinical trial site portals for gathering documents and data from the research sites. The sponsor/CRO is at the center of the ecosystem, not the trial site doing the work.
The result? Sites manage countless sponsor systems not designed for them and that lack features that help them get work done. This "sponsor first" strategy results in little efficiency gain – often leaving staff at both the sponsor/CRO and the site more frustrated than when they were using paper.
This "sponsor-first" strategy is poorly equipped to handle the modern clinical trial that places a substantial operational burden on the research site—and it makes about as much sense as having 100 gray boxes attached to your house to get 100 channels.
The Answer? Replacing Site Portals with an Integrated Site eISF
Sponsors/CRO need for direct site connectivity hasn't changed, it is the only way to truly accelerate research while lowering development costs, but what's new is site-first infrastructure.
Florence and our users, 5,000 investigator teams strong, has led the way with this approach. By focusing on a site-first solution, we have built the leading Electronic Investigator Site File (eISF) with features and capabilities that research sites care about – and that contribute to streamlined workflows.
Florence eHub now provides a single point of connection for sponsors/CROs to hook up the Florence eTMF, their existing eTMF, or other document management platform directly to these research sites. Meanwhile, Florence eTMF is the only eTMF system in the world to include fully featured eISF site spaces for sites.
Unlike the "sponsor-first" method, Sponsors now can harness all of the features and capabilities of their purpose-built tools while research sites enjoy the same benefit of working in a platform designed for them.
Is it working?
Sites who deploy the eISF reduce study startup time by as much as 45%, reduce data entry errors from 8% to less than 1%, and significantly lower compliance risks.
Sponsors who connect to sites via Florence eHub reduce onsite Interim Monitoring Visits by as much as 65%, receive documents 40% faster, and gain real-time insights into study progress and compliance risk across all sites.
The growth in connectivity is real – 54% of the over 250,000 actions taking place in our network every month  are Sponsors/CROs interacting with site documents. Why this increase of sponsor engagement with eISF?
By accessing eISFs, sponsors get to
Speed studies and document cycle time by managing tasks directly in a site system
Gain visibility into eventual eTMF completeness by understanding eISF completeness
Reduce audit risk by getting real time reports into document and task compliance
What's Next?
We can all agree that 100 systems connecting to the site makes as much sense as separately connecting 100 cable wires to the back of your house.
For the Research Site, now is the time to invest in an Electronic Investigator Site File (eISF) for managing documents and data and avoid falling for the "Sponsor-first" solution trap.
For the sponsor/CRO, it's time to eliminate the Clinical Trial Site Portal and replace it by deploying a complate Research Site Electronic Investigator Site File (eISF) Workspace that is fully integrated with your eTMF to all of your Research Sites. Connect with us to learn how.
As Florence continues to build the leading eISF infrastructure for site document and data management, we are doubling down on sponsor connectivity capabilities through both our internal eTMF and through Florence eHub that enables real-time connectivity to existing Sponsor/CRO infrastructure.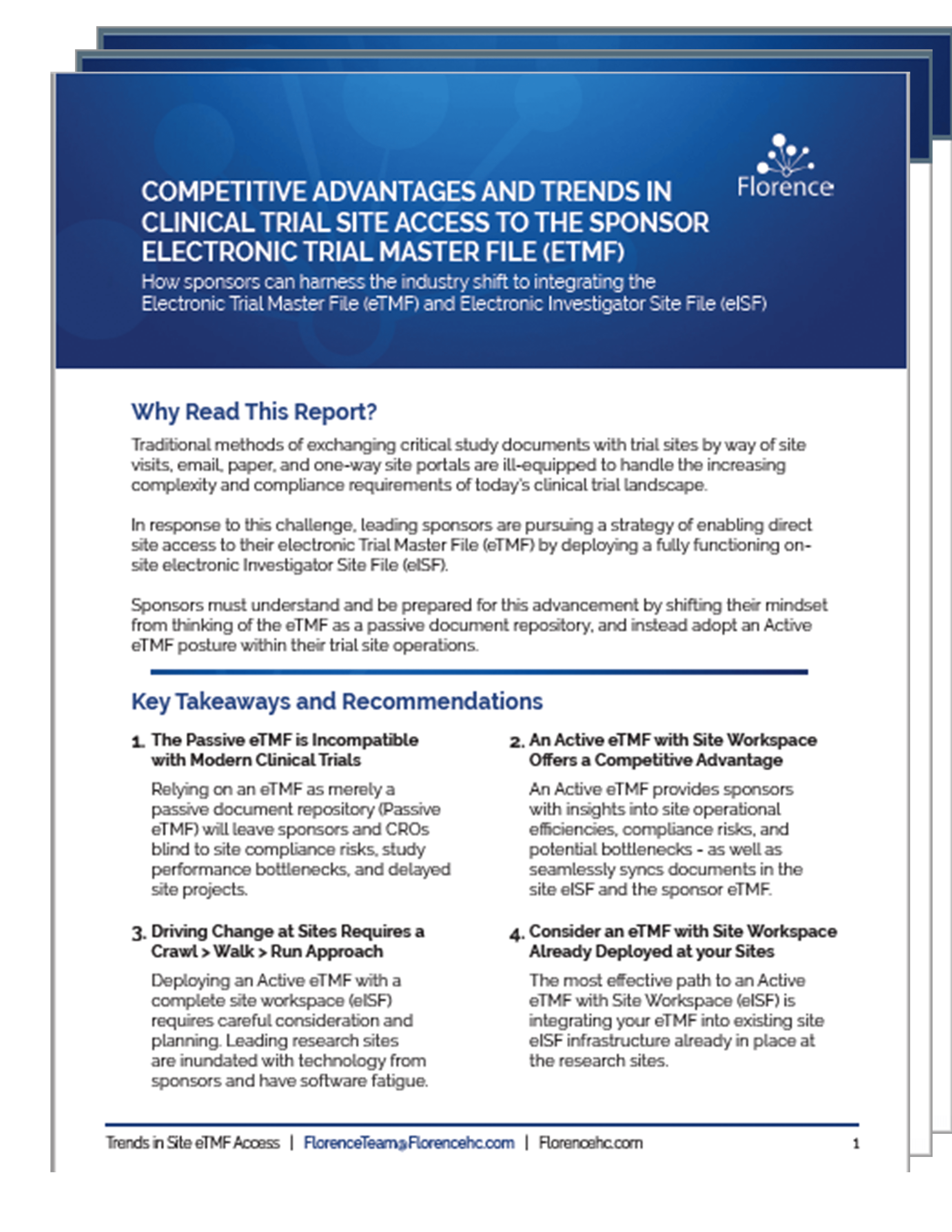 Download the Report on Competitive Advantages and Trends in Access to the eTMF