Sponsor or CRO Site Monitor Visits fall into four distinct types and relate to the stage of the trial. Visits require extensive preparation, staff availability and process workflow disruption while Monitors are on site.
A Site Evaluation Visit (SEV) is conducted by the Sponsor or CRO to evaluate a Site's and Investigator's resources and capabilities to conduct a study. This type of visit is also referred to as an SSV (Site Selection Visit) or SQV (Site Qualification Visit).
This visit traditionally takes three to four hours to complete after the Sponsor or CRO has pre-qualified a Site. Most pre-qualifications require the completion of a feasibility survey, an underlying protocol synopsis and a CDA to the Research Site and Investigator.
What is Reviewed in a Site Evaluation Visit?
During a visit, Monitor's review a variety of documents to ensure the Research Site is complying with protocols, guidelines and other regulations. Since an SEV is one of the first site visits, much of the information reviewed regards basic data about the site itself.
Investigator Qualifications
Up-to-date CV for all staff managing or conducting the Clinical Trial
Principle Investigator (PI) expertise in the Specialty
Previous experience held by Investigators in conducting a trial
Sufficient time available to run trial outside normal work duties
Adequate staffing to successfully conduct a Study
Viable patient or subject population to participate in the study
Exam rooms
Pharmacy/study drug storage area
Laboratory or specimen processing area
Special testing areas (x-rays, MRIs, CT scans, etc.)
Record-keeping facilities
Protocol Review and Discussion
Study goals and objectives
Inclusion and exclusion criteria
Schedule of assessments
Competing Trials
Tips for a Smooth Site Evaluation Visit
Sponsor and CRO Tips
Notify the Site of who needs to be present for the visit, what facilities will be inspected, and what documents will be reviewed.
Provide the Site with an agenda for the meeting so they know when individual staff members should be available.
Coordinate with the Site to plan the visit around critical member schedules.
Send the site all relevant documentation before the visit.
Site Tips
Give everyone who needs to attend ample time to make room in their schedules.
Have updated (signed and dated) CVs and current licenses for all stakeholders.
Usually, the monitors only need 1 hour with the PI so you can work this visit around the PI's schedule
If you need to visit another department (i.e., radiology or pharmacy) be sure the department is aware of the visit.
Allow 2-3 hours for the visit.
Site Evaluation Visits with Florence eHub
The adoption of Electronic Investigator Site Files (eISF), or eBinders, at research sites allows sponsors or CROs to run analysis of on-site operational feasibility based on past performance, current operational capabilities, and historic regulatory compliance adherence through Florence eHub.
Use historical Site operational and compliance metrics available within Florence eHub to conduct operational feasibility studies on research Sites, identify potential risks, and uncover past bottlenecks.
Assign expiration dates to critical Site documents (CVs, Licenses, etc.) so that the eISF is always up-to-date with the latest file versions.
Exchange all study-related documentation with the Site in their eISF so that the Site file is being built from the start, eliminating the need to upload essential documents once the study begins.
Use the eISF for Electronic Signatures and Document Routing and/or Tasks to track pre-study milestones from the start.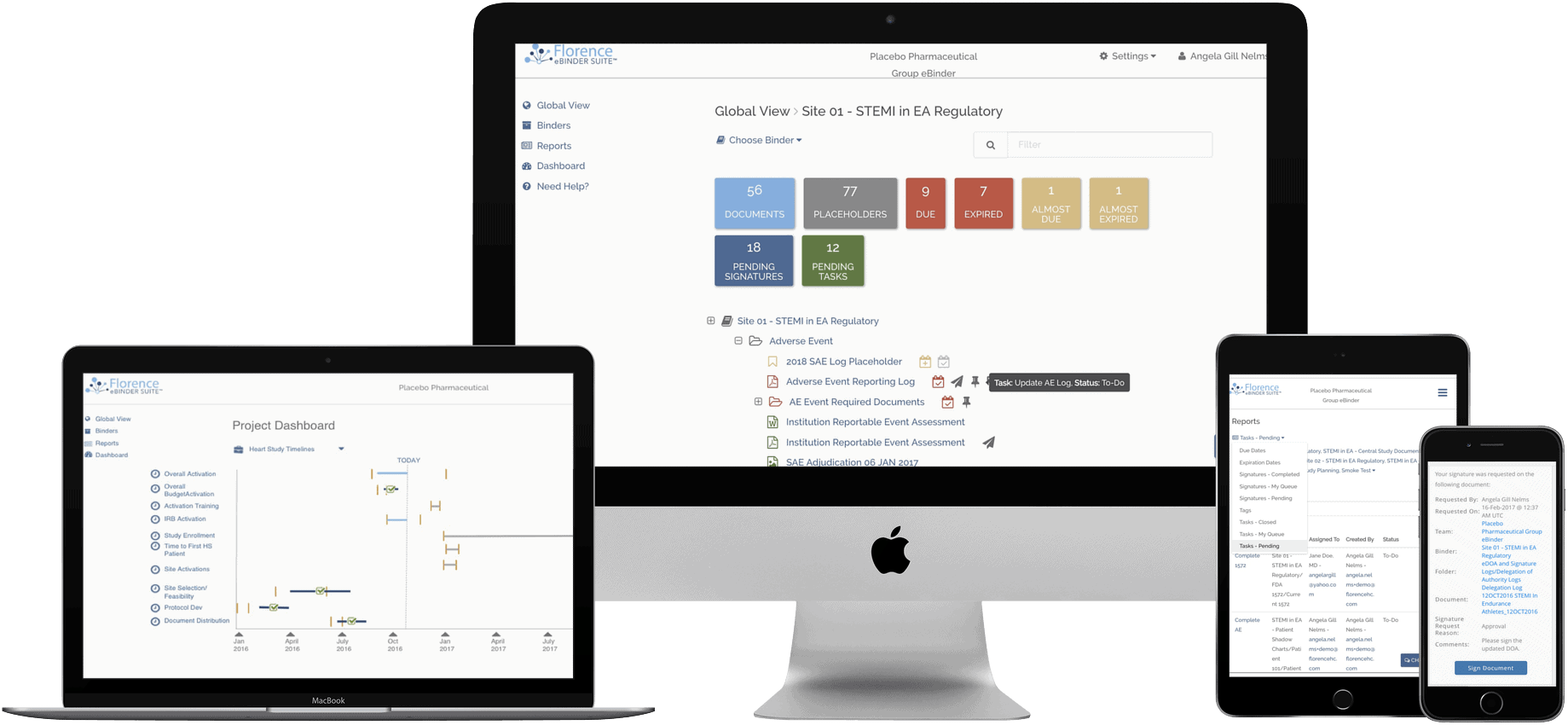 Not a part of the Florence Family? Schedule a demo so we can show you why 6,200+ research sites are.
We would love to welcome you to the Florence Network of sites maximizing their efficiency with Florence eBinders™. Let's schedule a personal demo together so our team can show you why sites love us so much they've made us the #1 eRegulatory solution.