Clinical research coordinators (CRCs) play a crucial role in ensuring the success of research sites. Managing a myriad of responsibilities throughout the day, the CRC is the "heart" of a clinical trial – the champion of the protocol, the guardian of the patients, the taskmaster of the research team. CRCs are charged with ensuring high levels of ethical standards and data integrity, despite increasing workloads and scarce resources. Given the research industry's changing landscape, it's imperative to identify opportunities for improvement and find solutions that optimize CRC workflows and increase the bandwidth of every research team member.
---
When I was a Clinical Research Nurse, a typical day for me started between 6:00 and 7:00 am.

My first hour would be spent preparing for patient visits, checking emails, and filing paperwork. My first patient would arrive between 7:00 and 7:30. Each visit could last anywhere from three to eight hours, and I might see up to six or seven patients a day. In addition to actually completing the required activities of the visit, I found myself having to document those activities in the medical record (of which I then had to make copies), then transcribe them onto a paper case report form (CRF), enter them into an electronic CRF, and finally file both the paper CRFs and the copies of the medical record in the patient's binder. Some visits required me to bounce back and forth between different buildings, or even different campuses, holding onto those CRFs for dear life, while also answering phone calls from patients, PIs, sponsors, and other CRCs.

Once all of the patients were discharged, usually eight or nine hours later, I could return to my office to work on my administrative duties. Typically this meant scheduling and tracking patient or monitor visits, or performing data entry. Other times it could be IRB submissions, budget and contract review, or maintaining the Investigator Site File and regulatory binders. Or maybe I was reviewing patient records to locate potential candidates, updating study logs, or ordering supplies. And one time, I even had to chase the FedEx truck down a busy street at 8 o'clock at night to make sure records were shipped on the same day as the visit was conducted, per the study protocol.

Regardless of the specific duties I was performing each day, my hours were long and my days were hectic.
---
Sound familiar? My story is certainly not unique.
According to the NIH, the number of registered clinical research studies has increased by nearly 40 percent since 2000. Regulatory requirements have also become more elaborate, with the FDA eCTD guideline and the ICH E6 R2 revision draft steering the industry towards a conversion from paper to digital documentation. At the same time, the 2015 CenterWatch-ACRP Salary and Career Survey states that study volume per CRC has doubled over the last 10 years.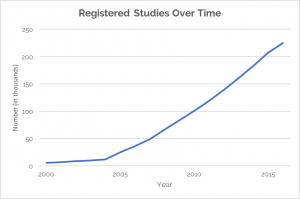 Source: ClinicalTrials.gov
So this represents a major disparity between the number of trials CRCs report that they can safely and effectively manage and the number of trials they are actually assigned. Almost one-quarter revealed that they were dissatisfied with their jobs, and many more reported only moderate job satisfaction. Not surprisingly, turnover rates among CRCs are high, with more than half leaving their positions within three years and citing heavy workload burnout as the primary reason.
Source: 2015 CenterWatch-ACRP Salary and Career Survey
Why are protracted hours and chaotic schedules so common among CRCs? The answer lies in the workflow, specifically when considering the amount of time wasted on redundant tasks.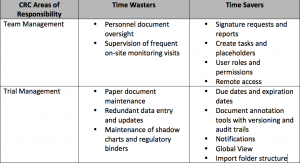 The most valuable asset a CRC has is time. Streamlining research processes has the power to not only increase productivity, efficiency, and quality but also to reduce CRC stress and burnout. That way research sites can hold on to their most important resource: experienced CRCs.
Unfortunately, talking about consolidating workflows and actually doing it are two very different things, particularly in an increasingly complex industry. In fact, many research teams become overwhelmed when just trying to find time for process improvement in their already full schedules. But what if you could find a way to simultaneously cut the time demanded for CRC administrative tasks in half while improving the quality and utility of your data?
Well you can.
This is where cloud-based trial management solutions, such as Florence eBinder Suite™, can play an important role in supporting your team by better equipping your CRCs with the tools they need to successfully perform their day-to-day tasks.
How much more could your team accomplish in a day with workflow solutions that offer a 40 percent time savings in tasks such as EHR collection?
Solutions like Florence eBinder Suite™ allow your team to streamline research activities in a HIPAA and 21 CFR Part 11 compliant environment by maintaining a central repository of interactive study documents and granting you the power to take back your day from paperwork.
While protocols are becoming more complex and the new FDA digital document mandate approaches, research funding has plateaued and even begun trending downward. It takes an average of 10 years to develop a drug, and with financial support for research teams in decline, it is increasingly important to leverage other assets, like the experienced and dedicated CRCs that are vital to maintaining the rhythm that pushes research forward.
Contact us at info@florencehc.com or request more information to learn more about how we can help keep the "heart" of your team healthy.