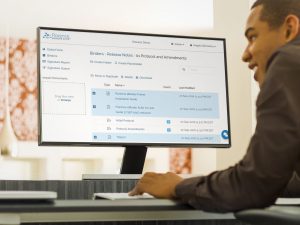 FDA responses to questions about the validation process in clinical investigations. Click here to access the full library of FDA responses to GCP questions regarding electronic processes in clinical investigations.
What should sponsors and other regulated entities consider when using a risk-based approach for validation of electronic systems used in clinical investigations?
Electronic systems that process critical records should be validated. The extent of validation depends on the system and its intended use. For office utilities software, the extent is guided by the organization's internal business practices and needs. For systems that perform functions beyond office utilities (EDC system), validation should include a description of SOPs and documentation from the vendor that includes results of their testing and validation. For systems that are integrated with other systems to meet a unique business need of a user, sponsors and other regulated entities should develop and document a validation plan, conduct the validation in accordance with the plan, and document a validation results (from 2017). Documentation in library.
We have installed SAS on our desktops, do we only need to validate these desktops in which data manipulation is done or do we also need to validate the central location where the files are stored?
The FDA already recognizes SAS as validated software, but it is important to perform testing on program coded using SAS to make sure it accomplishes what the user wants. There may be no rule requiring validation of the central location, but if that location has a large impact on the accuracy, reliability, etc. of required records and signatures, the validation of the system is important (from 2016). Documentation in library.
Click here to access the full library. The summaries presented in our library are for informational purposes only, they are not for implementation in operations. Please consult official FDA guidance documents for operational use.
About Us
Florence is a team of clinicians, research professionals and technologists working to improve clinical trial efficiency from startup to closeout.
Our solution eliminates workflow bottlenecks at the site, tracks study and site progress, and provides remote monitoring capabilities to sponsors — thus reducing uncertainty between visits, delivering cost savings, increasing compliance, and improving site-sponsor relationships.